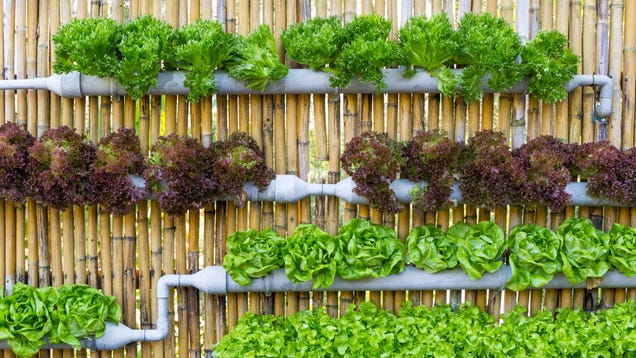 Like Mark Twain once quipped, land is always going to be valuable because they're simply not making any more of it. Anyone struggling to make their 500-square-foot apartment or charming two-bedroom bungalow knows this all too well. But since the dawn of civilization humans have solved for this problem with one weird trick: We build up. So if you've got limited space but a green thumb that's aching to be implemented, a vertical approach to your gardening is the creative and impressive strategy that will make your outdoor or indoor spaces feel lush and alive.
If you think vertical gardening is difficult or expensive, you're wrong. And if you think there's only one way to garden vertically, you're even more wrong—your only limitation here is your imagination. Vertical gardening can be incredibly cost-effective, in fact, because you can whip one up using materials you might have left over from another project, or using inexpensive items you can pick up just about anywhere.
Need a nudge? Here are 11 ideas for vertical gardens that will fill your life with greenery without taking up much space.
Creating a green wall (aka, a living wall) can be as simple or complex a project as you want. You can simply plant some climbing plants along the base of an exterior wall and let them live their best life, slowly enveloping your wall with lush greenery. Then all that's required is some trimming and basic maintenance. Or you can take full control and install a frame system that allows you to have a wide variety of plants growing vertically (you can buy frames designed to support your green wall while keeping climbing plants off of your exteriors). The main concerns are going to be drainage—making sure your plants get enough water without drowning—and weight; green walls can be heavy, so make sure whatever you're using as a base can handle the load. Pro tip: You can install a living wall inside your house, too.
If you're going vertical, why not commit and use a trellis system to give your garden shape and dimension? Installing a metal garden arch gives your climbing plants an anchor that will slowly transform into a magical garden portal, and you can also hang other plantings on the supports, which will slowly be enveloped as well, hiding the pots and cans and creating the illusion of a structure made of plants. Using several installations like this will eventually make your outdoor space look like a living, breathing room.
A simple, cheap way to create a vertical garden is to attach something with water-permeable pockets on it to an exterior wall. You can buy a hanging planter like this, but if you're on a budget and have an old fabric shoe organizer like this, it will work pretty well, and once your plantings come in, no one will know its true provenance.
Sometimes the best approach is the simplest: People have been suspending potted plants from the ceiling since forever. If you have a covered outdoor space or pergola and you want greenery without giving up precious floor space, hanging some plants from above is a simple and effective way to have the best of both worlds. And there are tons of ways you can approach hanging plants both inside and outside the house.
We don't necessarily think of a tiered garden—a pyramid-like garden utilizing retaining structures—as a vertical garden, but it sure is. While not as efficient in terms of square footage as a more straight up-and-down approach, arranging your plants in a staircase formation is more space-efficient than simply planting in the ground. And if you don't have an exterior wall or overhead structure to use, a tiered garden is a great way to save space while getting the plants you want. Tiered gardens don't have to be complicated—a few wooden boxes salvaged from the garbage or built from scrap wood is all it takes.
One of the easiest ways to have a vertical garden in a small space is to re-use an old wood pallet. These are pretty easy to salvage from appliance deliveries or big box store dumpsters, and they're ideal for tiny outdoor spaces like apartment balconies. They don't even need to be attached—just add some waterproof backing, lean them up against a wall, fill with soil, and plant away.
If you're really pressed for horizontal space, a length of PVC pipe can be transformed into a perfect, super narrow vertical garden. Create a base for your pipe (a plastic bucket filled with cement, sand, or rocks, with drainage holes at the bottom, makes a good base) or sink it into the ground. Cut holes along the length, then fill it with soil. Put your plants in the holes you've cut, and you'll have a tower of vibrant plant life in no time.
If you like the idea of a living wall but want more control, you could combine the idea with hanging plants and attach pots or cans to your wall or fence. This is especially easy if you have a chain-link or slatted fence to work with, or you could attach chain-link or chicken wire to an exterior wall and hang your containers from it. If you have a wooden privacy or stockade fence, you can easily screw tin cans or other containers to it. This opens up the plants you can use for your living wall and lets you arrange your plants like an artist choosing colors.
Have an old ladder lying around? Then you have the world's easiest vertical garden structure. Just open up your ladder, set it firmly in place, and use the steps to hold containers for your plants. A small ladder is ideal even for tiny outdoor spaces like apartment balconies, maximizing your available gardening space.
Succulents are great choices for vertical gardens because of their hardy nature and sturdy, efficient size and shape. Creating a wall-hanging succulent box is pretty easy, and makes for a terrific way to get your plantings off the ground. You can then jazz them up even further by putting some fancy frames around your vertical succulent box, instantly upgrading from vertical garden to art wall.
For some outdoor or indoor vertical gardening, a spice rack of any size, some spice jars or old glasses, and seeds for your favorite herbs will make for an easy vertical garden that supplements your cooking. Just hang the spice rack where it's convenient and either fill the shelves with soil for direct planting or use appropriately-sized jars to hold everything from basil to oregano and anything else you want to pluck fresh for dinner.