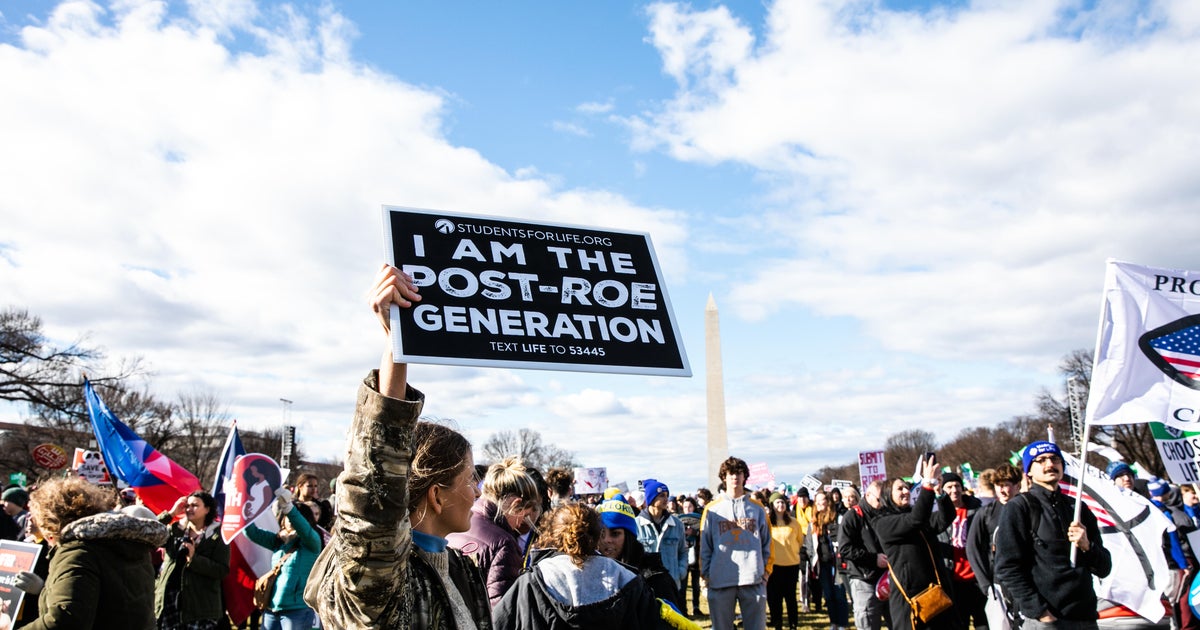 For the first time in 50 years, abortion rights are not federally protected heading into a presidential campaign season. But after Democrats' messaging on abortion helped stave off the Republican red wave that was expected in last November's midterm elections, the issue poses a fresh challenge for any GOP hopeful looking to clinch the party's presidential nomination early next year and win the White House.
When the Supreme Court overturned the landmark Roe v. Wade ruling last June and left it to states or Congress to determine abortion law, the possible 2024 GOP presidential hopefuls praised the decision. But the next president will hold the power to either sign or veto any federal abortion legislation. 
"It's like year one for the pro-life movement, so it's a different world post-Dobbs, and our expectations are very high for these presidential candidates," said Marilyn Musgrave, vice president of government affairs for the anti-abortion group, Susan B. Anthony Pro-Life America. Dobbs v. Jackson Women's Health Organization was the abortion case that overturned Roe.
Musgrave said the group is looking forward to seeing how candidates view the way forward for abortion rights opponents, but she made one thing clear. 
"We will not accept a candidate saying 'it's a states issue now, back to the states now, no federal law' – That is totally unacceptable," Musgrave said. 
Bob Vander Plaats, an influential conservative activist in Iowa as well as president and CEO of the socially conservative Family Leader organization, said that "there's definitely a manner in which the federal government needs to play" when it comes to abortion.
"Because if it's a state issue – you have runaway abortion in California with Newsom, and will have abortions up to birth," he said. "For these presidential candidates, they're going to have to be solid on the sanctity of human life." Last November, California passed a ballot measure codifying a woman's right to an abortion. The law allows abortion for a pregnant woman up until the point of viability — generally considered to be between 23-24 weeks — and only qualified doctors can perform them.
So far, only former President Donald Trump is the only declared candidate for the White House, but other Republicans are mulling a 2024 run. 
Trump, who said when Roe was overturned that "God made the decision," opined that Republicans had "poorly handled" the issue of abortion and that it hurt them politically in the midterms.
On Monday, he said on Real America's Voice that unsuccessful Republican candidates, such as Doug Mastriano in Pennsylvania and Tudor Dixon in Michigan, should have embraced exceptions for rape, incest and to save the life of the mother. 
"If you don't have [them] I think it's very, very hard to get elected. With that said, you have to go with your heart and what you feel," he said. "Again, Ronald Reagan was for the three exceptions, as I was… I think it's very hard, other than certain parts of the country, to get elected if you're not in favor of the three exceptions."
A number of the potential contenders are governors and have moved to limit abortion in their states since the Dobbs decision. 
South Dakota Governor Kristi Noem had a trigger law that went into effect following the Dobbs decision that bans abortion except if the pregnant woman's life is endangered, with no exceptions for pregnancies resulting from rape or incest. She praised the Dobbs decision for returning abortion rights to the states.
Earlier this month, Noem's communications director, Ian Fury, sought to contrast South Dakota's abortion ban with that of Florida's, under Gov. Ron DeSantis.
"Where was Governor DeSantis? Hiding behind a 15-week ban," Fury wrote to a National Review reporter, and suggested the Florida Right to Life organization was "embarrassed" by DeSantis's record, so they invited Noem to speak instead at their 2021 conference. 
When asked by CBS News if she agreed with Fury, Noem declined to cite DeSantis by name but said "every leader now, today, has the opportunity to stand for every single life."
"I would nudge every governor to do what they can to back up their pro-life record," she said. 
DeSantis' office has not yet responded to CBS News' request for comment on Noem's or Fury's remarks.
In April 2022, DeSantis signed a 15-week ban on abortion, with no exceptions for rape, incest or human trafficking. The state previously had a 24-week ban. 
In December, he said he would be "willing to sign great life legislation" when asked if he'd support a six-week ban on abortion.
DeSantis has not weighed in on whether he supports a national abortion ban since the overturning of Roe, but he supported measures restricting abortion during his time in Congress.
Democrats broadly support codifying Roe which protected abortion up until viability before some restrictions can be applied. 
Virginia Governor Glenn Youngkin, whose upset win in Democratic-leaning Virginia in 2021 put him in the conversation for 2024, faces his own legislative test on abortion. 
He is pushing for a 15-week abortion ban, noting in his address this month that "Virginians want fewer abortions, not more." But with a Democratic-majority in the state Senate that grew after a January special election, Youngkin's ban faces a challenging road ahead. He nonetheless told CBS News that he's "optimistic" and "hopeful" he can work with the divided legislature to pass it.
The first-time elected official and governor has also not said whether he'd support a national abortion ban. In a July 2022 interview with "Face the Nation," Youngkin said he does believe there should be exceptions for rape, incest and life of the mother, and that "this is a decision for states to make."
"This is a moment for our country to have a discussion around this and each state will decide something different. And I think that's the real value of the Supreme Court's decision," he said. 
New Hampshire Governor Chris Sununu, who has kept the door open for a 2024 run, signed a 24-week abortion ban in 2021. 
South Carolina Sen. Lindsey Graham, who ran for president in 2016 and is set to join Trump later this month at a campaign stop in his state, introduced a 15-week abortion ban in September 2022. 
And Sen. Ted Cruz of Texas, who also ran in 2016, introduced a 20-week abortion ban in 2021. Sen. Josh Hawley of Missouri has said he would not support a federal ban on abortions. 
Where some Republicans outside of Congress have said little about support for federal abortion restrictions, former Vice President Mike Pence has not shied away from the topic. 
Pence has not said when he'll make a final decision about running for president, but in a recent interview with CBS News, he shared his views on abortion law. 
"I certainly would support any pro-life legislation that Congress would take up," Pence said, but added he believes the issue is "likely to be solved one state at a time." He also touted the Supreme Court justices confirmed during the Trump administration, which paved the way for the Dobbs decision. 
On the day of the Dobbs decision, Pence tweeted, "we must not rest and must not relent until the sanctity of life is restored to the center of American law in every state in the land."
But while some candidates may fight over expanding abortion bans during  the primary, strong support for reducing abortion rights puts Republicans at odds with most Americans. In a CBS News poll after the Dobbs decision, 59% of Americans disapproved of Roe being overturned. That included 62% of independents, but only 22% of Republicans.
An aggressive anti-abortion stance could damage the prospects of the Republican nominee in  key battleground states. In Pennsylvania, where Democrats swept statewide offices in the midterms, abortion was the No. 1  issue. It was also the top issue in Michigan, where not only did Democrats win statewide, but voters passed a constitutional amendment to protect abortion rights.
Although some GOP candidates lost in battleground states, other Republicans who signed more restrictive abortion laws, like DeSantis and Governor Greg Abbott of Texas, won reelection by sizable margins. 
While Democrats leaned into messaging on abortion, Republicans did not; on ads alone, Democrats outspent GOP candidates but hundreds of millions of dollars. In some battleground races, Democrats outspent Republicans by more than 10-1. 
CBS News reporter covering economic policy.
Thanks for reading CBS NEWS.
Create your free account or log in
for more features.