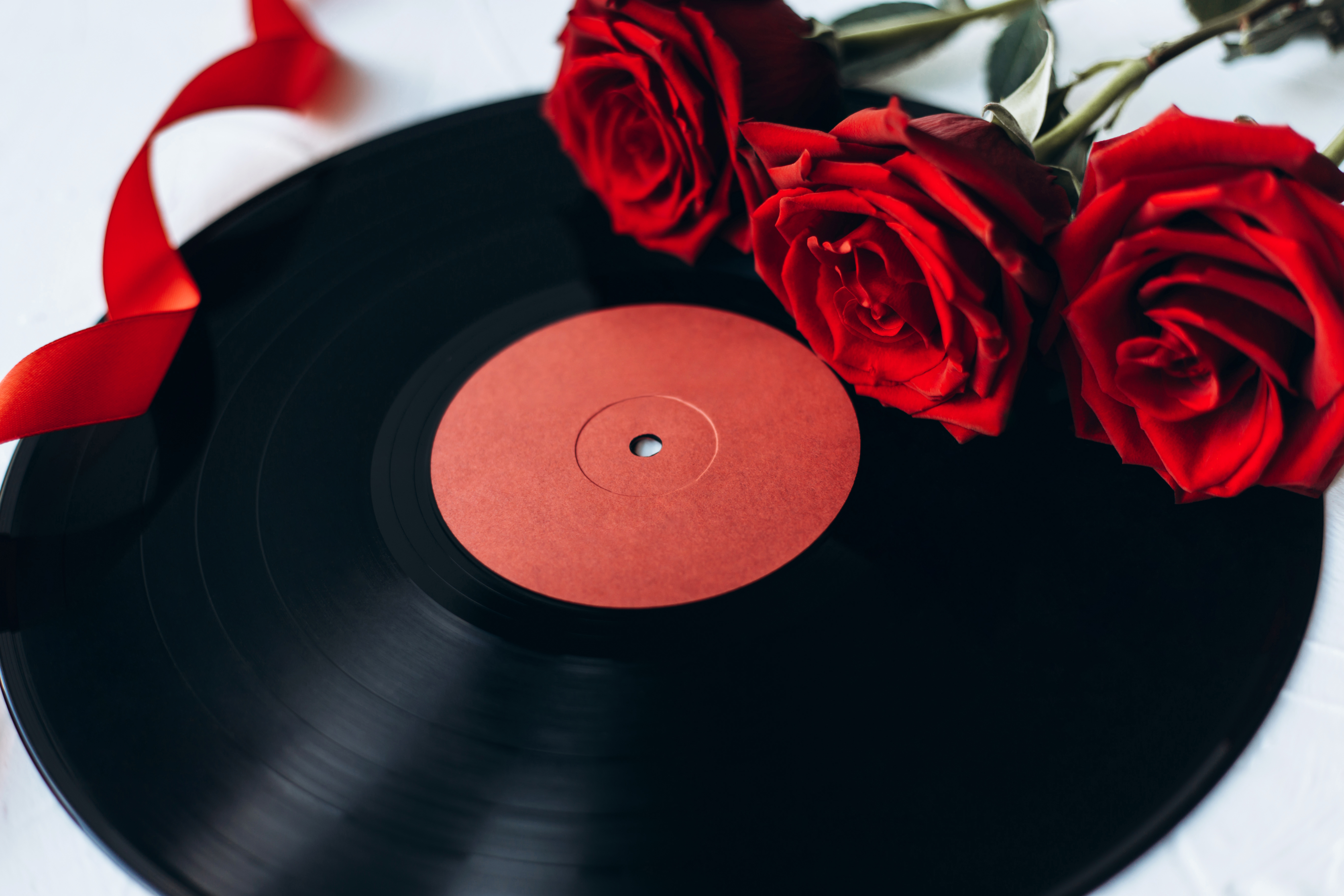 Love is in the air and with so many XOs floating around, there's no time to waste planning your Valentine's Day celebration.
Handwritten card? Check. Sweet Instagram post? Done. Dinner reservations? All set.
Even if you aren't a fan of the holiday and prefer spending it by yourself or with the gals, it never hurts to have a collection of romantic songs on reserve … just in case good ol' Cupid comes calling.
There's no denying the power of a classic Valentine's Day song to set the mood and singers like Marvin Gaye, Barry White and Shania Twain have laid down some of the best hits to help do just that.
We've collected the very best Valentine's Day songs so you can spend your time dreaming up sweet nothings instead of tracking down tunes for your playlist.
And don't worry, they're not all '80s power ballads either — although, to be fair, there are quite a few.
We've also sprinkled in some upbeat toe-tappers, including James Taylor's "How Sweet it Is" and Bruno Mars' "Just the Way You Are."
Got a personal favorite Valentine's Day song? Scroll on to see if it makes the list. Even if it doesn't, these heart-shaped hits will have you feeling all the love this Feb. 14.
'At Last' by Etta James
Singer Etta James released this timeless ballad in 1961 and since then it's become one of the most popular songs played at weddings and was famously sung by Beyoncé during the 2009 inauguration of President Barack Obama.
'Valentine' by Jim Brickman ft. Martina McBride
Jim Brickman and Martina McBride team up in this song, which features lyrics like "Even if the sun refused to shine / Even if romance ran out of rhyme / You would still have my heart / Until the end of time." It doesn't get much more Valentine-ish than that.
'Let's Stay Together' by Al Green
Al Green's hit "Let's Stay Together" went to the top of the Billboard Hot 100 and stayed there for 16 weeks. Whether times are good, bad, happy or sad, it remains a popular song, especially for couples.
'A Thousand Years' by Christina Perri
Hearts around the world skipped a beat watching Bella and Edward finally tie the knot in "Breaking Dawn," the 4th installment in the "Twilight" series. Even though this Christina Perri song plays during the film's closing credits, it's come to represent the pair's eternal love.
'From This Moment On' by Shania Twain
This ode to forever love by country music legend Shania Twain is timeless and the perfect song to play in honor of a new (or enduring) relationship.
'I Will Always Love You' by Whitney Houston
Originally written by Dolly Parton, Whitney Houston's version featured in the film "The Bodyguard" topped the charts for 14 weeks and remains one of the most popular songs of all time.
'Unchained Melody' by The Righteous Brothers
Demi Moore and Patrick Swayze cemented this song's fate as a tune for lovers after the pair made sensual pottery together in the movie "Ghost" while it played in the background.
'All of Me' by John Legend
All of me, loves all of you. It doesn't get any better than John Legend's heartfelt tribute to wife, Chrissy Teigen, in this touching tune just right for slow dancing.
'Endless Love' by Diana Ross and Lionel Richie
Diana Ross and Lionel Richie croon their hearts out in this 1981 duet from the movie by the same name. The ballad tops Billboard's list of the top 50 love songs of all time.
'Can't Help Falling in Love' by Elvis Presley
Wise men say that this song by the "King of Rock 'n' Roll" is one for the storybooks. "Can't Help Falling in Love" stands the test of time and remains a favorite of sweethearts.
'Silly Love Songs' by Paul McCartney
Some people want to fill the world with silly love songs — Paul McCartney included. What's wrong with that? We need to know because there's no better time than Valentine's Day to listen to them.
'I Want To Know What Love Is' by Foreigner
This gospel-infused power ballad by Foreigner is inspiring enough to make just about anyone feel the love on Valentine's Day and beyond.
'You're the Inspiration' by Chicago
Peter Cetera and David Foster combined their talents to write this '80s hit, which is sure to bring a tear or two to your eye with it's sweet lyrics celebrating a love that lasts forever.
'Best Part (ft. H.E.R.)' by Daniel Caesar
Daniel Caesar and H.E.R. duet on this special song that equates love to coffee in the morning, water in the desert and even Tylenol when you've got a headache.
'Bless the Broken Road' by Rascal Flatts
Life doesn't always go as planned, but sometimes it's the unexpected things, like mistakes and heartbreak, that lead us to where we're ultimately meant to end up. This Grammy-winning song reminds us exactly that.
'Love Story' by Taylor Swift
Taylor Swift cheerfully sings about happily-ever-afters in this song about the Romeo to her Juliet. He says "marry me" in the end and it's all just a love story, baby.
'Thinking Out Loud' by Ed Sheeran
If there was ever a song made for slow dancing, this one's it. Ed Sheeran totally nails that feeling of resting your head on your sweetheart's shoulder while swaying slowly to the music.
'Overjoyed' by Stevie Wonder
After building castles of love and turning over every stone to find the love of his life, Stevie Wonder's dream comes true in the end of this charming '80s ballad.
'Love Will Keep Us Together' by Captain and Tennille
Whether you remember the Captain and Tennille's '70s variety show or not, this spunky collaboration between the then married couple remains a fun ode to romance and is sure to have you singing "I will, I will, I will."
'Love Me Tender' by Elvis Presley
Simple and sweet, "Love Me Tender" is one of the greatest Elvis songs of all time, right along with "Can't Help Falling in Love," which, of course, also makes our list of the best Valentine's Day songs ever.
'You're Still the One' by Shania Twain
During an interview with TODAY.com, Twain cited "You're Still the One" as "the most important song I've ever written." We couldn't agree more.
'You and Me' by Alice Cooper
Widely known for his heavy metal tunes and headline-grabbing stage antics, rocker Alice Cooper turned tender on this '70s ditty celebrating the simple pleasures of being in love like eating popcorn and watching TV together.
'I Only Have Eyes for You' by The Flamingos
Covered by Frank Sinatra, Michael Buble, Art Garfunkel and The Flamingos, among others, "I Only Have Eyes for You" is a timeless classic.
'My Heart Will Go On' by Celine Dion
Why, oh why, couldn't Jack join Rose on the door in the frigid Atlantic? We may never know the answer, but the "Titanic" theme song will always remind us of their storybook affair.
'A Groovy Kind of Love' by Phil Collins
Phil Collins' cover of this Carole Bayer Sager and Toni Wine song is the kind of fare just right for a romantic candlelight dinner for two.
'Better Together' by Jack Johnson
A favorite for weddings, Jack Johnson's "Better Together" is a warm acoustic ode to iconic pairings like coffee and the sunrise, a hand and a glove, or a needle in a groove.
'Crazy' by Patsy Cline
The late, great Patsy Cline will always be remembered for her legendary voice and classic songs like "Walkin' After Midnight." Her ballad "Crazy" talks of love lost, but perfectly sums up what it means to fall head over heels.
'My Funny Valentine' by Ella Fitzgerald
Every day is Valentine's Day in this old jazz standard by Ella Fitzgerald, who begs her lover to not only stay, but to never change a thing — right down to the hair on their head.
'This Will Be (An Everlasting Love)' by Natalie Cole
Natalie Cole's toe-tapping "This Will Be (An Everlasting Love)" evokes scenes of pretty much every rom-com ever made, making it the perfect accompaniment to your own memory montage.
'The Way You Look Tonight' by Tony Bennett
Although it's been covered dozens of times over the years, Tony Bennett's version of "The Way You Look Tonight" on the soundtrack of "My Best Friend's Wedding" is the most heartfelt.
'Come Away With Me' by Norah Jones
If you and your beau love to travel, "Come Away With Me," with its lyrics about walking through meadows and kissing on mountaintops, is a must on your Valentine's Day playlist.
'Make You Feel My Love' by Adele
"Make You Feel My Love" is Adele at her best. A track off her "19" album, the song's quiet devotion is the stuff epic ballads are made of.
'Because You Loved Me' by Celine Dion
Off the soundtrack of the Robert Redford and Michelle Pfeiffer film "Up Close & Personal," this Celine Dion song is all about how the power of love can make just about anything happen.
'When a Man Loves a Woman' by Percy Sledge
When a man loves a woman, he'll do just about anything she wants — even if it means spending his last dime and sleeping out in the rain. At least that's what Percy Sledge says in this 1966 tune.
'I Knew I Loved You' by Savage Garden
You know it's special when you dreamed about falling in love with your sweetheart before ever actually meeting them in real life. Savage Garden's "I Knew I Loved You" captures that once-in-a-lifetime feeling.
'If I Ain't Got You' by Alicia Keys
In one of her biggest hits, Alicia Keys doesn't need diamond rings, the fountain of youth, fortune or fame, all that matters is having her one and only by her side.
'All My Life' by K-Ci & JoJo
After spending three weeks at No. 1 on the Billboard Hot 100 in 1998, "All My Life" continues to be a popular ballad for weddings and, of course, Valentine's Day.
"Sea of Love" by The Honeydrippers
In the mid-1980s, Led Zeppelin's Robert Plant and Jimmy Page formed The Honeydrippers with guitarist Jeff Beck. The band's cover of "Sea of Love," was their biggest hit, going to No. 3 on the Billboard Hot 100.
'Keep on Loving You' by REO Speedwagon
REO Speedwagon's "Hi Infidelity" was the essential album of the early 1980s, spawning several chart-topping hits including "Keep On Loving You," which spent 28 weeks on the Billboard Hot 100.
'Crazy Love' by Van Morrison
Van Morrison makes no secret of his admiration for the girl who not only has a fine sense of humor, but makes the heavens open up every time she smiles. It's not just regular ol' love; it's crazy love.
'Stand By Me' by Ben. E. King
Love means a lot of things, including being there for your partner when times are tough. Ben E. King lays it down in this sweet song of support.
'Chances Are' by Johnny Mathis
With a voice like butter, Johnny Mathis croons about completely losing his composure every time his "dear" holds him close. What are the chances they get together? We say, awfully good.
'When I Fall in Love' by Nat King Cole
Don't bother falling in love unless it's going to be forever. After all, it's a restless world with too many moonlight kisses that cool in the sun, at least according to Nat King Cole in "When I Fall in Love."
'You're the First, the Last, My Everything' by Barry White
Dim the lights because it's time for love. No one does it better (singing, that is) than Barry White, who won us over with this sultry tribute to romance.
'Unforgettable' by Natalie Cole
Unforgettable, that's what this song is. Dreamy and pondering, Natalie Cole makes magic in this virtual duet with her late father, Nat King Cole, who made the hit famous in 1952.
'Let's Get it On' by Marvin Gaye
The first few notes of Marvin Gaye's "Let's Get It On" are unmistakable as is the meaning of this slow groove which has Gaye practically begging for a little one-on-one time.
'Always & Forever' by Heatwave
With its slow groove and sweet lyrics of love, Heatwave's "Always & Forever" is essential to any Valentine's Day compilation.
'Just the Way You Are' by Billy Joel
Billy Joel wrote this tune for his first wife and while they're no longer together, it continues to sum up what love is all about: embracing your sweetheart for all that they are.
'How Sweet it Is (To be Loved by You)' by James Taylor
Oh, yes, it is so sweet to love and be loved. James Taylor sings all about it in this catchy chart-topper.
'Faithfully' by Journey
You don't to be out on the road like Journey's Steve Perry to appreciate what it feels like to be apart from your love. "Faithfully" captures the challenge of long-distance love and is a sweet ode to staying true.
'You Are' by Lionel Richie
The sun, the rain, they make Lionel Richie's life a foolish game in this song off his self-titled debut album that was an instant hit for the former Commodores member.
'I Swear' by All-4-One
One of the original boy bands, All-4-One cemented their career with this ballad that continues to cause hearts to swoon nearly 30 years after its release.
'Marry Me' by Train
Planning a Valentine's Day proposal? Then this earnest song by Train will be stuck on repeat. Even if getting married isn't part of your Valentine's Day celebration, it'll put hearts in their eyes when you play it.
'Just the Way You Are' by Bruno Mars
Mr. Uptown Funk himself, Bruno Mars, charted his first big hit with this upbeat tune about being beautiful exactly as you are.
'You Are So Beautiful' by Joe Cocker
Joe Cocker sounds like he might be shedding a tear or two at the end of "You Are So Beautiful." There aren't many lyrics in this '70s hit, but there's no doubt that whoever this tune is about, they're undoubtedly amazing.
This story first appeared on TODAY.com. More from TODAY: