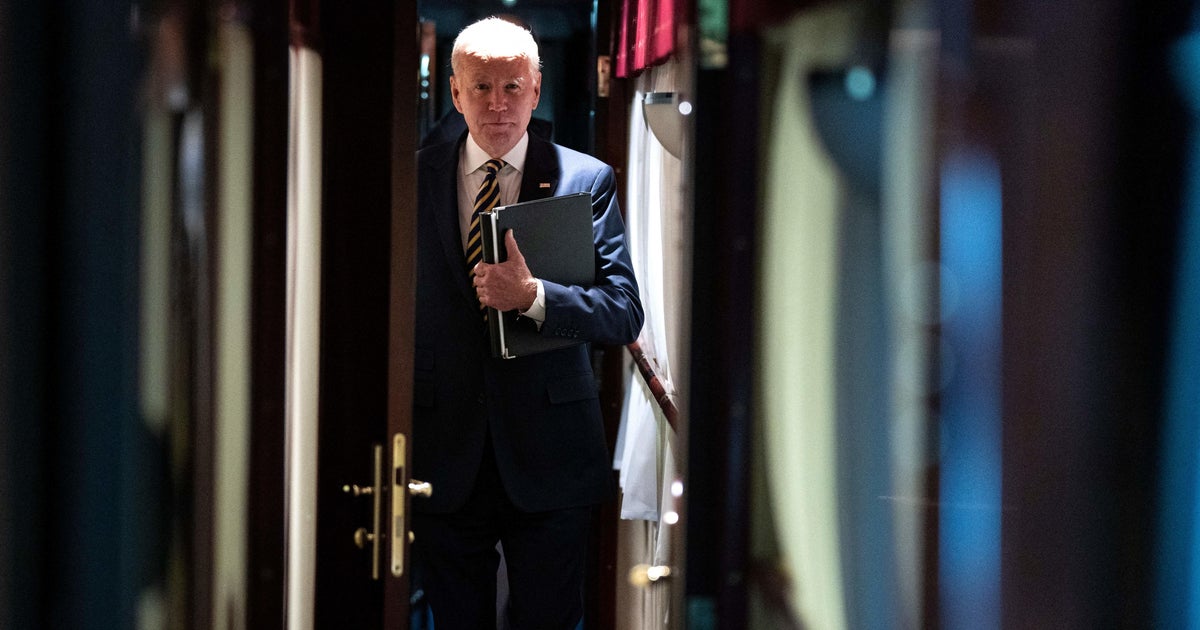 Sneaking the leader of the free world into an active war zone in Ukraine isn't easy. 
It took months of secret planning by a handful of officials from the Pentagon, Secret Service, intelligence community and White House. Amanda Sloat, a top adviser to President Biden on European affairs, told CBS News that "an incredibly small team" was involved in the planning. 
"It was a very close-held operation, and I think everybody wanting to do everything they could to get the president there and back safely," Sloat said. 
Here's how they did it:
Before dawn on Sunday, Mr. Biden and his team boarded an Air Force plane that had its shades drawn and sat in a dark hanger at Joint Base Andrews. Instead of flying on the usual 747, Mr. Biden flew on a smaller C-32. The plane's call sign was changed from "Air Force One" to "Special Air Mission 60." 
The group traveling with Mr. Biden was also kept to a minimum and sworn to secrecy. Instead of the larger group of press that travels with the president, two journalists were allowed to document the trip — Wall Street Journal reporter Sabrina Siddiqui and Associated Press photographer Evan Vucci. 
The plane stopped briefly in Germany — still with its shades down — to refuel before the aircraft's transponder was turned off for the next flight to a Polish airbase near the Ukraine border. 
From there, Mr. Biden, his aides, security apparatus and the press drove about an hour to Przemyśl Główny train station, located near the border of Poland and Ukraine. The motorcade of at least 20 vehicles did not use sirens — as the president's motorcade usually does — to avoid drawing attention to itself. 
The motorcade pulled up to a train that also had its shades mostly drawn and the occupants boarded for a 10-hour journey to Kyiv. Along the way, the train stopped a handful of times, at least once to pick up more security. All the while, U.S. surveillance flights kept watch from Polish airspace. 
A couple of hours before Mr. Biden arrived in Kyiv, the U.S. gave Russia a heads up in a brief and "very straightforward way" through a "deconfliction channel," Sloat said. 
The train pulled into the Kyiv-Pasazhyrsky station after sunrise Monday. U.S. Ambassador to Ukraine Bridget Brink awaited Mr. Biden and his staff on the platform. 
"It's good to be back in Kyiv," Mr. Biden said after stepping off the train. 
Mr. Biden was then ushered away in another motorcade to meet with Ukrainian President Volodymyr Zelenskyy. He spent about six hours in Kyiv before heading to the train station for the 10-hour journey back to Poland. 
Thanks for reading CBS NEWS.
Create your free account or log in
for more features.