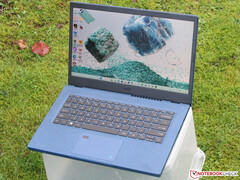 Acer tries to go sustainable with the Aspire Vero: the chassis of the 14-inch laptop is partly made of recycled plastic. In addition, the device offers great performance, Thunderbolt 4 support and outstanding battery life.
Acer's Aspire Vero AV14-51 lineup comprises 14-inch office notebooks in the mid to upper price segment. The review model is expected to retail for roughly €1,000 to €1,100 (US$1,053 to US$1,158). For the Aspire Vero, Acer's main focus is neither on specs nor performance, but rather on sustainability aspirations: the AV14's chassis is partially made of recycled plastic, and its box is made from recycled paper.
The review unit provided by Acer is powered by a Core i7-1255U processor (Alder Lake), which packs more than enough punch for office and Internet applications and can also run modest games. The CPU is flanked by 16 GB of RAM (onboard LPDDR4-4266 in dual-channel mode). With a capacity of 1 TB, the PCIe 4.0 SSD provides enough space for most use cases. Otherwise, the SSD can be upgraded for more storage. But there is no way to add other types of storage devices. 
The 56Wh battery kept the laptop going for about 16 hours (display brightness approx. 150 cd/m²) in our Wi-Fi test – an immensely impressive result. Battery life dropped to around 13.5 hours when screen brightness was turned up all the way. The laptop can be charged using a USB-C adapter (65 watts). Alternatively, there is also a power port that allows you to connect the Vero AV14 to a proprietary Acer power adapter. This lets you free up the USB-C port (Thunderbolt 4) for other things, such as a docking station or an external GPU.
Head on over to our Acer Aspire Vero AV14-51-72DL review for more information and a whole host of benchmark results. 
Linked Articles
Acer Aspire Vero AV14-51-72DL (Aspire Vero AV14 Series)
Related Articles
Editor of the original article: Sascha Mölck – Senior Tech Writer – 911 articles published on Notebookcheck since 2012
What started as a side job during my computer science studies later became my main job: For more than 20 years now I have been working as an editor and author in the IT sector. While working in the print sector I also contributed to the creation of various loose-leaf publications and published original written pieces. I have been working for Notebookcheck since 2012.
Translator: Zhiwei (Peter) Zhuang – Translator – 52 articles published on Notebookcheck since 2022
After graduating with a bachelor's degree in environmental engineering, I moved from Singapore to
Cologne in 2014 and began pursuing a career as a freelance translator. Much of my translation work
focuses on science, engineering and technology. My fascination with computers and mobile
electronics began when I was young. And I have fond memories reading countless tech and gaming
magazines. Working with Notebookcheck gives me the opportunity to incorporate my personal
interests into my professional work.
Sascha Mölck, 2023-01- 7 (Update: 2023-01- 6)