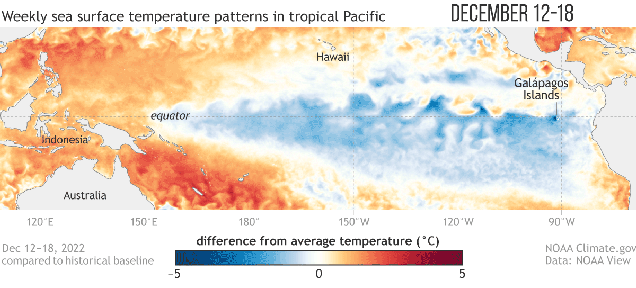 After a particularly extended stay, the La Niña weather phenomenon that's persisted for the past three years, contributing to extreme weather worldwide, has finally come to an end.
Pacific Ocean waters along the equator have warmed up to near-average temps, ending the La Niña state, which is diagnosed via Pacific sea surface temperature. The news came in a Thursday statement from the U.S. Climate Prediction Center, titled "Final La Niña Advisory." Along with the marine temperature change, climatologists and meteorologists foresee a corresponding shift in some of the weather regimes that have taken hold over the past few years.
La Niña is linked to lots of different precipitation and heat trends around the planet. It contributes to drought in the southern and western U.S. and in South America, as it drives rainfall east, across the Pacific. Accordingly, La Niña generally means intense rains and flooding for Southeast Asia and parts of Australia, as has happened over the past three years.
Elsewhere in the U.S., La Niña often means more rain (but less snow) for the northeastern states. Moreover, air currents dictated by ocean temperatures during La Niña years contribute to worse Atlantic hurricane seasons. Africa and East and Central Asia also feel the phenomenon's effects.
This recently concluded La Niña event began in spring 2020 and became one of the most intense "in historical record dating back to 1950," Michelle L'Heureux, a NOAA climatologist, told Axios last year. During the three years it lasted, it caused all kinds of trouble. California and many other western states descended deeper into an extreme drought that shrunk reservoirs to record lows, killed crops and forests, brought on water restrictions, and more.
G/O Media may get a commission
Simultaneously, the eastern U.S. was hit by two very active hurricane seasons in 2020 and 2021 that resulted in multiple billion-dollar disasters, including Hurricanes Ida and Laura. In 2020, more than 30 storms formed, breaking records. Though 2022's Atlantic hurricane season was calmer, it was no cakewalk, spawning multiple devastating late-season storms, like Hurricane Ian and Hurricane Fiona.
La Niña is one side of the ENSO (El Niño-Southern Oscillation) recurring climate pattern that shapes weather around the globe. When the ocean surface is abnormally warm in the tropical pacific, it's called an El Niño period. When the same waters are abnormally cold, it's La Niña time. When tropical Pacific waters are on par with the historic average, it's considered an "ENSO-neutral" condition.
And that's where we currently are, per NOAA and the National Weather Service: neutral territory. At the last temperature check, the central Pacific's sea surface temperature was just 0.2 degrees C (0.4 F) below the long-term average, while the threshold for La Niña is -0.5 C, explained prediction center researchers in a blog post. During ENSO-neutral conditions, worldwide weather is expected to be basically average, whatever that means anymore. But it's unclear how long we'll be staying in the neutral zone, the NOAA/NWS forecasters noted.
There's about a 60% chance that the Pacific warms up enough to slingshot the world into El Niño conditions by the fall, the ENSO post said. Though, the forecasters added that predictions made in the spring are notoriously unreliable. The Climate Prediction Center hasn't yet instituted an official El Niño watch.
If El Niño were to happen before summer, the U.S. could expect an abnormally light hurricane season. An El Niño event would also likely bring wet conditions to the Southwest, dry weather to some eastern states, and warm temperatures to many northern states.
The ENSO cycle is a fluctuation that occurs separately from human-caused climate change. But that doesn't mean the two aren't linked. Research suggests climate change is shifting ENSO patterns, causing more extreme La Niña and El Niño events. Climate change can also intensify weather patterns brought on by ENSO shifts, like heatwaves and storms.