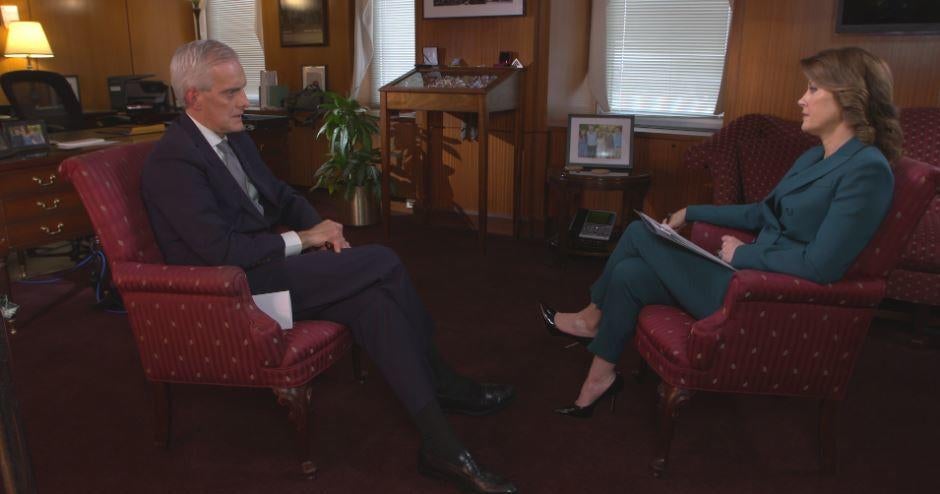 Andrew Myatt was willing to give his life for his country serving in the Army. After 9/11 he was deployed to Iraq, where he performed dangerous missions like searching for improvised explosive devices to disarm and destroy. 
But the 24-year Army veteran never thought the greatest risk to his health would show up years later. 
Myatt has a rare form of leukemia, which doctors say was most likely caused by exposure to toxins during his deployments. The toxins were from burn pits, which were the main way troops disposed of garbage, often using jet fuel to ignite flames. 
"The last thing you're thinking about is, you know that the smoke I walk by or the solvents I put in my vehicle is going to kill me," Myatt said. 
He applied for health coverage three times through the Department of Veterans Affairs and was denied each time. For years, that's been the reality of veterans who couldn't prove to the VA that their health conditions were linked to burn pit exposure. 
In August, President Biden signed the PACT Act, expanding VA healthcare eligibility for veterans who had toxic exposures during the Vietnam War, Gulf War and post-9/11 wars. The PACT Act takes the burden of proof off veterans, automatically linking asthma, some cancers and other illnesses to burn pit exposure.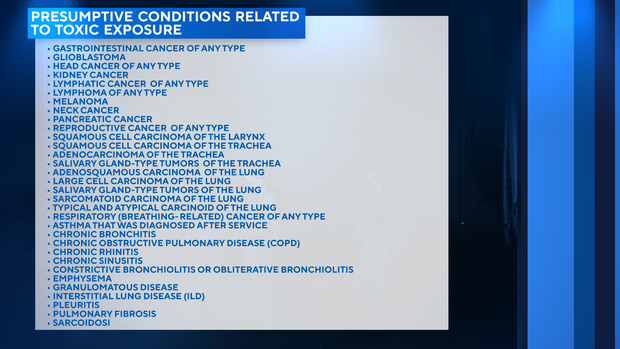 An estimated four million veterans who were deployed in the last 30 years were exposed to burn pits, according to VA Secretary Denis McDonough, who is urging veterans who may have been affected to file claims with the department. 
Nearly 260,000 claims have been filed and 66,000 benefits issued since the legislation was signed into law, the VA told CBS News. At least 1.4 million veterans have been screened for toxic exposure. 
"We've got a long way to go and we won't rest here in this building until we've reached every one of those vets, made sure they know what they qualify for, we get them signed up and we get that process going," McDonough said. 
McDonough said the VA is in the process of determining what VA facilities need in order to provide care to potentially millions of more patients. 
"We're running a process, an analysis facility by facility, to say, what do they currently need there?" he said. "What will additional vets coming in as a result of this law need? And we're out hiring very aggressively to fill those needs." 
While Myatt applauds the effort, he said for some veterans it's too little too late. 
"Knowing that those 3.5 million service members were exposed unnecessarily and we could have better mitigated against that and controlled it, and not knowing how many of them died, died needlessly after they came back because of that is, it's disheartening," he said.
After filing his fourth claim earlier this month, Myatt was finally approved for coverage through the VA, after it ruled that his cancer was a result of his deployments. 
Despite evidence that shows the toxins from burn pits can harm troops, the Defense Department has yet to ban them. A spokesperson for the department said it "currently does not operate any open air burn pits," but it is "currently tracking 6 open air burn pits that are located in/near United States personnel in the countries of Syria, Iraq, Yemen and Niger." 
"Our efforts to reduce burn pit use involve increased communications with host nations and partners, requesting the use of alternative waste disposal methods and making investments in technologies that may turn waste disposal into usable power and energy for the warfighter," the spokesperson said. 
Veterans can file a claim at VA.gov/PACT. 
Thanks for reading CBS NEWS.
Create your free account or log in
for more features.