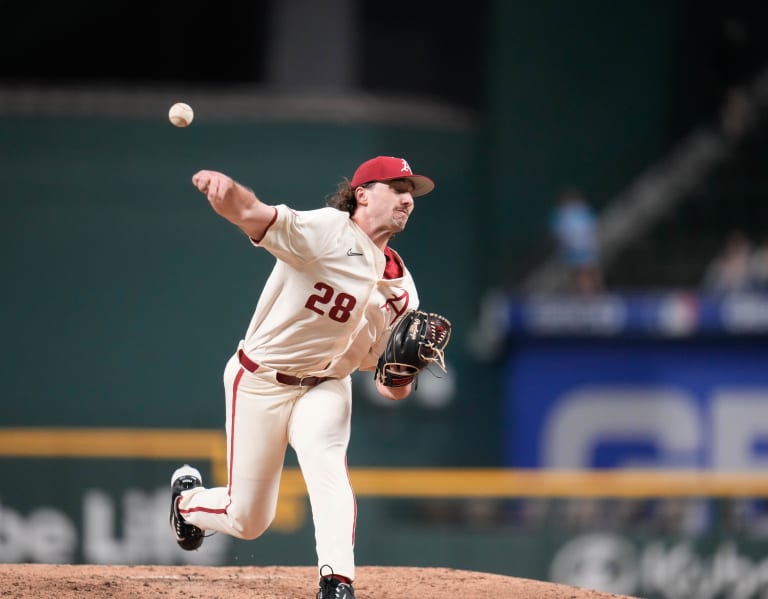 The Arkansas Razorbacks have suffered another season-ending injury to a pitcher expected to throw significant innings in 2023.
Right-hander Koty Frank is out for the season with what has been described by head coach Dave Van Horn as a lat injury that was suffered in the seventh inning of Sunday's 6-2 win over Wright State.
"His season is over," Van Horn said after Tuesday's 7-5 win over Army. "He's going to have a procedure done on Monday. Don't ask me to describe it. But we'll try to get him ready for next year."
Frank's injury is added to the fact that projected ace Jaxon Wiggins is done for the season with a torn UCL and sophomore righty Brady Tygart is out for five to six weeks with a UCL strain.
The news came just a day after Van Horn mentioned at the Swatter's Club that the injury was potentially going to keep Frank out for five to six weeks, but after further evaluation, it was determined that his season was over. Van Horn did add after the Swatter's Club that if the injury was worse than expected, Frank would be done, and that's what happened.
A graduate transfer from Nebraska, Frank had a great start to the year as one of the few reliable bullpen arms for the Razorbacks. He appeared in six games this year and he boasts a 3.09 ERA in 11 2/3 innings pitched. Frank gave up just four earned runs on nine hits, walked one and struck out nine.
Losing Frank will put even more responsibility on the Arkansas bullpen, which has struggled to begin the season. Entering Tuesday, the Hogs' 5.62 team ERA was the second worst mark in the SEC.
"Losing him, it hurts," righty Dylan Carter said Tuesday. "But we've got guys that can step up and we've got guys that can keep this season rolling."
Frank is a graduate transfer after spending two seasons at Eastern Oklahoma State College and two years at Nebraska. He should be able to get a medical redshirt and return for another season in Fayetteville if he chooses to do so.