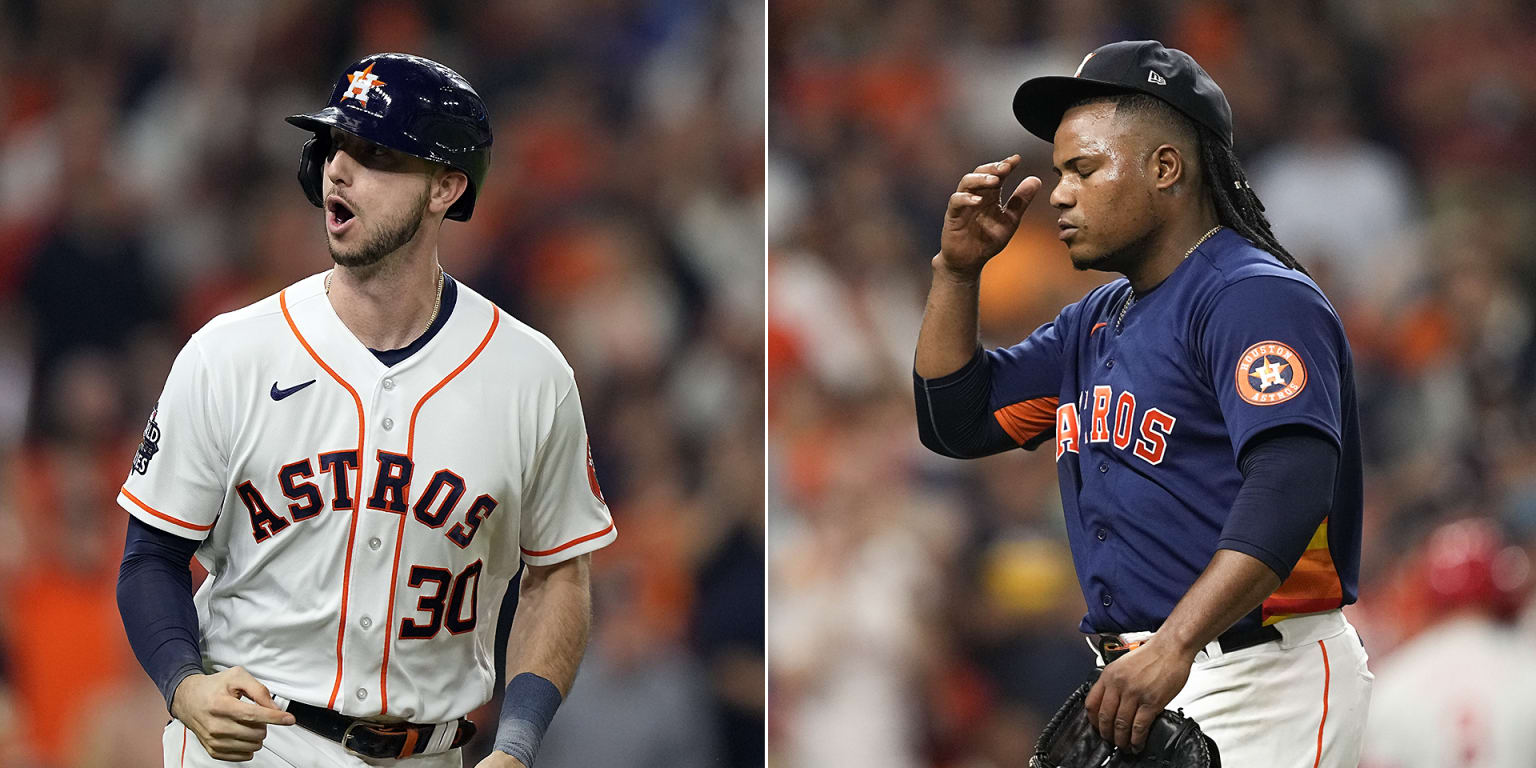 GM Brown also gives injury updates on Alvarez, Brantley and McCullers
March 8th, 2023
WEST PALM BEACH, Fla. — Astros general manager Dana Brown said he hopes to get contract extensions done with All-Star right fielder Kyle Tucker and All-Star left-hander Framber Valdez by Thursday or table the negotiations until a later date.
Brown stopped short of calling Thursday a deadline to reach deals with Tucker and Valdez — both of whom have three years of team control remaining — but said the team will know "whether we're going to be able to get them signed by [Thursday]." Brown would prefer not to have contract discussions during the season, though he didn't rule it out.
"We're just waiting to close, waiting to see what's going to happen," Brown said Wednesday. "I would love to get both of them done."
Shortly after being hired in January, Brown gave starting pitcher Cristian Javier a five-year, $64 million extension. Valdez, a workhorse who was a first-time All-Star last year, agreed to a $6.8 million deal to avoid arbitration. Tucker, also a first-time All-Star last year, lost his arbitration case against the Astros and will be paid $5 million.
"The beauty is we have those guys for three years, and I'd like to get them secured so that next year the only thing we have to worry about is [Alex] Bregman and [Jose] Altuve," Brown said. "If we don't get them secured, we still have them for three years. It's not the end of the world."
Brown said he felt more optimistic about extensions for Tucker and Valdez a week ago.
"We may be further away, particularly on Tucker than Valdez, but I'm one of those to keep hope alive," he said.
As far as Bregman and Altuve, who are under contract through '24, Brown said those contracts would be addressed "more like next year." Altuve has already signed two contract extensions to remain in Houston — including a five-year, $151 million deal in '18 — and said he wants to finish his career in Houston. Bregman signed a five-year, $100 million extension in March 2019.
"We made it clear we want to keep them both around," Brown said. "This is part of getting through '25, getting us to '26, getting us more time to replenish the system without overhauling the roster. The team's good. I feel the team's really good through '24. I think we have some decisions to make if we don't sign the two, but we still have Valdez and Tucker through '25. … Where I come from in Atlanta, we like to secure guys in their arb years, so we get a better vision of what the roster looks like going forward."
Brown addressed other issues Wednesday:
— Slugger Yordan Alvarez is expected to start swinging a bat for the first time this spring on Friday or Saturday, Brown said. Alvarez said early in the spring he was dealing with soreness in his left hand, an issue that has lingered since last year. Brown said Alvarez is in "zero pain."
"We know it doesn't take him long to get ready," he said. "He's a fierce competitor in the batter's box. It's just a matter of him being completely healthy. Hopefully we're through the storm once he starts back swinging. I think he's had the ample rest he needs."
— Brown said veteran left fielder Michael Brantley's readiness to play on Opening Day is in doubt. Brantley is still working his way back from shoulder surgery performed in August and has been away from the team for the past few days while dealing with a personal matter.
"It's going to be really close, to be there Opening Day or shortly thereafter, a week after, tops," Brown said. "We don't know where that is. … I'm hoping than no later than April 10 with him."
— Brown said he spoke with right-hander Lance McCullers Jr. on Wednesday and said he is feeling much better, but there's still no timetable for him to pick up a baseball. McCullers, who missed the 2019 season after undergoing Tommy John surgery and the first four months of last season with a right flexor pronator strain, said his arm became sore shortly after he threw 25 pitches in the bullpen Feb. 14.
McCullers said an MRI performed a week later showed no structure damage and said he had a small muscle strain in his elbow.