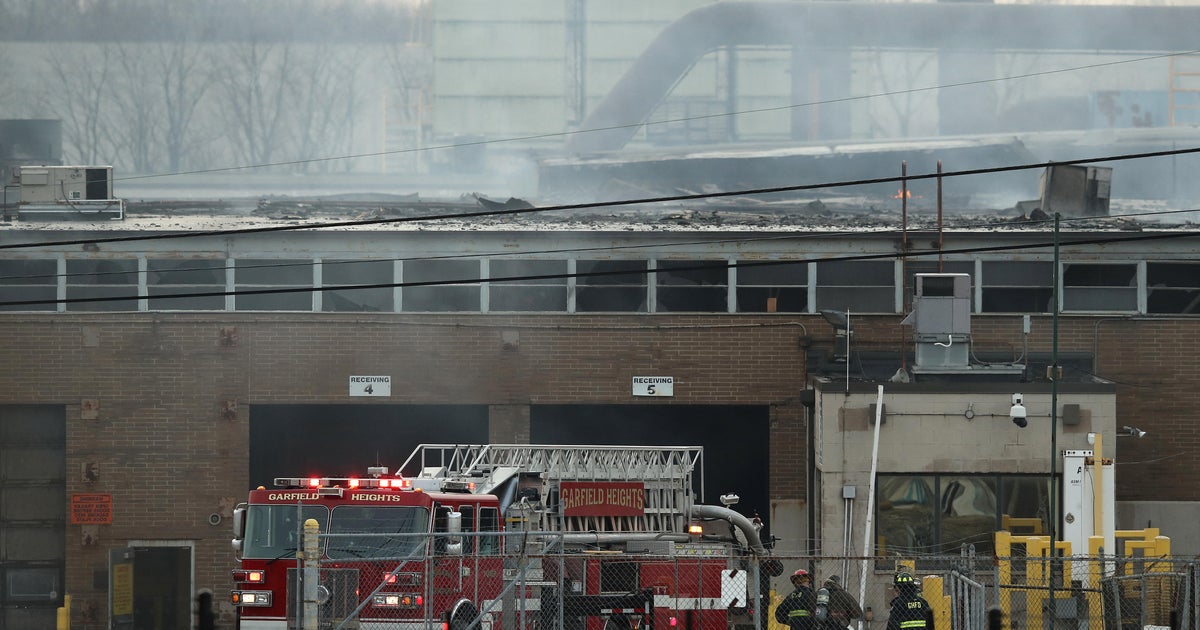 At least one person was killed and more than 10 others injured when an explosion at a metal plant in Ohio sparked a large fire.
A 46-year-old man died in the incident, according to records from the Cuyahoga County Medical Examiner's Office. An exact cause of death was not given, but the location of the man's death was listed as the address for the plant.
Emergency crews were called to the I. Schumann & Co. copper alloy company in the Cleveland suburb of Oakwood Village shortly before 3 p.m. Monday. The blast shook the ground and scattered debris for a couple of hundred yards, damaging several vehicles, while the fire sent smoke billowing to the sky in a cloud visible for miles.
Oakwood Fire Captain Brian DiRocco told reporters that 13 people were transferred to several area hospitals and another patient was still being examined. One person had to be pulled from the debris and was being treated while being taken to a hospital by helicopter. At least one patient was critical, and a number of people had burn injuries, but all plant staff had been accounted for and the fire was under control with crews mopping up hot spots, DiRocco.
It was not immediately clear if the man who died was among those who had been hospitalized or if he died at the scene.
"An explosion of unknown origin struck our Bedford, Ohio, facility today resulting in injuries to employees and significant damage to the facility," I. Schumann & Co. said in a statement, according to CBS affiliate WOIO-TV. "Our efforts now are focused on supporting the first responders who came on scene quickly to help our employees."
An employee at Rose Colored Gaming, located across the street from the plant, told WOIO that debris from the blast damaged several cars and parts of the building structure.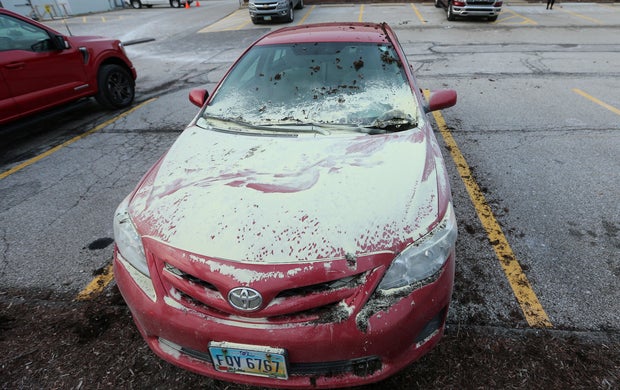 "That other beam flew across the street and blew out our window over here. Knocked this guy's car down," the man said. "Horrible. Exciting, but horrible."
He told the station that he saw "a plume of smoke and then the bigger explosion and then the wall of flame. And then it was on fire. It was just, it was on fire."
I. Schumann & Co. "recycles and trades a wide variety of scrap and produces brass and bronze alloys in ingot and pellet forms," the company said on its website. 
MetroHealth spokesperson Dorsena Koonce said several people were brought to the hospital and were being treated, but there was no immediate word on how many or their conditions. A University Hospitals official said seven patients were being treated at Ahuja Medical Center but there was no word on their conditions.
The plant has been cited by the Occupational Safety and Health Administration for multiple violations in recent years, according to records obtained by CBS News.
In one 2019 incident, an employee suffered third-degree burns and was hospitalized after molten metal splashed on his coveralls and he didn't realize his clothing had caught fire. The employee was not wearing fire-resistant coveralls or an aluminized overcoat at the time, according to OSHA.
In July of last year, the Ohio Environmental Protection Agency sent the company a notice outlining 11 violations of the state's hazardous waste laws, including unlawful storage and disposal of hazardous waste and causing hazardous waste to be transported to an unauthorized facility.
Thanks for reading CBS NEWS.
Create your free account or log in
for more features.