Ajla Tomljanovic is making it big in tennis. The 29-year-old Australian tennis star is also very active on social media and keeps her fans entertained and informed about her life. It is therefore no secret that she has not been able to recover from her injuries yet. She will not be competing in the Australian Open this year. The player recently shared an interesting story on her Instagram with her fans.
Ajla reposted a scene from Netflix's Break point. The scene is from the second installment of the season which is to premiere this summer. While it has not been released yet, we know that it is going to talk about Ajla's comeback match. The one where she was up against Serena Williams. In the video, Ajla's father is sitting in a family gathering with her. He cracks the entire family up with his hilarious comment before the match.
ADVERTISEMENT
Article continues below this ad
Ajla Tomljanovic leans on her dad amidst a bad day
Ajla shared the story with the caption, "Been a shi**y day, but this was sent in my family group". The short video is of her father saying "we're fu**ed" in a family gathering. According to Ajla she has the coolest dad ever.
DIVE DEEPER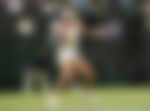 In the video on Netflix, she says, "I'm playing the greatest of all time, nobody wants me to win."
We can well gauge the tension a player faces before standing against Serena Williams- the undoubtedly best player of the Open Era. But as Ajla says in the second episode of the season, she kind of enjoys being the underdog. However, her father takes off some of the tension with his funny comment.
ADVERTISEMENT
Article continues below this ad
Tomljanovic in "Take the Crown"
Ajla's struggle to be at the top has been depicted beautifully in the second episode of the first season in Break Point. It features her match against Paula Badosa of Spain in the Australian Open 2022. Later that season, Ajla came back with a win against the undefeatable Serena Williams at the US Open. The player she had grown up idolosing was up against her, and she did not so much as flinch. Ajla's dad was a major aspect of her emotional support during all her games.
Although Matteo and Ajla are no longer together, the pair seems to have been each other's support during the Australian Open of 2022. Back when the episode was filmed, the pair were dating and Netflix captures that emotion perfectly. However, the main attraction of this story is her dad, who tries raising her spirits before her a match.
ADVERTISEMENT
Article continues below this ad
Watch This Story- Rafael Nadal's biggest fan, Serena Williams, cheers for his success at Wimbledon Championships 2022