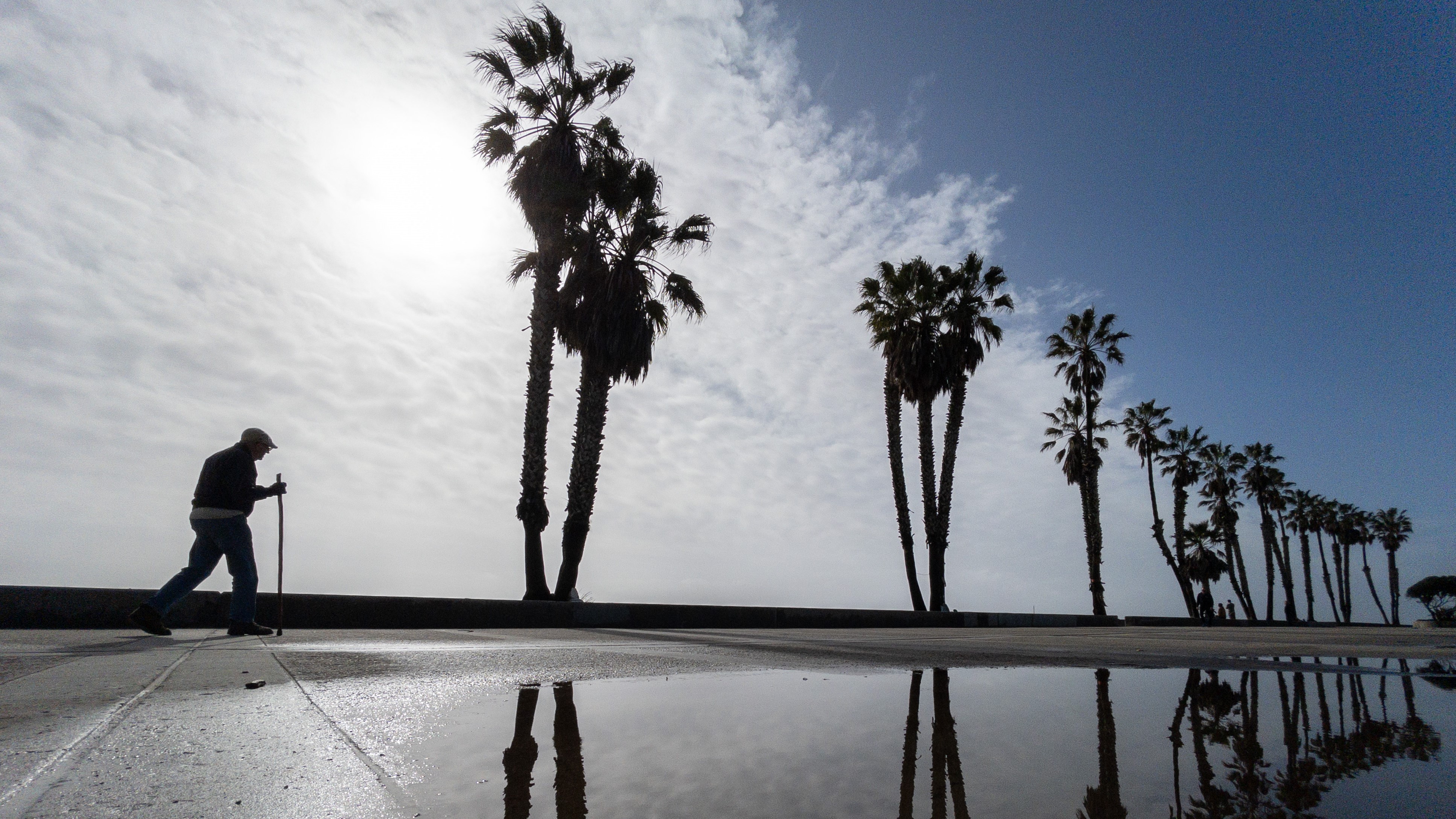 Two storms are on course to bring more rain to already saturated parts of Southern California this weekend after the region received a short break from wet weather that triggered flooding and mudslides.
The brief respite from the rain gave crews a small window to reopen major highways and roads closed due to a powerful winter storm that swept through at the start of this week. Several roadways and freeway connectors remain at least partially closed with two storms lurking off the California coast that will bring rain Saturday and Sunday after a dry Friday.
"We have changes happening this weekend, once again," said NBC4 forecaster Belen De Leon.
This weekend's storms won't rival the powerful system that caused havoc across widespread parts of Southern California Monday and into Tuesday, but they will add more moisture to already saturated hillsides.
Here's what to know about the weekend storms.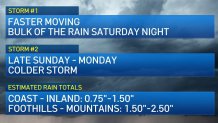 SoCal Weekend Storm Timeline
Local
Get Los Angeles's latest local news on crime, entertainment, weather, schools, COVID, cost of living and more. Here's your go-to source for today's LA news.
Storm No. 1: The first storm on Saturday will move quickly through Southern California, with most of the rain falling Saturday night.
Light rain is possible late Friday for the Ventura County coast. Scattered showers develop early Saturday and becoming more widespread through the afternoon. Expect steady rain by 9 p.m. and through the overnight hours.
Storm No. 2: The second storm, arriving late Sunday and lingering into Monday, will be a colder system.
After a break Sunday morning, the next storm moves in Sunday evening. The rain continues through Martin Luther King Day on Monday.
"Keep this is mind if you have any travel plans. We could see some slippery conditions," De Leon said.
Coast and inland areas will see an estimated 0.75 to 1.50 inches of rain. Foothill and mountain communities can expect 1.50 to 2.50 inches of rain.
"This is going to be nowhere near the rain that we saw earlier this week," said De Leon. "But we've hardly had any time for all that rain to evaporate. We have some very saturated soils."
Temperatures will be in the 50s for most areas this weekend.
Along the coast, wave heights will reach 6 to 12 feet for most areas with some Ventura County beaches seeing waves of 9 to 15 feet.
Snow levels will remain above 6,000 feet in most mountain areas, but the level could fall as low as 4,500 feet early Sunday with only minimal accumulations.
Southern California Road Closures
Crews are still cleaning up from mudslides caused by the last round of wet weather with the new systems on the horizon.
In Los Angeles County, two lanes are blocked by a mudslide on the northbound 5 Freeway near Templine Highway. Crews are watching for additional slides that could be triggered by more rain.
Near downtown LA, the southbound 5 Freeway connector to the southbound 110 Freeway remains closed due to a mudslide. The southbound 5 Freeway connected at the Boyle Heights interchange also is closed due to a mudslide.
In Chatsworth, repairs continue on a large sinkhole that swallowed two vehicles during torrential rains on Monday. A woman and girl were rescued from the now 40-foot-deep sinkhole in a road near the 118 Freeway.
Here's a list of closures in LA and Ventura counties.
Northern, Central California Prepare for More Flooding
To the north, rain weary Californians are preparing for another round of wet weather after a series of devastating early winter storms.
Another atmospheric river, a plume of moisture over the Pacific that has fueled some of California's most damaging and deadliest winter storms, is set to usher more rain into Central and Northern California. Many homeowners are still assessing damage from storms earlier this week.
The atmospheric river off the northern coast stretched over the Pacific to Hawaii. California has been hit by seven storms since the end of December.
"The challenge is they're storms eight and nine in the sequence and the cumulative effect is likely to cause impacts larger than the storms themselves might cause," Michael Anderson, climatologist with the Department of Water Resources, told the Associated Press.
At least 18 people have died in the storms battering the state, the AP reported.
Photos: Scenes From Southern California's January Storms
A 43-year-old woman was found dead Wednesday in her submerged car a day after calling 911 to say the vehicle was stuck in floodwaters north of San Francisco, according to the Sonoma County Sheriff's Office. When the search resumed at sunrise, divers discovered the car under about 10 feet of water off a rural road near Forestville, the department said.
More than half of California's 58 counties were declared disaster areas and repairing the damage may cost more than $1 billion, according to Brian Ferguson, spokesperson for the state Office of Emergency Services.
High in the Eastern Sierra, California Department of Transportation snowplows were running around the clock to fully reopen U.S. 395, which at one time was blocked by 75 miles of snow, ice and rocks. The Palisades Tahoe ski resort reported that it had received 300 inches of snowfall so far this season.
California Drought Update
Extreme drought was nearly wiped out in California due in large part to a series of winter storms that drenched the state and improved its vital snowpack in the Sierra Nevada Mountains, according to this week's U.S. Drought Monitor report.
Only a small portion of California along the Oregon border remains in extreme drought, the second-most severe category in the report. The weekly report released Thursday includes data available through Tuesday morning, so more improvement will likely appear in next week's report.
At the start of California's water year in late September, nearly 41 percent of California was in extreme drought. More than 16 percent of California was in exceptional drought at the start of the water year, but that category was wiped out last week after a barrage of winter storms.
Ninety-five percent of California remains in moderate drought. Forty-six percent of the state is in severe drought, marking significant improvement from one week ago at 71 percent.
Most of Southern California falls into the moderate drought category. Severe drought persists across portions of Riverside and San Bernardino counties, and small swaths of northern Los Angeles and Ventura counties.