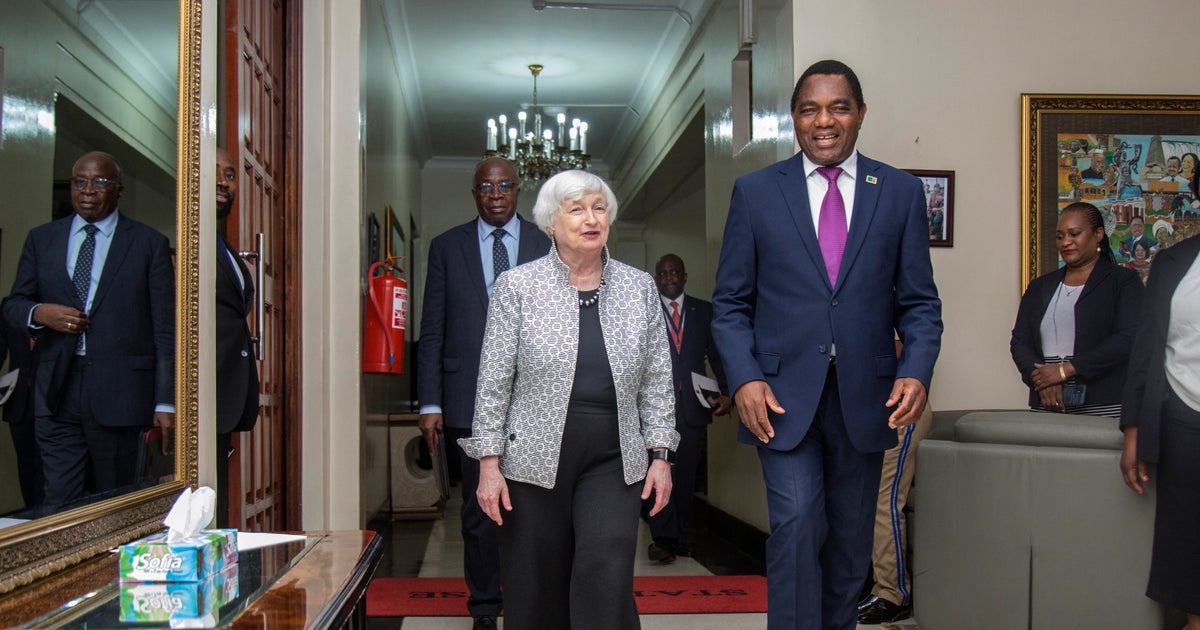 United Nations — The United States' Ambassador to the United Nations is heading to Africa this week. She'll be the second member of the Biden cabinet to visit this month as the administration seeks to demonstrate its commitment to addressing the myriad challenges facing the continent, from conflict to climate change.
While neither Ambassador Linda Thomas-Greenfield nor Treasury Secretary Janet Yellin, who arrived several days ago, have spoken directly about countering any other nation's influence, their visits are also a clear bid by Washington to answer both China and Russia's significant and expanding economic, political, and military influence across Africa.
A senior Biden administration official said the high-level visits were intended to highlight the U.S.'s interest in helping to "address the impacts of drought, of conflict… climate change, and other contributors to food insecurity around the world."  
President Biden last month  told African leaders that he was planning a trip to sub-Saharan Africa himself this year. He would be the first sitting U.S. president to visit the region in a decade.
Chinese and Russian footprints in Africa
Next month, South Africa will conduct joint naval exercises off its coast with Russian and Chinese forces. The drills, along with China's burgeoning trade with Africa — which surpassed the United States' own more than a decade ago — have been on the front burner at the White House.
China has poured money into Africa for decades in the form of business and infrastructure investment and boosted security cooperation with some nations. The aid from Beijing, mostly in the form of loans, amounted to more than $153 billion between 2000 – 2019, according to the China Africa Research Initiative at the Johns Hopkins School of Advanced and International Studies.
Russian influence has also been growing for decades.
Yellin arrived in South Africa one day after Russian Foreign Minister Sergey Lavrov was in Pretoria. At a news conference Monday with his South African counterpart Naledi Pandor, Lavrov spoke about the joint military drills that his county is to hold with Russia and China in mid-February. The 10-day exercises will coincide with the one-year anniversary of Russia's full-scale invasion of Ukraine.
South Africa has declined to condemn Russia's war, remaining neutral on the conflict, and Pandor defended his country's decision to hold the joint exercises, saying, "all countries conduct military exercises with friends worldwide."
The years of support given by Russia and China to African countries may already have had an impact in the global arena for geopolitical standoffs. Kenya and Nigeria voted in favor of a U.N. General Assembly resolution last March demanding that Russia withdraw all of its forces from Ukrainian territory, but 17 African nations abstained, including South Africa.
Thomas-Greenfield has notably put the topic of reforming the way the U.N. Security Council works on the agenda for her trip to Africa this week.
While the visits by senior U.S. officials are not being framed by the administration as a response to Chinese and Russian influence, many experts say it's clear that Washington has some serious catching up to do.
"China is winning"
Yellin hinted this week that China's aid to nations such as Zambia has left developing economies with massive debt burdens that could prove crippling if Beijing refuses to renegotiate repayments. She suggested the U.S. will be a friendlier benefactor.
"We see a rapidly growing young population that needs opportunities and economic growth," the treasury chief said in Zambia. "We have many government programs and international programs that are oriented to help efforts to build infrastructure, and when we do that, we want to make sure that we don't create the same problems that Chinese investment has sometimes created here."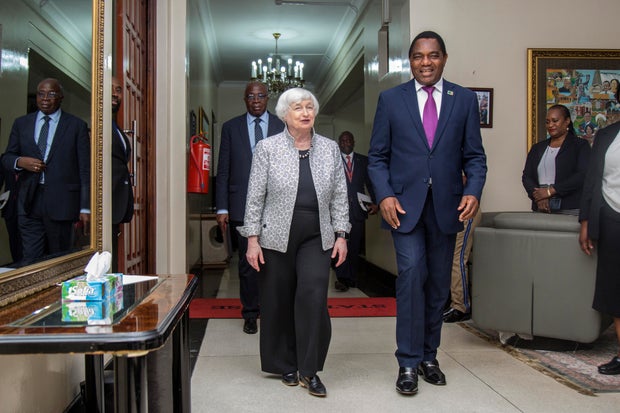 This week will mark Thomas-Greenfield's third trip to Africa as the top U.S. representative at the U.N. Her priorities, laid out by a senior administration official, are to strengthen partnerships with current and former U.N. Security Council nations; regional security issues; strengthening food security and refugee issues; supporting African recovery and mitigating the effects of climate change; and to consult on the reform of the U.N. Security Council, an issue closed to the hearts of many African nation's leaders.
"We're focused on the pressing global challenges… obviously, that includes Russia's invasion of Ukraine," the administration official said.  
Michelle Gavin, senior fellow of the Africa studies program at the Council on Foreign Relations, told CBS News' John Dickerson last month that the Biden administration was prioritizing better relations in Africa for many reasons, not least of which, because "Africa's labor force is going to be bigger than China's and India's by 2050."
Richard Gowan, U.N. Director for the International Crisis Group, told CBS News that the flurry of visits this week represent an important diplomatic effort, and he said the Biden administration appears to be taking its African outreach seriously.
"But at the end of the day," Gowan said, "African leaders will ask if this is a short-term courtship or the start of a more sustained U.S. attempt to rebuild ties on the continent, because China is winning influence in Africa through long-term business arrangements."
"If the U.S. is not able to counter China's economic outreach, American diplomatic outreach will not be a game-changer," he said.
Yellin was to visit Zambia, Senegal and South Africa, while Thomas-Greenfield was stopping in Ghana, Mozambique and Kenya.
Thanks for reading CBS NEWS.
Create your free account or log in
for more features.