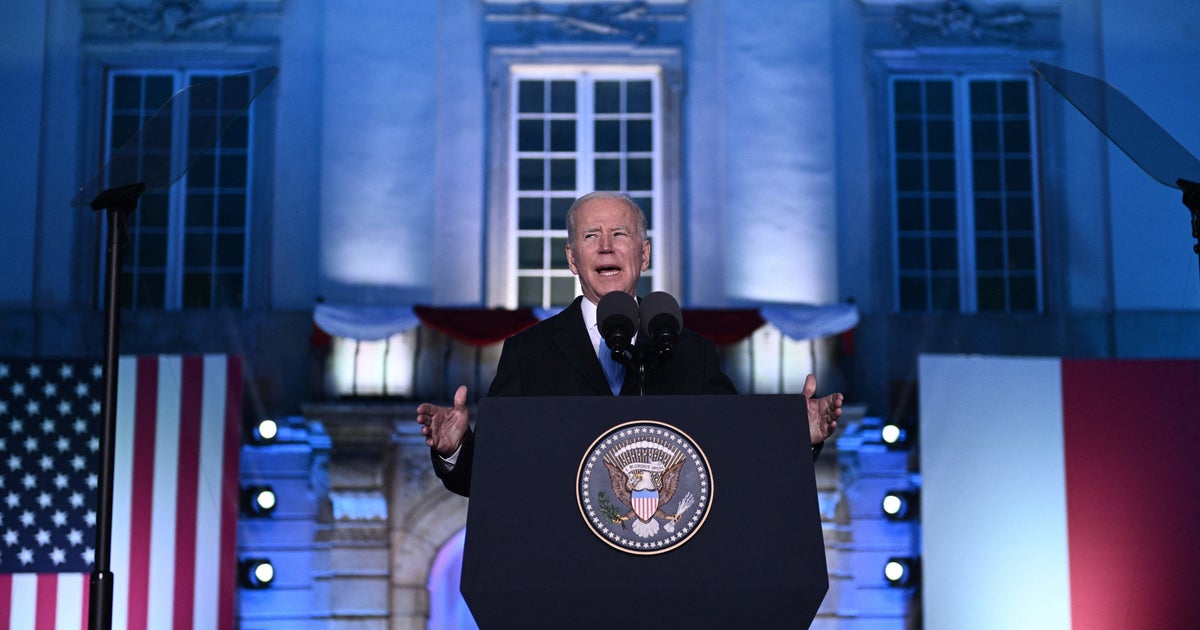 President Biden was to address the world Tuesday from Warsaw, Poland, ahead of the one-year mark of Russia's brutal full-scale invasion of Ukraine. The president will deliver his speech Tuesday after meetings with Polish President Andrzej Duda, and a day after he made a surprise visit to Kyiv. 
Mr. Biden on Monday said more sanctions would be coming, though Deputy Treasury Secretary Wally Adeyemo, in a phone call with reporters Monday, declined to give details ahead of a formal announcement. 
In his speech, the president is expected to recap how the U.S. has supported Ukraine and rallied European allies to the cause, as well as what the U.S. has done so far to sanction Moscow. Adeyemo said Mr. Biden will talk about how the U.S. is making it harder for Russia to conduct the war, both by isolating Moscow economically and making it tougher for President Vladimir Putin's regime to fund its military operations. 
Adeyemo said Russia had lost about 9,000 pieces of equipment on the battlefield and struggled to find money to replace the equipment. Going forward, the U.S. will continue its cooperation with allies as it sanctions Russia and increase pressure on companies doing business with Moscow. 
Mr. Biden's trip to Kyiv was held closely, with the president accompanied only by his closest aides, his security detail and two journalists. More of the president's aides met up with him once he reached Poland on Monday evening, after the Kyiv stop. 
Mr. Biden spent about six hours in Kyiv, much of it with Ukrainian President Volodymyr Zelenskyy, whom he promised unwavering support and another tranche of American military aid.  
White House aides stressed that the trip to Kyiv was still a risky one despite months of planning, noting that, unlike other war zones that past U.S. presidents have visited, the U.S. lacks a military presence in Ukraine. Mr. Biden, those aides told reporters, made the final decision to travel on Friday. 
National security adviser Jake Sullivan told reporters Monday that the U.S. notified Russia of Mr. Biden's trip to Ukraine some hours ahead of the president's departure, for "deconfliction purposes."