Black History Month is one month of the year that is federally observed as a time to celebrate Black people's contributions to history and the country as a whole. 
There are individuals all over LA that are helping curate spaces that emphasize the importance of Black people's work. 
They are reminders that Black history is much more than just the month of February and not just something of the past. 
Black history is in the music we hear, the books we read, the poems we connect to, and all the Black creatives that are bearing their soul into their crafts. 
More Than Just Books
For Jazzi McGilbert, the owner and founder of the Reparations Club in Los Angeles, she is living proof of Black history.  
She opened the Reparations Club, a bookstore that is more than just a shop, it is providing a space for the community to gather. 
As the owner of an independent bookstore, McGilbert says she opened it because she felt there was a need for a space where people could congregate and feel safe. 
"I think the community came even before the books, so we always had books on the shelf but the primary thing I was seeking to do was to facilitate conversations and community amongst essentially Black people in LA," McGilbert said. "I think we talk about community a lot but maybe everyone has a different definition of it, I know for me, it's about seeing people's humanity."
As an LA native, McGilbert knew that if she was doing her job correctly then the space would grow and people would continue to come back. She didn't spend money on marketing, she didn't have a big social media presence and she wanted it to be something that resonated with people because it was genuine.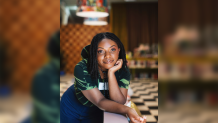 McGilbert is very intentional with the books she carries on the shelves and the other products the bookstore sells. It's about having a place where Black people's work can be showcased. 
The majority of the books are by Black writers, writers of color, and writers in the LGBTQIA+ community.
"I think so often there's something about Black people and BIPOC people, authors, creatives, writers that somehow we're always deemed as marginalized," McGilbert said. "The reality is that we are a global majority and it's really important that those stories are represented. I think it's more about who holds the power to create the spaces and them not seeing us, period."
She explained how she would not be here if it wasn't for Black people. For as long as she's been alive she said that Black literature has been crucial in her life. 
"I would not exist. I can't imagine my life. I'm just living proof of how important these stories are, how important these experiences are, and I just can't personally picture it another way," McGilbert said. 
Malik Muhammad the owner of Malik's Books has seen firsthand the impact his bookstore has had on the community for decades. 
Malik's Books is an independent African American Bookstore that specializes in books by African American authors.
He opened his bookstore at the Baldwin Hills Crenshaw Mall in 1994. He explained how the location was very intentional. 
"It means a lot because that's an underserved community," Muhammad said. "That's an epic location for Black history, Black culture in Los Angeles, and Black excellence."
The mission of the bookstore is to expose the community to books, to literature, and to help give a platform to grassroots writers. 
Muhammad is also getting out into schools and reaching a much younger audience with his "bookmobiles."
"We have a bookmobile that we take out to schools and put on book fairs. That's how we want to empower our kids," Muhammad said. "You can walk around outside of the bookmobile and walk into the bookmobile and you just have a total African American experience of joy."
Giving Appreciation to the Art of Poetry 
At Reparations Club they often host events that are big group conversations where everyone can share a bit of their feelings and they also have poets that work in their space from Da Poetry Lounge. 
Da Poetry Lounge, often referred to by many in the community as DPL, is an LA-based poetry venue that has officially been operating since 1988. 
In 1997, it started off in Dante Basco's living room, one of the founders and was known as "Dante's Poetry Lounge." It was a way for some of his friends to gather weekly and practice their spoken word and workshop their poetry. 
His friends kept coming back and they would bring new friends and it continued to grow until they could no longer fit in his living room. Basco then brought on Shihan Van Clief, DJ Brutha Gimel, and Poetri Smith who helped develop DPL into what it is today.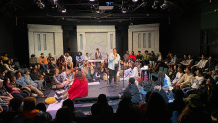 After moving to a couple of different locations over the years DPL finally settled in the Greenway Court Theatre at Fairfax High School in 2000, where it remains. 
Jasmine Williams who is the current executive director and host of DPL has been a member of the space since she was a high school student. 
Williams was 15 years old when one of her teachers found out she frequently wrote in a journal and encouraged her to attend one of DPL's weekly events. 
For some, poetry is just a hobby they do in their spare time but for Williams, it saved her life. 
"She [the teacher] ended up taking about a group of four of us and from that time I was just hooked," Williams said. "She exposed me to this and it really saved my life. I was an at-risk youth and writing in this outlet really just changed me."
DPL does it all. They do hip-hop, spoken word, open mics, slam poetry, and even have DJs who perform. But above all, they are a Black-run organization that aims at highlighting the work of Black creatives. 
Williams explains that having a place like DPL is so important because it allows for the cultivation of Black history to flourish and grow. It is with the stories that Black creatives share that the Black narrative is told for generations to come. 
"Everything is a poem and for the Black narrative it is so important to have that because we are the only ones who are keeping our story alive and we are the only ones who get it right and know the truth about it," Williams said. "We constantly have to create space to consistently talk about it."
Similar to Williams' journey, Derrick Harris, the current Director of Strategy and Partnerships, and many staffers began attending DPL as teens
"I used to go to the lounge as a teenager. I'm a musician and a singer, and poetry is very parallel with that so me and my friends would go hang out in the summers in particular at the Lounge," Harris said.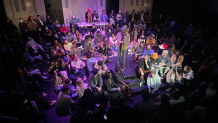 DPL is mostly known for its weekly open-mic events every Tuesday. On any given Tuesday they can fill the room with about 200 people. 
Harris says that DPL is doing more than just uplifting the art of poetry, it's allowing all forms of Blackness to exist without fear. 
"There are so many shades and beautiful facets of the Black experience that are told on our stage," Harris said. "We're not just a Black hetero space, we are Black everything. We want to elevate those narratives and take up space."
Both Williams and Harris described poetry as being an undervalued art, but 17-year-old Salome Agbaroji is using her poems to speak on important issues. 
Poetry and Rap: How They Blend
Agbaroji is the first African student to be selected as the Los Angeles County Youth Poet Laureate for 2022-2023. 
She says that she's been writing since a very young age but she began taking her work more seriously at the beginning of the pandemic. 
"I feel like I've always been creative when it came to words and wordplay. I'd even say in the Black community wordplay, especially with rap, has always been something that I have had an affinity for," Agbaroji said. "I thought playing with words was fun."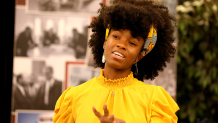 Agbaroji has performed for former LA Mayor Eric Garcetti, the Golden Globes, and the LA Rams, among a longer list of events across LA.
She describes herself as being outspoken and says that sitting down and constructing poems was not something difficult for her. 
What she does have a problem with is the pressure she feels being a Black poet. When people see Agbaroji and her work they expect it to be a certain way. 
"There are certain subjects that, you know, are more commonly talked about, especially in the Black poetry community. It's a lot of Black trauma, a lot of negative history," Abgarobji said. "Those stories are very important and I love when we are able to be educated through art and through poetry, but especially in certain competitions I have felt pressure to give that Black drama performance, to make people cry and to have that impact."
Agbaroji wants her work to be more positive. She wants to talk about what Blackness means to her and how it doesn't always have to be about pain and suffering. 
She hopes to inspire other young people who listen to her poetry to know that Blackness can mean so much more. 
Even as a young teen, she sees the importance of having other Black creatives she can turn to for inspiration to help her and even give her guidance. 
"My faves for when it comes to listening to music to inspire my poetry, I love Solange, I love Kendrick, I love Noname, just to name a few," Agbaroji said. "They just bring me to a place where I admire my Blackness so much more."
For Agbaroji, Black history should not be treated as a subsection to other American histories. 
"It's not a subsection of history. It's not a special category behind George Washington and Ben Franklin," Agbaroji said. "It is very much just as valuable."
Whether she realizes it or not, Agbaroji is Black history. 
Remember that when the month of February ends that doesn't mean that Black history will be sidelined until next year's February. 
Celebrate Black history today, tomorrow, and every day.