Nearly four months after Hurricane Ian ravaged Florida, the body of a man missing since the storm has been found in a sunken sailboat off Fort Myers Beach, Lee County officials said. The discovery of the man's body comes just days after the same authorities announced they had found the remains of an 82-year-old woman also missing after the storm. 
Lee County officials first announced the discovery of the sunken sailboat on Friday afternoon. A dive team had found the boat, named "Good Girl," in Matanzas Pass, saying that James "Denny" Hurst, 72, was last known to have been on board the boat when Hurricane Ian hit the state in September. 
On Sunday, the county's sheriff Carmine Marceno tweeted that the remains had been positively identified as Hurst's. His family has been notified, Marceno said. 
Hurst was the last person in the county who was still considered missing by authorities after officials announced last week that the remains of 82-year-old Ilonka Knes had been found in a thicket of mangroves. 
Hurst's nephew, Jeff Hurst, wrote on Facebook that his uncle's boat was spotted amid low tides in the area. Ultimately, he said, it was "submerged only a few tenths of a mile from the marina it was tied up at when Hurricane Ian hit." 
Crew members from Sea Hag Marina in Fort Myers who have been helping clean up in the aftermath of the deadly storm helped the sheriff's office locate Hurst, saying the sailboat was noticed in 18 feet of water "with just enough visibility to see a piece of the boat."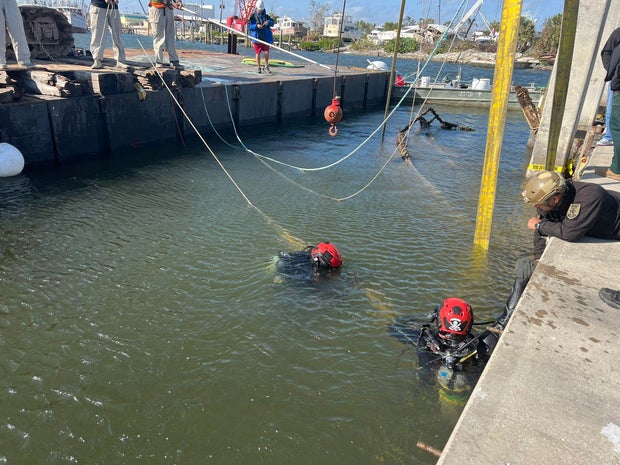 "Our guys were able to assist the dive team in lifting the boat out of the water and onto land," the marina said on Facebook. "…Had the water not of been clear today, we are not sure how much longer it would have been for the boat to be seen. The definition of divine timing is the belief that everything in your life happens at exactly the right moment and we truly believe that today was one of those days for everyone involved." 
Before the finding of Hurst and Knes' remains, the Florida Medical Examiners Commission said there were 145 confirmed deaths from Hurricane Ian, making the total now 147. 
Thanks for reading CBS NEWS.
Create your free account or log in
for more features.