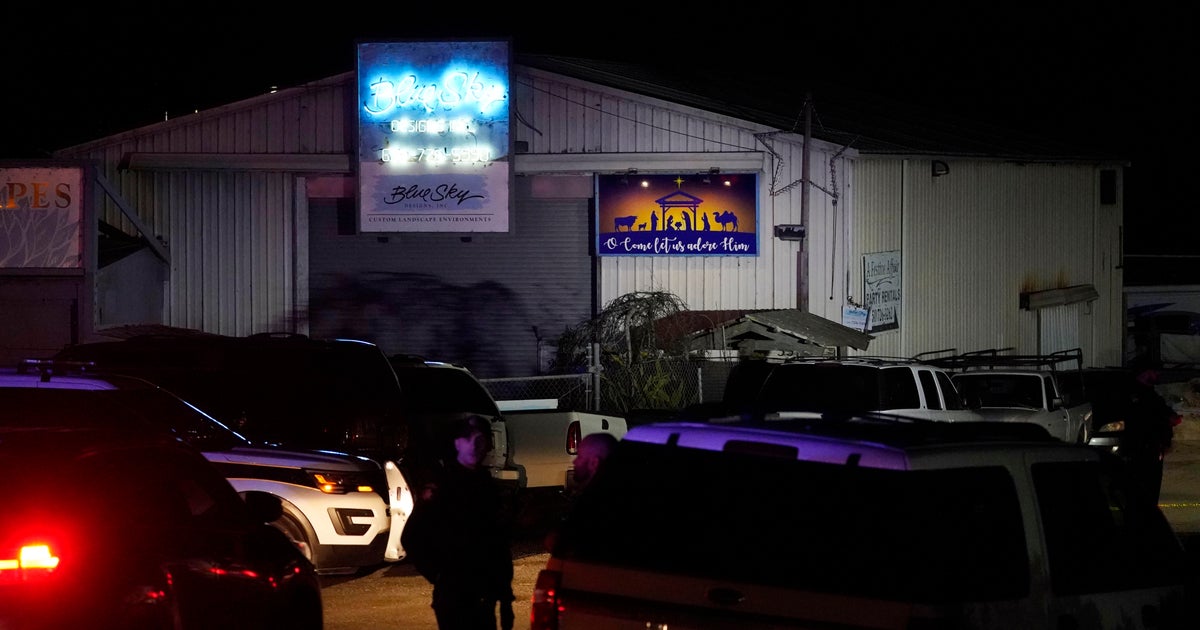 Seven people were killed and one critically wounded in a mass shooting at two mushroom farms in the city of Half Moon Bay on Monday afternoon, CBS Bay Area reports. A suspect turned himself in, authorities say.
It was the second California mass shooting in three days and was followed hours later by yet another.
The San Mateo County Sheriff's Office says deputies were dispatched to the Magic Mushroom Farm after a report of a shooting with multiple victims.
Deputies found four bodies with gunshot wounds, the office said, and a fifth victim, also suffering from gunshot wounds, was hospitalized with life-threatening injuries.  
Deputies then raced to a nearby second shooting scene — Concord Farms, also a mushroom farm, where three more people were found dead, the sheriff's office said.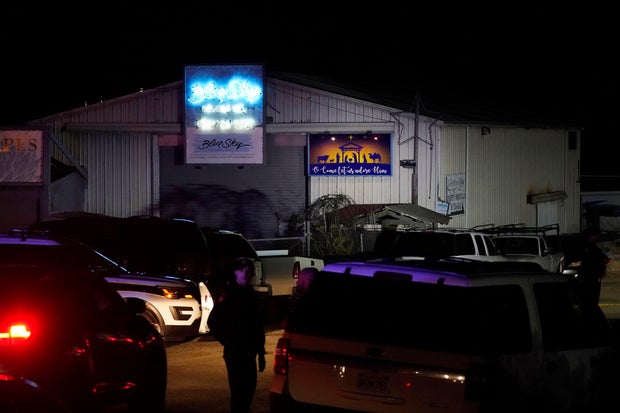 While it wasn't clear whether the two farms were connected, the suspect was described as a disgruntled employee who worked at one of them. 
Half Moon Bay Vice Mayor Joaquin Jimenez said the victims included Chinese and Latino farmworkers.
At one point late Monday afternoon, the sheriff's office said a media staging would be held at a substation between the two farms. At around 4: 40 p.m., a man wearing a white baseball-style cap was seen being led away from the substation in handcuffs.
According to the sheriff's office, the suspect in the shootings drove himself to the substation and surrendered. CBS Bay area cameras were there: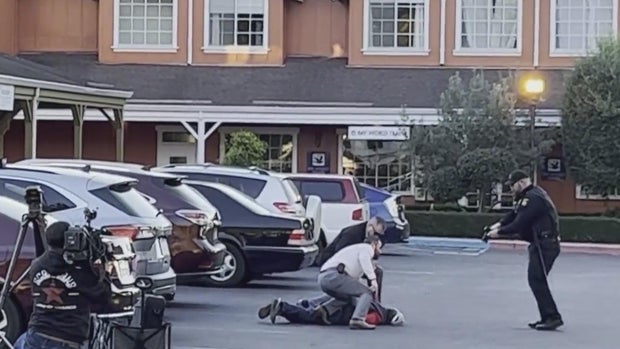 The suspect was identified as 67-year-old Zhao Chunli, a Half Moon Bay resident. The weapon used in the shootings was found in his vehicle, the sheriff's office said. 
Authorities later said they believed the weapon — a semiautomatic rifle — was the only weapon used in the shooting but they couldn't say whether it was obtained legally.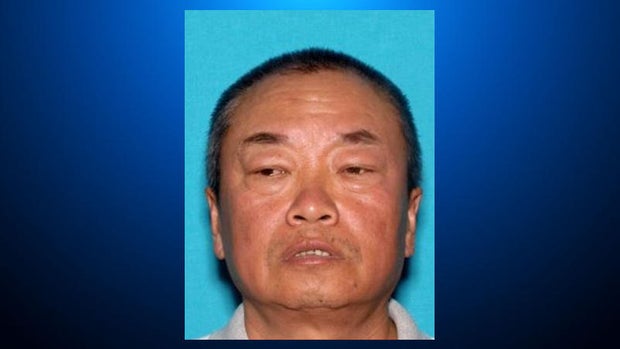 A family reunification center that was set up was also being used to provide shelter to families who live in residences that are too close to the crime scenes to allow them to return home.
"This kind of shooting is horrific," San Mateo County Sheriff Christina Corpus remarked at a press conference Monday evening. "It's a tragedy we hear about far too often, but today it's hit home here in San Mateo County."  
The motive for the shooting wasn't immediately known.
It came only two days after a mass shooting in Monterey Park after a Lunar New Year Festival Saturday night left at least 11 people dead. Later on Monday, at least one person was killed and seven others wounded in a shooting at an Oakland gas station, authorities said.
On Jan. 16, a 16-year-old mother and her 10-month-old baby were among six people shot to death in what the local sheriff called a "massacre" at a home in California's Central Valley.  
Nestled along the Northern California coastline, Half Moon Bay is a quiet agricultural bedroom community most famous for its annual pumpkin festival and the Mavericks big wave surfing competition.
Gov. Gavin Newsom tweeted about the latest mass shooting in his state, saying he was visiting victims from the Monterey Park shooting in the hospital when he was pulled away and told about what happened in Half Moon Bay.
"Tragedy upon tragedy," the governor observed.
White House Press Secretary Karine Jean-Pierre tweeted that President Biden had been briefed on the Half Moon Bay shooting and "has asked federal law enforcement to provide any necessary assistance to the local authorities." The FBI confirmed it is assisting the San Mateo County Sheriff's Office with "investigative and forensic resources." 
"This is an enormous tragedy. When any of us think of Half Moon Bay, it's always a happy, pleasant thought. It's the home of the pumpkin festival. It's the Mavericks surfing competition. But today, it's murder. Seven precious lives lost," Rep. Anna Eshoo (D-Palo Alto) said in an interview with CBS News Bay Area. "We don't understand why. We are grateful the sheriff's department has the suspect in custody. But this is the shattering of the lives of seven families and it's my understanding that one person has been taken to Stanford Medical Center for treatment and I understand it's serious."  
Eshoo also said officials are bringing in Chinese and Spanish interpreters to communicate with the families of the victims in Half Moon Bay.  
"We are sickened by today's tragedy in Half Moon Bay," Dave Pine, president of the San Mateo County Board of Supervisors, said in a statement. "We have not even had time to grieve for those lost in the terrible shooting in Monterey Park. Gun violence must stop."  
Thanks for reading CBS NEWS.
Create your free account or log in
for more features.