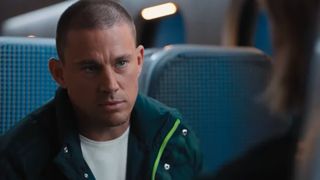 (Image credit: Sony Pictures Releasing)

Channing Tatum has again opened up about why his dream project, starring X-Men hero Gambit, was shelved following Disney's acquisition of Fox in 2019.
"It got swallowed up into Disney by way of Marvel when they bought Fox, and ultimately I just think that the tone of the movie we wanted to make was very far from what they wanted to do," Tatum told Vanity Fair (opens in new tab) of the unmade Gambit movie, which began development in 2014 and ultimately had three different directors – Rupert Wyatt, Doug Liman, and Gore Verbinski – involved in the project.
"Maybe they're waiting to see how they do it with us or without us," Tatum said – but is now clear he needs to leave the Gambit movie behind: "We call every once in a while, but we've got to spiritually, emotionally, kind of mentally let it go."
Tatum had previously told Variety (opens in new tab), "The studio really didn't want us to direct it. They wanted anybody but us, essentially, because we had never directed anything."
The actor is next set to appear in Magic Mike's Last Dance alongside Salma Hayek Pinault. The sequel to Magic Mike XXL, which could see Tatum's Mike Lane dance off into the sunset, will be released on February 10.
The X-Men, meanwhile, have yet to be introduced into the MCU. While there have been smatterings of mutant mentions and Easter eggs – including Ms. Marvel in her own Disney Plus series – the superpowered group don't yet have a presence in either Marvel Phase 5 or Marvel Phase 6. Hugh Jackman's Wolverine will appear alongside Ryan Reynolds in Deadpool 3, however.
Discover what else is coming to cinemas in 2023 with our movie release dates guide.