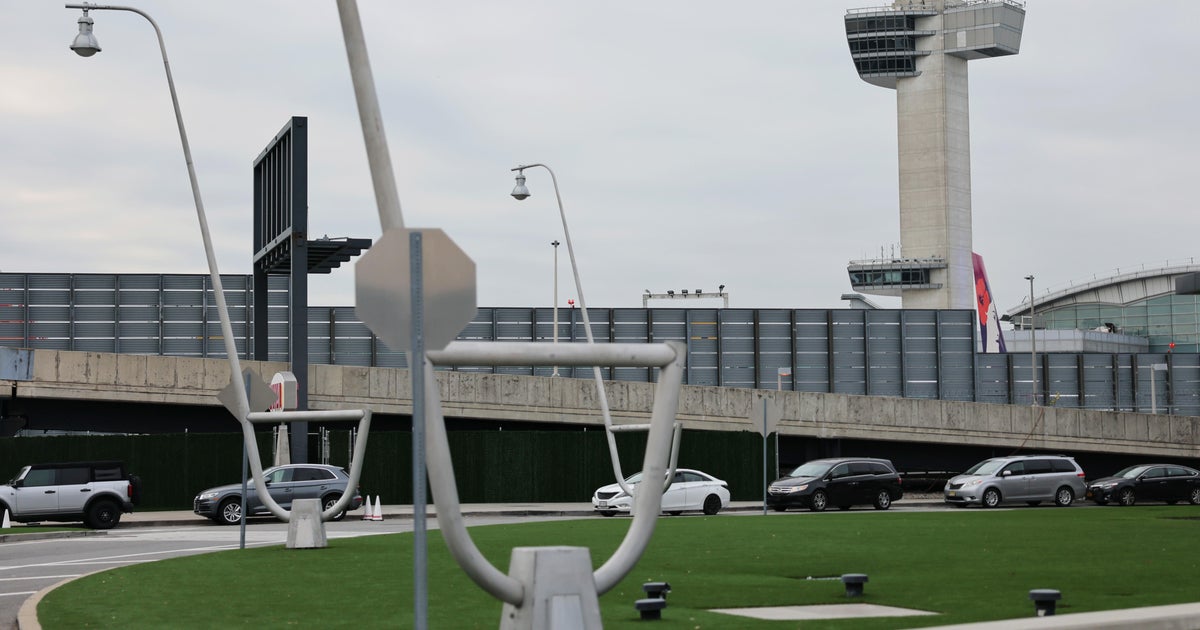 Officials are investigating a close call at a New York airport Friday night between a plane that was crossing a runway and another that was preparing for takeoff. CBS New York reports both were "full of passengers."
"(Expletive)! Delta 1943, cancel takeoff clearance! Delta 1943, cancel takeoff clearance!" an air controller said in an audio recording of Air Traffic Control communications when he noticed the other plane, operated by American Airlines, crossing in front. The recording was made by LiveATC, a website that monitors and posts flight communications.
CBS New York said panic could be heard in the air controller's voice.  
Delta Air Lines' departing Boeing 737 then came to a safe stop on the John F. Kennedy International Airport runway as the other crossed in front around 8: 45 p.m., the Federal Aviation Administration said in a statement.
According to CBS New York, Delta's aircraft had 145 passengers and six crew members on board and was headed to the Dominican Republic. The 137 passengers and 14 crew members on American's Boeing 777 were flying to the United Kingdom.
The Delta plane stopped about 1,000 feet from where the American Airlines plane had crossed from an adjacent taxiway, according to a statement form the Federal Aviation Administration.
The plane returned to the gate, where the 145 passengers deplaned and were provided overnight accommodations, a Delta spokesperson said. The flight to Santa Domingo Airport in the Dominican Republic took off Saturday morning.
Brian Heale, a passenger on the Delta flight, said at first he thought the abrupt stop was a mechanical issue.
"There was this abrupt jerk of the plane, and everyone was sort of thrust forward from the waist," he recalled. "There was an audible reaction when the brakes happened, like a gasp. And then there was a total silence for a couple of seconds."
Heale, who was traveling with his husband for their winter getaway, said it wasn't until he was scrolling on Twitter the next day that he realized the gravity of what could have happened on that runway.
"The pilot made the call to only share information on a need-to-know basis, and that was absolutely the right call, because it would've been pandemonium," he said.
John Cox, a retired pilot and professor of aviation safety at the University of Southern California, said he thought the controller "made a good call to reject the takeoff."
He said the rejected takeoff safety maneuver, which is when pilots stop the aircraft and discontinue the takeoff, is one they are "very, very familiar with."
"Pilots practice rejected takeoff almost every time they get to the simulator," he said.
The Federal Aviation Administration said Saturday that it will investigate.
The National Transportation Safety Board also said it was looking into the case.
"They'll go back and listen to every transmission between the American jet and air traffic control to see who misunderstood what," Cox said.
CBS New York quotes CBS News transportation safety analyst Robert Sumwalt, a former chairman of the National Transportation Safety Board as saying, "What we know so far is that the American Airlines 777 was apparently instructed to taxi to runway 4 left. It appears that that airplane did not make the right turn, but instead continued across an active runway."
Delta said in a statement that it "will work with and assist aviation authorities on a full review of flight 1943 on Jan. 13 regarding a successful aborted takeoff procedure at New York-JFK. We apologize to our customers for the inconvenience and delay of their travels."
American Airlines wouldn't comment on the incident and said it would defer all questions to the FAA.
The worst aviation disaster in history involved the collision of Pan Am and KLM jets on the runway of Tenerife in Spain's Canary Islands in the late 1970s, killing 583 people on both planes. 
Thanks for reading CBS NEWS.
Create your free account or log in
for more features.