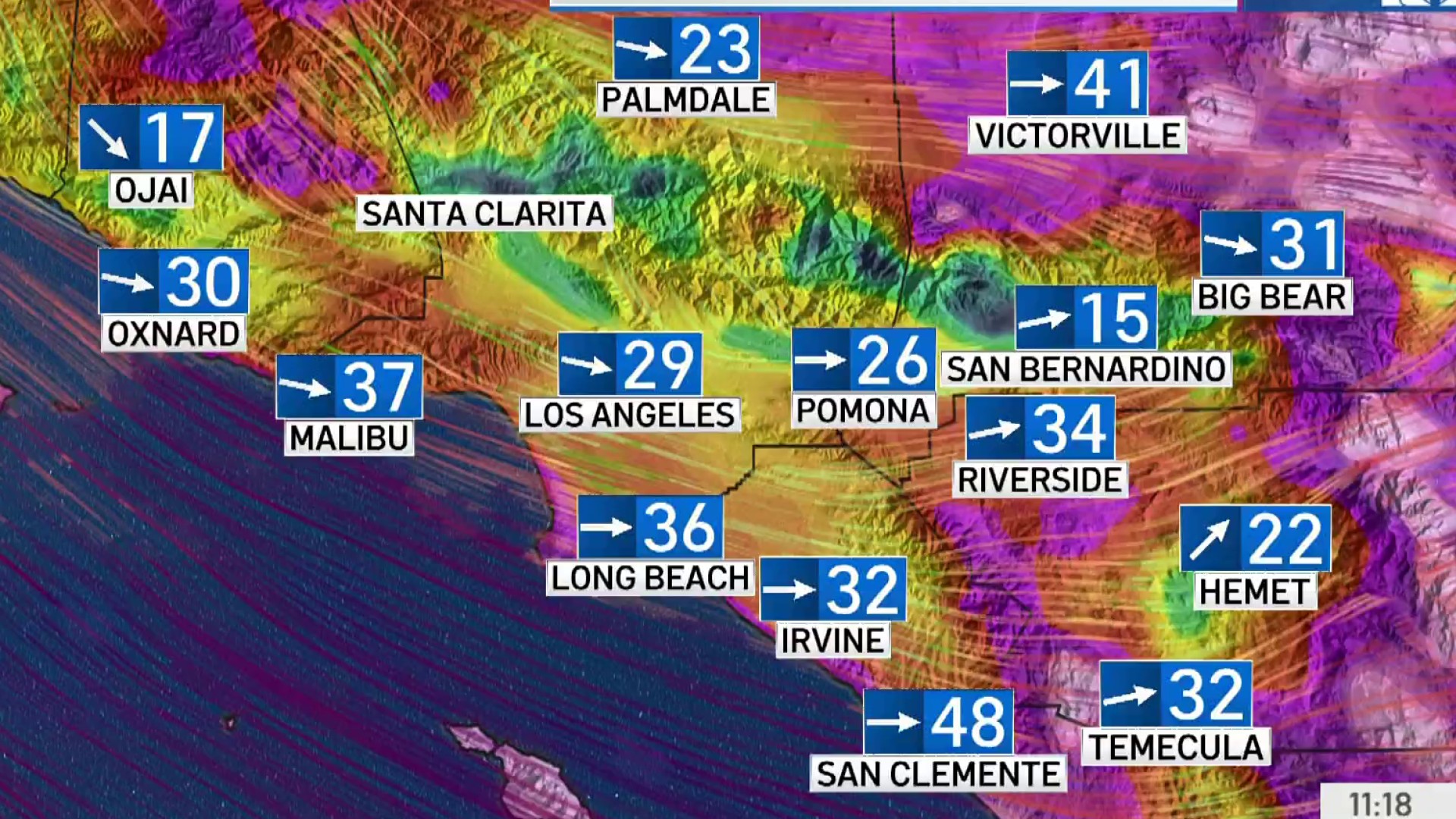 Enjoy the sunny weather while you can, because forecasters said Monday a major change is coming, with windy and colder conditions moving in.
While the Southland was enjoying temperatures in the 60s and 70s Monday, "it will turn windy and much cooler Tuesday and Wednesday with an increasing chance of rain and very low elevation snow through Saturday," according to the National Weather Service.
A winter storm watch will be in effect in the Los Angeles County mountains from Tuesday evening through Saturday afternoon, with forecasters anticipating heavy snow accumulations accompanied by winds gusting as high as 70 mph.
"All mountain roadways will be impacted with dangerous winter weather conditions, including Interstate 5 through the Grapevine, Highway 14 and Highway 33," according to the NWS.
The Antelope Valley and Catalina Island will both be under a high wind watch Tuesday evening into late Tuesday night, with winds of 30 to 45 mph anticipated, gusting up to 65 mph.
"The very strong surface winds associated with this advancing trough will be the primary focus of the early phase of the storm's advance," according to the NWS. "Temperatures will also take a tumble on Tuesday."
High temperatures will fall 4 to 8 degrees over most of the area by Tuesday, with most areas saying in the upper 50s to mid-60s.
While the wind watch will initially be in effect only in the Antelope Valley and Catalina Island, forecasters said they anticipate issuing wind advisories for almost all other areas, with gusts between 45 and 55 mph expected Tuesday.
Temperatures will continue to fall, with freezing temperatures possibly as low as 1,000 to 1,500 feet by Tuesday, with a chance of precipitation in the San Gabriel mountains.
By Wednesday, it'll get even colder, with maximum temperatures hovering at 10 to 20 degrees below normal and most areas never getting out of the 50s.
"It will not be as windy as Tuesday night but it will be breezy everywhere and many areas will likely see advisory-level gusts," according to the NWS. "The strong winds will make the cool temperatures feel worse than they are."
Cool conditions are expected to last through at least Friday, although it could stretch into Saturday and possibly even Sunday, forecasters said.
The moisture in the air could mean extended periods of precipitation, totaling as much as 5 inches in some areas by Sunday, and the snow level falling to about 1,500 feet.