State officials are making a final push to have Californians without health insurance to sign up for coverage through Covered California, saying many would be eligible for protections and peace of mind at around $10 a month.
The deadline for this year's open enrollment ends at midnight on Jan. 31. Once enrolled, consumers can see their plans go into effect on Feb. 1. Insurance agents and volunteers across the state are offering last-minute support to help people sign up.
Yadira Lopez, a certified agent for Covered California, said some of her customers would pay less than a meal for monthly coverage.
"We're seeing premiums of $0 a month," Loped said. "Right now, 50% of the people who enroll would pay less than $10 a month."
Here's How to Shop and Compare
Covered California has upgraded the layout of its website to make it easier for potential enrollees to find out how much they would be paying monthly for coverage and what kind of financial help is available for them.
For example, a single person of age 40 in Whittier with the median income of $35,000 can fill out a simple form to calculate that he or she would be able to purchase a plan that would cost $125 a month with the potential monthly assistance of $210.
The same user can also compare different plans with coverage specifics to make a decision for the new year. The website will also inform consumers whether their insurance of choice would offer common COVID-19 treatments.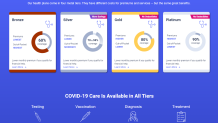 How to Get Help
Free and confidential assistance is available consumers in different languages. Here's how to find someone who can help you in the language of your choice. You can also search by distance and zip code.
Still Need More Help to Navigate the Enrollment Process?
You can call the service center at 1-800-300-1506 or submit your contact information online, so someone can call you on the phone in 15 minutes.
Why You Need Insurance
In addition to have the peace of mind for any potential health issues, Americans without health insurance will avoid a penalty when they file state taxes. The penalty can me at least $2,550 for a family of four.