Los Angeles Daily Chronicle
Los Angeles Daily Chronicle


Damar Hamlin




1st IG Post …




Since On-Field Collapse



1/7/2023 2:25 PM PT

UPDATE
We're told they were talking about Fanatics — MR's company — donating all the money they're making on Hamlin jersey sales to charity.
Damar Hamlin's health has, thankfully, improved dramatically … so much so, in fact, that the guy is active on social media again … and his message is one of gratitude and thanks.
The Bills safety — who's been receiving treatment in a hospital for several days now, following his horrifying on-field collapse — posted to IG for the first time since the life-threatening incident. He compiled shots of himself, seemingly from the fateful day in question.
Waiting for your permission to load the Instagram Media.
The final slide in his 4-pic post shows a quote doctors told him when he was finally awake and talking on his own. It's the "you won" line, which resonated with him.
Damar adds, "When you put real love out into the world it comes back to you 3x's as much.. 🫶🏾🫶🏾🫶🏾 The Love has been overwhelming, but I'm thankful for every single person that prayed for me and reached out. We brung the world back together behind this. If you know me you know this only gone make me stronger. On a long road keep praying for me!"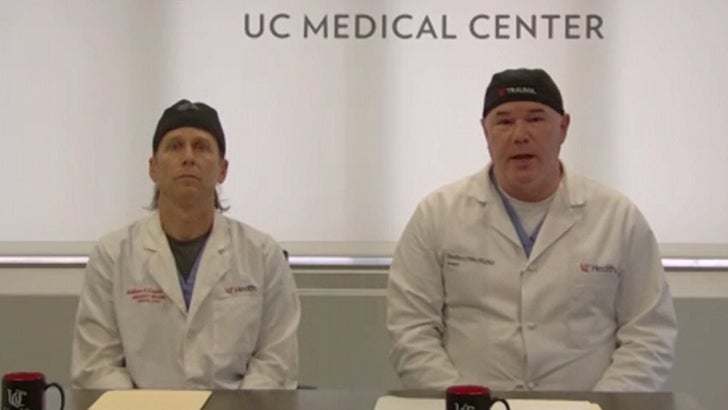 WKRC
His message comes on the heels of his team providing yet another encouraging update on his condition. They said he was making continued progress, but remained in critical care –noting he was breathing without assistance and that his neurological function was excellent.
This turnaround is nothing short of miraculous, considering we now know that his heart gave out … requiring immediate resuscitation on the gridiron during Monday Night Football.
Since his injury, Damar's been receiving an outpouring of support in several different forms — including on the charity front … which has amounted to millions of dollars being donated to a GFM endeavor he was hosting for the holidays.
Seems he's taken notice of that and all the other well-wishes sent his way. A good sign.
Originally Published — 2:25 PM PT