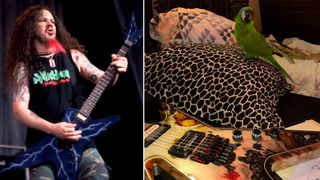 (Image credit: Paul Natkin/Getty Images / Dean Zelinsky/Instagram)

Dean Zelinsky – the founder of Dean Guitars and now owner of boutique electric guitar brand Dean Zelinsky Private Label – has taken to social media to tease what could possibly be a new Dimebag Darrell model.
All we have to go on so far is a picture and a caption – "Working on it…" – but it looks like a strong possibility that Dimebag's iconic Razorback guitar design might be making a comeback in the near future.
The picture shared by Zelinsky gave guitar fans a glimpse of an instantly recognizable Razorback – a variation of the Dean ML that was designed by Dimebag himself shortly before he died in 2004.
Featuring extra "spikes" on the body's extremities, the late Pantera legend's Razorback was first produced as a limited US custom run, though it was reissued in 2021 as a fully fledged signature guitar as part of Dean's Artist Series.
Owing to recent legal disputes, though – and given that Zelinsky left Dean back in 2008 – it's highly unlikely that this newly teased model will be released under the Dean Guitars umbrella.
Around six months after Dean reissued the Razorback, Dimebag Darrell's estate sued the guitar brand and brought about an end to the pair's long-standing relationship. At the time, Dimebag's longtime girlfriend – and trustee of his estate – Rita Haney wrote it was "necessary for us to end Dime's endorsement of Dean Guitars to continue to honor and celebrate his legacy the way he deserves, and in the way he had laid it out."
Dean Guitars replied to the statement by labeling the claims as "baseless," and said, "Dean Guitars is proud to have played a role in ensuring Dime's legacy not only survived, but thrived over the past 17 years."
With that in mind, the question of who will end up releasing what looks like a rebooted Razorback signature guitar remains up in the air. Zelinsky could, in theory, opt to release it under his own label, but this route may prove to be problematic.
Currently, Dean Zelinsky Private Label specializes in intricate custom guitars, which are built in-house and shipped direct to customers who can customize their own personal spec sheets. As such, a mass-produced Dimebag model would seem out of keep with this operation and may be logistically tricky to pull off.
It wouldn't be impossible, though, especially if the Razorback was reintroduced once again as part of a limited-edition run.
Another possibility is that Zelinsky and Dimebag's estate could team up with Wylde Audio to mass produce them via Schecter. Zakk Wylde himself recently publicly discussed the idea of using his brand to produce the next batch of Dimebag guitars.
When asked about the possibility, Wylde – who is now part of the reformed Pantera tribute lineup – refused to rule it out, but emphasized the need to get approval and support from Haney and Dimebag's estate. Again, it's an unlikely outcome, but not entirely beyond the realms of possibility.
Whatever the case, it's also possible that the Razorback will just be the start of Zelinsky's elusive Dimebag project: depending on the outcome of the above lawsuit, we could also see the arrival of some of Dimebag's never-before-seen six-string designs. 
Haney's 2021 statement referenced "Darrell's guitar notes, lists, letters, and drawings (some not yet released)," and noted that she wants to "see Dime's words followed through and to have his legacy reach the level he intended."
Whether that means producing some all-new guitar designs with Zelinsky remains to be seen, but whatever the case, one thing is for sure: new Dimebag guitars are on the way.
Vist Zelinsky's Instagram page (opens in new tab) for future updates.
Thank you for reading 5 articles this month*
Join now for unlimited access
US pricing $3.99 per month or $39.00 per year
UK pricing £2.99 per month or £29.00 per year 
Europe pricing €3.49 per month or €34.00 per year
*Read 5 free articles per month without a subscription
Join now for unlimited access
Prices from £2.99/$3.99/€3.49