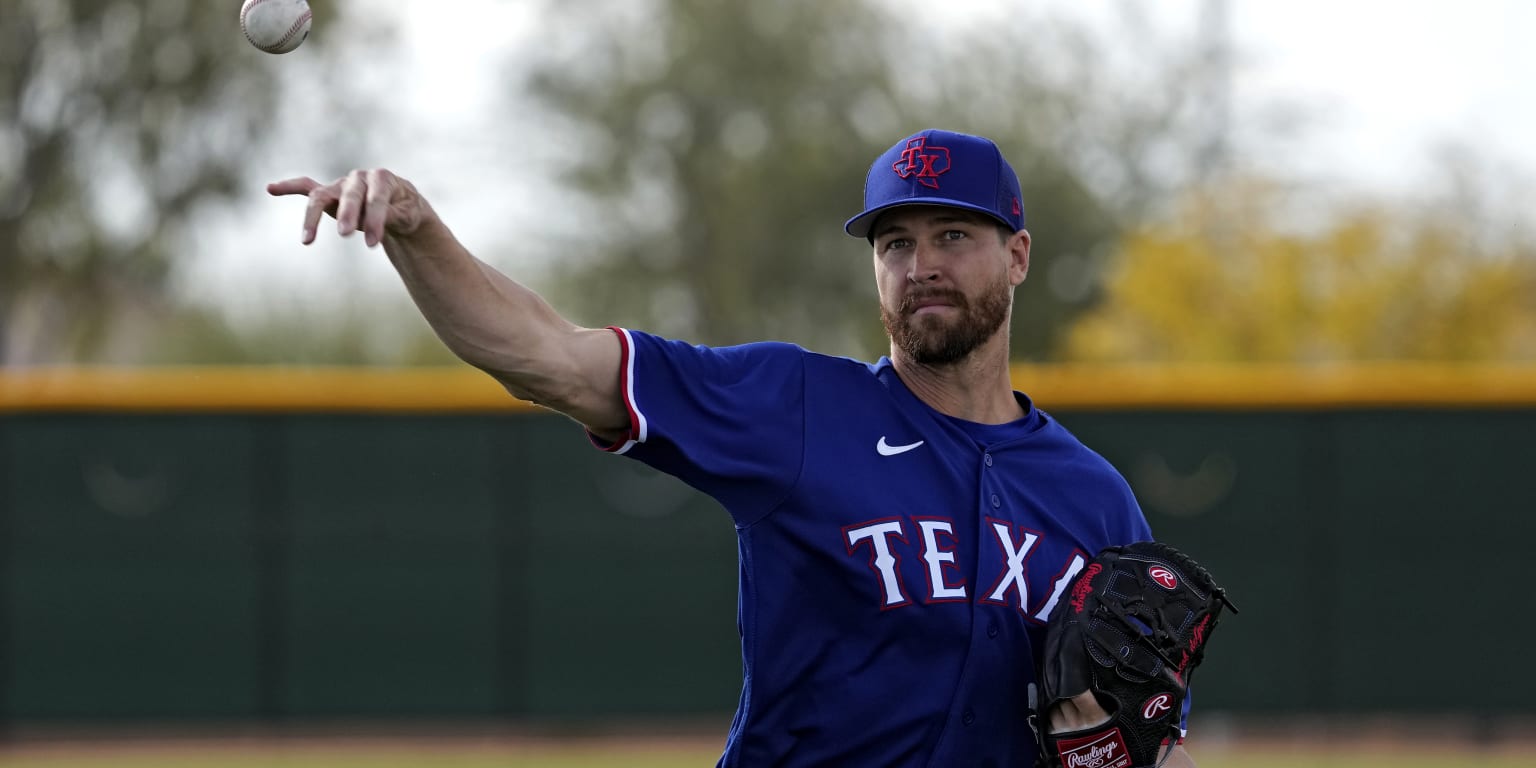 Rangers ace throws 35 pitches, progresses toward 1st Cactus League action
1:15 AM UTC
SCOTTSDALE, Ariz. — On a crisp and sunny Wednesday morning, all the attention from Rangers players, coaches and front-office members was on ace right-hander Jacob deGrom throwing in a batting practice session at Nolan Ryan practice field in Surprise.
deGrom feels like he could be ready by Opening Day, especially after the BP session prior to the Rangers' 2-0 loss to the D-backs at Salt River Fields.
"I feel really good," deGrom said. "It's a big step facing hitters. I did a lot of bullpen [sessions] before I got here, so taking the four days off didn't seem like it was a big deal. And then today to get two ups and feel really good out there, and now afterwards, so I think the plan is to see how everything recovers this week and go from there."
The 34-year-old deGrom came into camp with "a little tightness" in his left side, a concern especially since the Rangers signed the two-time National League Cy Young winner to a five-year, $185 million dollar deal in December. He hasn't made an appearance in Cactus League action, but he could be on a path to returning to the mound soon.
deGrom faced hitters – – a mix of Major and Minor league players — for the first time in camp in his 35-pitch outing over two simulated innings. He averaged 98 to 99 mph with his fastball, but topped out at 100 mph. deGrom noted he had success throwing fastballs, but he wants to improve his breaking pitches.
"I'm trying to make a couple of mechanical adjustments, and it's helping me stay through the ball," deGrom said. "I didn't like how my arm was coming up and I was trying to make some changes to that. [My] slider was not very good today, but I was able to locate the fastball and pretty much know where I wanted to."
It was also the first time deGrom experienced the pitch timer.
"It was tough to see, I wasn't really going by it," deGrom said. "But Mike [Maddux] was paying attention and was like, 'Hey, you're within it the whole time,' and I felt like I was working at my normal pace."
Rangers manager Bruce Bochy said deGrom's throwing session was a step in the right direction. He could have up to three starts in Spring Training, if everything goes according to plan after the club's assessment on Friday.
"It was coming out easy," Bochy said. "It was the Jake we know. He wasn't holding back. He was letting it go using all his pitches. It was just a really positive day."
When deGrom is healthy, he can be the best pitcher in MLB, as evident by his back-to-back NL Cy Young Awards in 2018 and '19. And if the Rangers can have their starting rotation at full strength, it will be one of the strongest groups in baseball and give a lot more confidence to this team.
"There's that expectation when they go out there that, 'Hey, we expect to win this game. Our guy can match up with any opposing team's pitcher," Bochy said. "I think it changes the mentality and it could certainly have done that here."
Gray answers injury scare
Right-hander Jon Gray bounced back after being scratched from this past Friday's start with back tightness. In his second spring start against the D-backs, he logged three scoreless innings and yielded only one hit with no walks and one strikeout.
"I'm not going to complain about a scoreless [outing] but there's some things I ironed out for sure," Gray said. "I still feel really slow to the plate and working on that. But some things were good. I thought the fastball was doing pretty well. I'm mixing up a changeup for now, but the sweeping slider, there's still some stuff to manipulate with it. So I'm still trying to figure that one out, but everything else was pretty good."