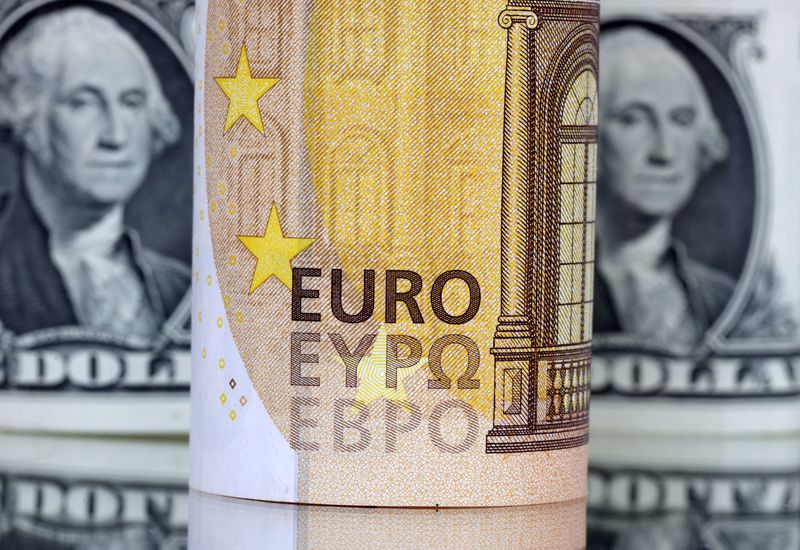 © Reuters. FILE PHOTO: U.S. Dollar and Euro banknotes are seen in this illustration taken July 17, 2022. REUTERS/Dado Ruvic/Illustration/File Photo

By Kevin Buckland
TOKYO (Reuters) – The dollar was on the back foot on Tuesday, hovering near a nine-month low to the euro and giving back recent gains against the yen, as traders continued to gauge the risks of a U.S. recession and the path for Federal Reserve policy.
Europe's single currency was buoyed on Monday by comments from European Central Bank officials pointing to aggressive policy tightening.
The – which measures the greenback against a basket of six peers, including the euro and yen – slipped 0.09% to 101.92, heading back towards the 7-1/2-month low of 101.51 reached on Wednesday.
The euro added 0.08% to $1.0879, taking it closer to Monday's peak of $1.0927, the strongest since April.
"The U.S. is no longer the cleanest shirt in the global economic laundry," said Ray Attrill, head of foreign-exchange strategy at National Australia Bank (OTC:), who expects the dollar index to fall to 100 by end-March and the euro to rise to $1.10.
"That's integral to our bearish U.S. dollar view, that the U.S. is not going to be the global growth leader."
Money market traders see only two more quarter point rate hikes by the Fed to a peak of around 5% by June, with two quarter point cuts following before year-end. The Fed itself has insisted 75 basis points of more tightening is likely on the way.
Elsewhere, the dollar sank 0.36% to 130.19 yen, retreating after two sessions of strong gains.
The dollar-yen pair declined to as low as 127.215, the weakest since May, in the run-up to the Bank of Japan's policy review last week amid rising bets for an end to stimulus. However, the central bank stood its ground and kept policy unchanged, giving the dollar some respite.
Many, though, continue to expect a hawkish shift by the BOJ this year, as policymakers continue to tweak policy in order to extend the life of the yield curve control (YCC) mechanism, which pins short-term rates at -0.1% and keeps 10-year yields in a band around zero.
"Clearly, the market regards the YCC policy as well past its use-by date, and it's only a matter of time – and probably months rather than quarters – until the BOJ sounds the death knell on it," said NAB's Attrill, who predicts dollar-yen will decline to 125 by end-March.
"The era of yen weakness is rapidly falling behind us."
Meanwhile, sterling was last trading at $1.2388, up 0.12% on the day.
The Australian dollar rose 0.21% to $0.704 and the New Zealand dollar advanced 0.26% to $0.650.