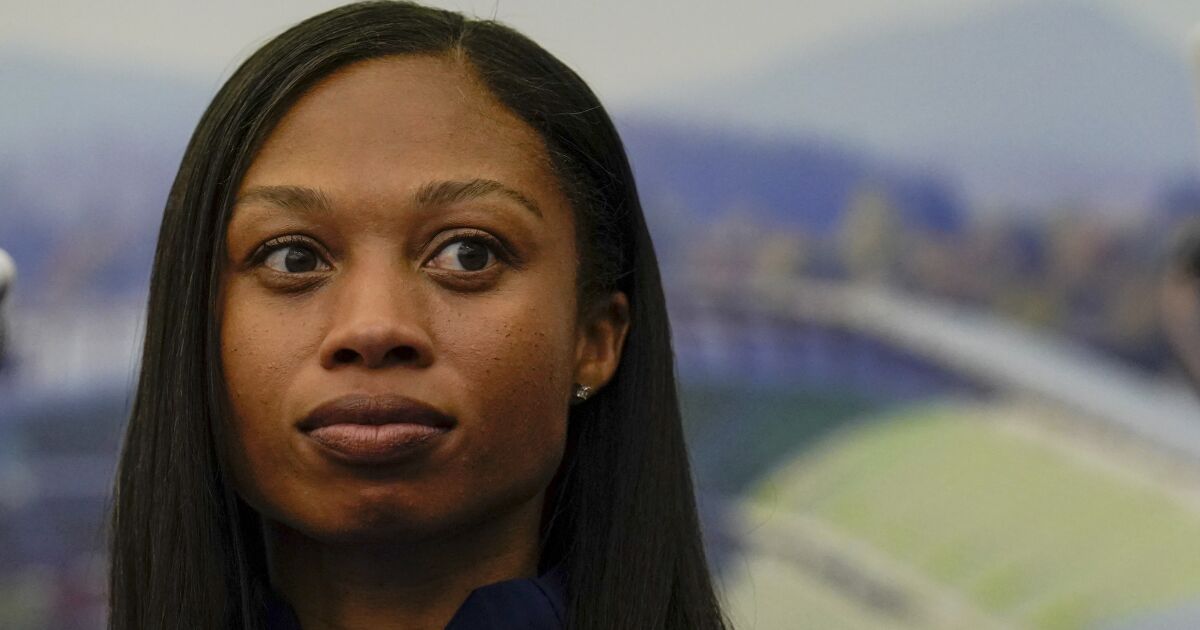 Allyson Felix didn't have to give USC a pile of money for the field at the Trojans' track stadium to be named for her.
Her alma mater will honor Felix, a Los Angeles native and the most decorated American track and field athlete in Olympics history, for giving of herself — for being a shining example of the power of one person and of the great resonance of a voice that might once have trembled but found the strength to bring about change for those whose voices often aren't heard.
USC announced Wednesday that Allyson Felix Field will be dedicated at Katherine B. Loker Stadium this spring. The field previously carried the name of Dean Cromwell, a former USC track coach who was criticized for anti-Black views and anti-Semitic actions.
The university could have named the field for a philanthropist, as Loker was. It could have sold the naming rights. With that in mind, Felix was shocked when USC President Carol Folt called her to discuss naming the field — previously known as Cromwell Field — for her.
"All the time when you hear about buildings being named, it's usually a huge donor or something of that nature, so that's why I never would have imagined this," Felix said. "I was like, 'Are you sure?'
"It sounded pretty crazy to me. It's not something I ever could have dreamt of. I was completely humbled."
Folt said USC didn't consider pursuing a sponsor. "I think it's really important when you think about the very special places we have on campus, that we chose to name it after a person because of who she is," Folt said. "She exemplifies character and grace, integrity. And I see her as a real inspiration to the community. So there really wasn't a question."
To athletic director Mike Bohn, it was more important to feature Felix's name than a sponsor's. "That wasn't an option," he said. "It's always been about Allyson and how do we honor her and ensure her legacy."
Her ties to the university are deep. As a child, she'd walk with her grandmother and her brother, Wes, through the nearby Rose Garden, to the 32nd Street Market, and across campus. She turned pro after her stellar career at L.A. Baptist High but her mother, Marlean, insisted she go to college, so she fit classes and exams around the Olympics and other major events and earned a degree in elementary education.
Her father, Paul, a minister, attended USC. So did her brother, who won Pac-10 titles in the 100- and 200-meter sprints. She sometimes watched Wes run on the field that will carry her name. "That's what makes this super special," she said.
She competed fiercely but cleanly while earning 11 Olympic medals and 20 world championship medals in the 200, 400, and relays. She voluntarily took extra drug tests to prove her ethics in a sport that has lost credibility and popularity because of the cheaters who seem to be a step or two ahead of the drug testers.
Shy by nature, she stepped into the spotlight after she became pregnant and her shoe sponsor, Nike, said she'd have to take a 70% pay cut because she'd be competing less. She fought back, advocating for better treatment for athletes during and after pregnancy, and she left Nike for Athleta, a woman-focused company. She and Wes started their own shoe company, Saysh, whose spikes she wore while winning two medals at the Tokyo Olympics, her fifth and final Games.
When she endured complications while giving birth to her daughter Camryn, now a healthy 4-year-old, Felix testified in Congress to publicize the racial disparities in maternal health and mortality. It's a cause that's still close to her heart.
Speaking last May at USC's commencement, where she was awarded an honorary doctor of humane letters degree, Felix told the graduates they can make the world a better place, though they might not yet know how.
"There are times when you'll ask for change. And there are times when you'll have to create it," said Felix, who retired after helping the U.S. win a bronze medal in the mixed-gender 4×400 relay at last year's world championships. "Each one of us can create change, and you do not have to be an Olympian, or even have your life all figured out to be able to start. We all can start exactly where we are."
Felix, 37, stays busy with speaking engagements, working with the International Olympic Committee's Athletes' Commission, taking Camryn to tennis and soccer lessons, and building her company. Camryn likes to run and has great genes on both sides: Felix's husband, Kenneth Ferguson, was an elite runner and hurdler. "I've been trying to push her in other directions," Felix said, laughing.
In years to come, memories of Felix's athletic feats will fade. Seeing her name on the field will tell those who pass it that she was much more than someone who ran fast. "I'd really love for them to think about her as a person. She aims high," Folt said. "I'd hope they'd think about staying true to your values and using that strength of purpose and determination to lead."
For Felix, it all comes back to a familiar theme. "I hope they think about a person who is a fighter, who has stood up for things that I believed in," she said. "Also, a fierce competitor. But I hope what resonates most is just a person who pushes for change in every aspect."