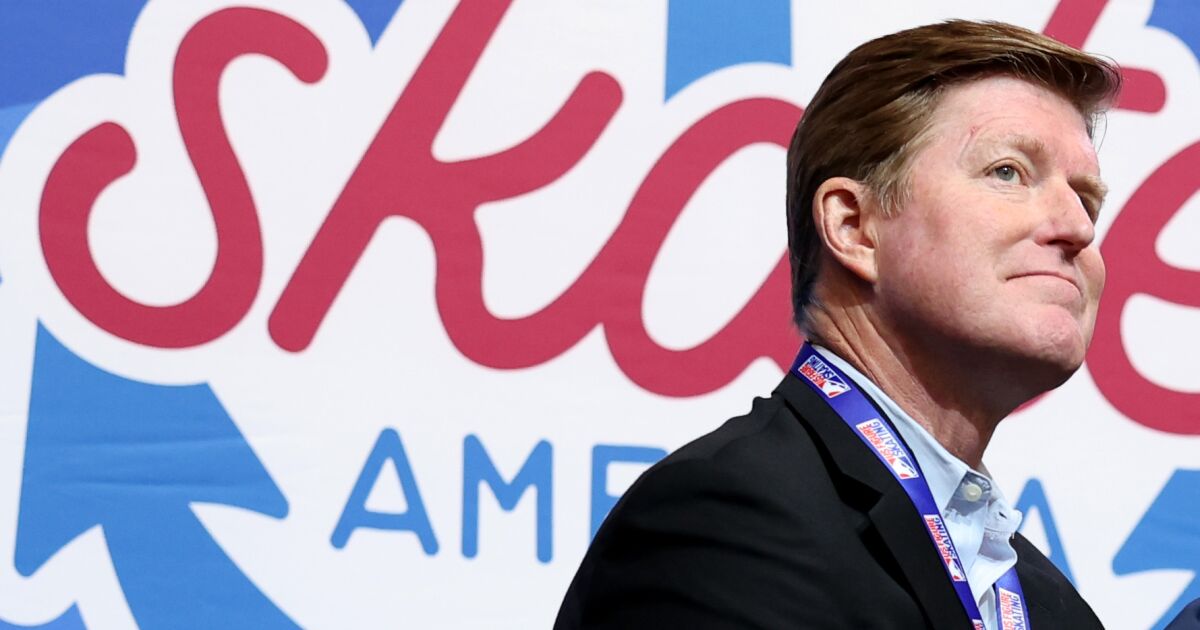 Todd Sand was always the strongest guy on the ice.
As an elite pair figure skater, he was muscular enough to smoothly lift his partner skyward or fling her through the air to fly and twist until gravity reclaimed her. But his real strength goes beyond the physical gifts that helped the Burbank native become a three-time Olympian, four-time U.S. champion and two-time world medalist, first with Natasha Kuchiki and later with partner-turned-wife Jenni Meno.
Sand's power has always come from his generous spirit and the joy that illuminated his partnership with Meno. Audiences adored him and Meno during their competitive career, and when they toured as pros. His students felt it when he turned to coaching and became part of the elite figure skating group that's churning out champions at Great Park Ice in Irvine.
He'd lift spirits with a smile or word of encouragement, make a timid skater feel powerful, assure lost souls they had found a home with him and Meno. His strength isn't measured by the pounds of weight he lifted. It's measured in the many lives he has influenced.
"There's no such thing as the perfect person or perfect coach but he comes very close to it," said Brandon Frazier, who won the world pair championship last year with Alexa Knierim under the guidance of Meno and Sand. "He's a perfect combination of happy, supportive, positive. He knows how to push an athlete and make them stronger but make sure they're comfortable while being pushed to their limit."
Sand has given so much of his strength to others. Now, he needs that strength to stay alive.
Sand, 59, suffered a severe heart attack on the morning of March 2 while coaching Sonia Baram and Daniel Tioumentsev at the world junior championships in Calgary, Canada. He has remained there, in an intensive care unit.
Meno immediately traveled to Calgary to be with Sand, who had caught her eye in the early 1990s when they were skating with other partners but training with legendary coach John Nicks at a shopping-mall rink in Costa Mesa. Sand proposed during the 1994 Olympics in Lillehammer, Norway, and they married a year later. They have two teenage sons, Jack — a senior baseball player at Crean Lutheran High in Irvine — and Matthew. A photo Meno posted on Instagram as teamtoddandjenni showed the family at the beach, the boys' red hair echoing Sand's ruddy coloring.
His skating family was stunned at the news. Tai Babilonia, who was coached by Nicks when she and Randy Gardner won the 1979 world championship, has known Sand since he was a young singles skater training in the Valley. Babilonia and Gardner skated with Meno and Sand in ice shows, and she's especially proud he's continuing Nicks' legacy as a coach. Not long ago, Sand commented on a photo Babilonia posted on Instagram. She thinks it was the day before he was stricken.
"Just the nicest guy. The biggest heart," Babilonia said. "He's a true gentleman. That's what he is: gentleman on ice. That's Todd.
"I pray every night for Todd."
Friends set up a fund to help the family with the enormous expenses that are mounting every day. As of Friday, more than $131,000 had been donated.
Meno has chosen not to provide public updates on her husband's condition. On Instagram, she said her family was thankful for the thoughts and prayers being sent to them and added, "Please keep the prayers coming."
Sand was in good physical shape, and Frazier said he wasn't aware of Sand having any health issues. Frazier saw him two days before Sand departed for Calgary. "He was normal Todd, 100%, like he always is," Frazier said.
For Knierim, "normal Todd" means a source of welcome, inspiration and growth.
Knierim was a singles skater when she met Meno and Sand at Aliso Viejo. "My first impression of them was how kindhearted they both were," Knierim said. In 2019, after Knierim had switched to pair skating with future-husband Chris Knierim and they needed a coach on short notice, Sand stepped in and took them to an event in Japan where they won a medal. They moved to California in 2019 to train with Meno and Sand.
When Chris Knierim retired and Alexa teamed with Frazier, there was no question the new duo would stay with Meno and Sand. "I had the opportunity to go wherever I wanted to when I started over with Brandon, but they provide such a safe and comfortable environment to train in daily," she said.
"The way he creates such a warm environment is just his gentle nature that he brings. He has this aura that is just accepting and forgiving, and he just has a way of making you feel like you're enough, no matter what you do. He's always, as a coach, wanting to push and strive for more, but you never feel like you're not good enough, and he just has a natural way of instilling that belief in his skaters. His energy is very unique because it's strong, but he has a stillness about him that resonates deeply."
Baram and Tioumentsev won the world junior title hours after Sand had been taken to the hospital. "We skated for Todd and for everyone that has helped us through the season. It was very hard and we tried to remember what Todd told us — to stay in the moment," Tioumentsev said that day.
Knierim and Frazier last year became the first American pair skaters to win the world championship since Babilonia and Gardner, but they'll have to defend their title later this month in Saitama, Japan, without Sand by their side. They've had difficulty accepting that, so badly does his absence sting.
"We have our good days and we have our tough days right now," Frazier said. "It's been a little tough managing those emotions during our training practices, but we are doing the best we could and doing what we know Todd would want us to do."
That's the best way to honor him. "There aren't many things we can control," Knierim said, "but one thing we can control is how we approach practice and training and approaching it in a way that Todd would be proud of, and that's kind of been our focus right now."
That's Sand's strength shining through them. May that strength flow back to him and make him strong again in every possible way.