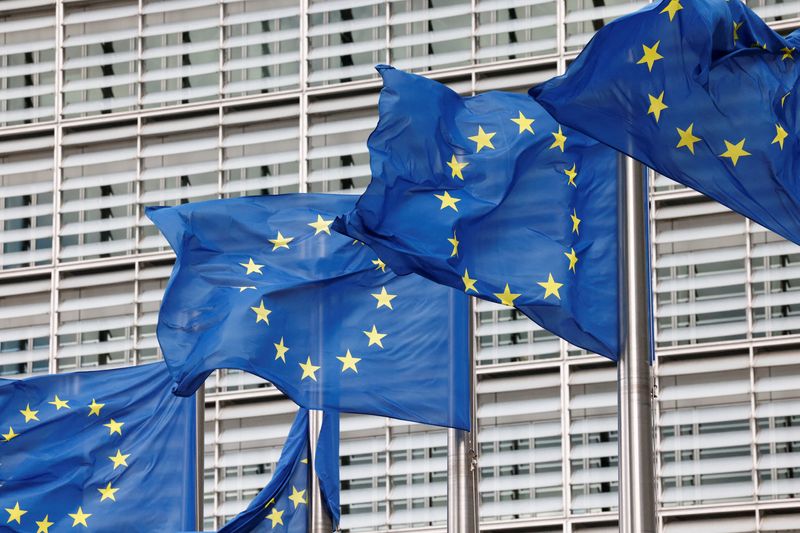 © Reuters. FILE PHOTO: European Union flags flutter outside the EU Commission headquarters in Brussels, Belgium, September 28, 2022. REUTERS/Yves Herman/File Photo

BRUSSELS (Reuters) – The European Commission on Friday asked member states for input by Jan. 25 on proposals to ease state aid rules, as the bloc considers measures to prevent the United States from luring away investment with its green energy subsidy package.
"We need a strong European response," the Commission's Vice-President Margrethe Vestager said in a letter addressed to member states and seen by Reuters.
The 27-country bloc fears that Washington's $430 billion (400 billion euros) Inflation Reduction Act (IRA) with its generous tax breaks may lure away EU businesses and disadvantage European companies, from car manufacturers to makers of green technology.
In December, European Commission President Ursula von der Leyen said the EU would adapt its state aid rules to prevent an exodus of investment triggered by the U.S. package.
Vestager said the Commission had already done a lot and approved 672 billion euros ($728 billion) of state aid under a crisis mechanism adopted after Russia's invasion of Ukraine.
More than two-thirds of the money had been notified to the EU by Germany (53%) and France (24%), she stated, followed by Italy with over 7%.
In her letter, Vestager suggested changes to the existing crisis mechanism, such as making the calculation of the aid amount easier and the approval faster.
"I am proposing to enlarge the scope of the existing simplified provisions to cover all renewable energy technologies, and to provide simpler options to member states to quantify how much aid they can grant to each project," she wrote.
Vestager also recommended creating the possibility for an anti-relocation aid for green investments in strategic sectors.
"I envisage dedicated provisions to support new investments in production facilities, including via tax breaks," she wrote in her letter.
"These new provisions aim to counter the risk that investments might be unfairly diverted to third countries outside Europe."
This aid should be limited in time, targeted to those sectors where such risk really exists, and proportionate in terms of aid amounts, Vestager added.
(1 euro = $1.0827 / $1 = 0.9233 euros)