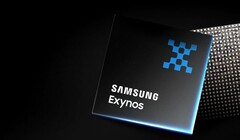 A rumour from the South Korean tech forum Meeco says the Exynos 2400 has been approved for mass production, with samples ready to be delivered by June 2023. It will be Samsung's largest chip so far and is being closely monitored by TM Roh.
Even though Qualcomm tacitly confirmed its silicon would exclusively power Samsung's flagship smartphones for a while, murmurs about a next-gen Exynos flagship chip have continued to persist, primarily in tech forums such as Meeco. For example, a previous report said domestic (South Korean) Galaxy S24 variants would use an Exynos 2400 chipset. Now, a new post on the forum, as mentioned earlier, says the SoC has been greenlit for mass production.
The post adds that Samsung's TM Roh is keeping a close eye on the Exynos 2400, which will be delivered to Samsung Electronics sometime between April and June. The base Galaxy S24 will reportedly run the SoC, along with 12 GB of RAM. However, its CPU specs are shrouded by mystery, with one leaker saying it will feature a 10-core, quad-cluster design, while another says it will stick to a tri-cluster, 8-core configuration. It will continue to use an RDNA GPU, but it isn't clear if it'll stick with RDNA 2 or move on to the newer RDNA 3 architecture. 
Additionally, Samsung plans to massively increase the Exynos 2400's die size, presumably to accommodate its ten CPU cores, GPU and other bits and bobs. It is reportedly 30% higher than the Exynos 2200, putting it at around 130 mm2- nearly as much as the Apple M1. Early samples of the chip have to underclock the prime Cortex-X4 core, but that will likely change in the future. There is little information about which fabrication process the Exynos 2400 will use. For now, it is rumoured to be Samsung's 4LPP+ process.
Anil Ganti – Senior Tech Writer – 1265 articles published on Notebookcheck since 2019
I've been an avid PC gamer since the age of 8. My passion for gaming eventually pushed me towards general tech, and I got my first writing gig at the age of 19. I have a degree in mechanical engineering and have worked in the manufacturing industry and a few other publications like Wccftech before joining Notebookcheck in November 2019. I cover a variety of topics including smartphones, gaming, and computer hardware.
Anil Ganti, 2023-02- 5 (Update: 2023-02- 6)