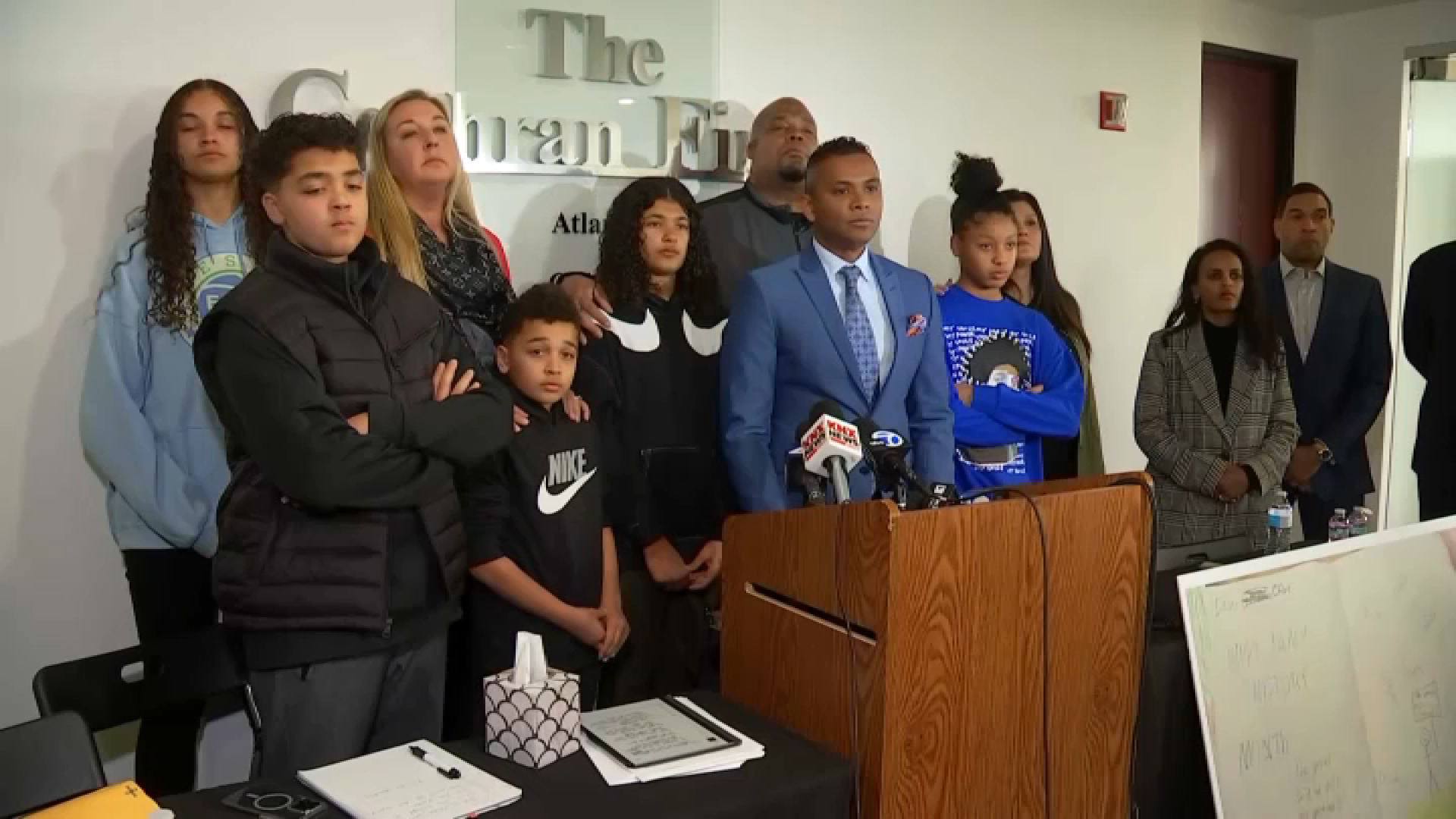 Content warning: The details in this story contain graphic descriptions of racist acts, including racist tropes.
In a precursor to a lawsuit, four families are filing a claim against the Upland Unified School District, alleging inaction after years of racist abuse directed at their children.
The claim comes as the district faces public scrutiny after the revelation that students distributed racist cards to Black classmates at Peppertree Elementary School. Since then, other students and parents have come forward with allegations of racism.
"What's brought us here today is the lack of attention by the school, by the principal, by the administration to what has happened," said Marlene Reynoso, whose daughter received the cards. The cards were addressed to "my favorite cotton picker" and "my favorite monkey."
Chloe Jenkins said a girl gave her one of the cards Feb. 2. Another student saw that and made and gave Chloe the second card, her mother said.
"I didn't, like, know that they actually thought of me that way, so it did make me feel less than others," Chloe said during a news conference Monday.
Only until two weeks after the incident, facing mounting public backlash, did the school release a statement saying that type of behavior was unacceptable, Reynoso said.
Local
Get Los Angeles's latest local news on crime, entertainment, weather, schools, COVID, cost of living and more. Here's your go-to source for today's LA news.
Christopher Newman said one of the cards was supposed to go to his son, but the student crossed off his son's name and gave it to Chloe instead. Newman said he found out his son had been racially abused at the school for months but had tried to handle the situation on his own.
The abuse, which extended to social media, included students calling his son a monkey and making monkey noises when he walked by, Newman said.
Newman said he only found out about what was happening on Feb. 10, when administrators notified him that his son would have to serve a one-day, in-school suspension after defending himself by directing some "less-than-flattering words" on social media against his aggressors.
London Douglas said that at the beginning of February, other students began walking up to her and rubbing her back.
James Bryant, an attorney for the families, said the "unwanted touching" was the result of students telling their Black peers they were going to be nice to them because it was Black History Month. 
Later that day, London said another student told her she should only get half of Black History Month because she is half Black.
London also said students told her they were going to give her a card with a drawing of her hanging from a tree, but they were dissuaded from doing so when they saw that the girl who gave Chloe a card was escorted to the office. At the office, the girl was laughing and "goofing around" with another student who allegedly called someone – who is also part of the claim – the N-word, London said.
Both students responsible for the bullying were only given one-day suspensions, London said.
London's father that in a separate incident last year, London was chosen to play a slave during a school play.
Rome Douglas, London's brother, said that a student called him a monkey in class this year. Their teacher said she'd talk to the student, but she never did, Rome said. That incident followed another from last year, when he said another student called him a monkey in class. In that case, the teacher heard but "smirked" and continued as if nothing happened, he said.
"Every day that I go to school is just a struggle because I know I'm going to be called a monkey, they're going to make noises behind me. I just never know when," Rome said.
Maylana Douglas said all four of her children have been subjected to racist abuse. She displayed a stack of papers which she said was a pile of email exchanges between her and administrators about the incidents. The administrators assured the family that teachers would receive diversity training, but a teacher recently revealed to them that no training has taken place, Rome Douglas, the children's father, said.
He said his children have taken to spending recess and lunch in a classroom to avoid the abuse from fellow students.
"This is not a way that kids should be attending school. This is not a safe environment," he said. "Kids should be able to go to school and feel safe and not feel like they need to hide in a classroom so that they don't have to be subjected to being called racial slurs or hearing monkey sounds."
Kabene Gabremariam, the mother of another other student in the claim, said her son's bullying began last year, when a student asked him for a "pass for (the) N-word." Her son later ran for office during school elections on an anti-bullying platform, but school administrators told him to stop talking about his personal experience, she said, adding that the same bully has continued calling her son a monkey.  
The district declined to comment on legal action, but in a video earlier this month, district officials said they had a zero-tolerance policy on racism and hate speech.
"I want to make it clear that the district will implement disciplinary action in these situations without hesitation," Upland School Board President Sherman Garnett said.
The Upland Unified School District's website currently displays a message pointing to a 2018 policy that states, in part, that the school board believes "diversity in the community is integral to the district's vision and goals" and that "committed to equity in opportunities and resulting outcomes to address the needs of the most marginalized learners."
In a timeline of events that Newman said is inaccurate, the district also says new information has led it to reopen an investigation and to "continue the implementation of the progressive discipline process, which can lead up to expulsion."
James Bryant, an attorney for the families, said the bullies include the child of a Peppertree teacher and the child of the school's assistant principal. The families want the assistant principal and teacher terminated, as well as to have diversity and inclusion training implemented at all district schools, he added.
"In a racist society it's not enough to just be non-racist; you must be anti-racist," Maylana Douglas said.