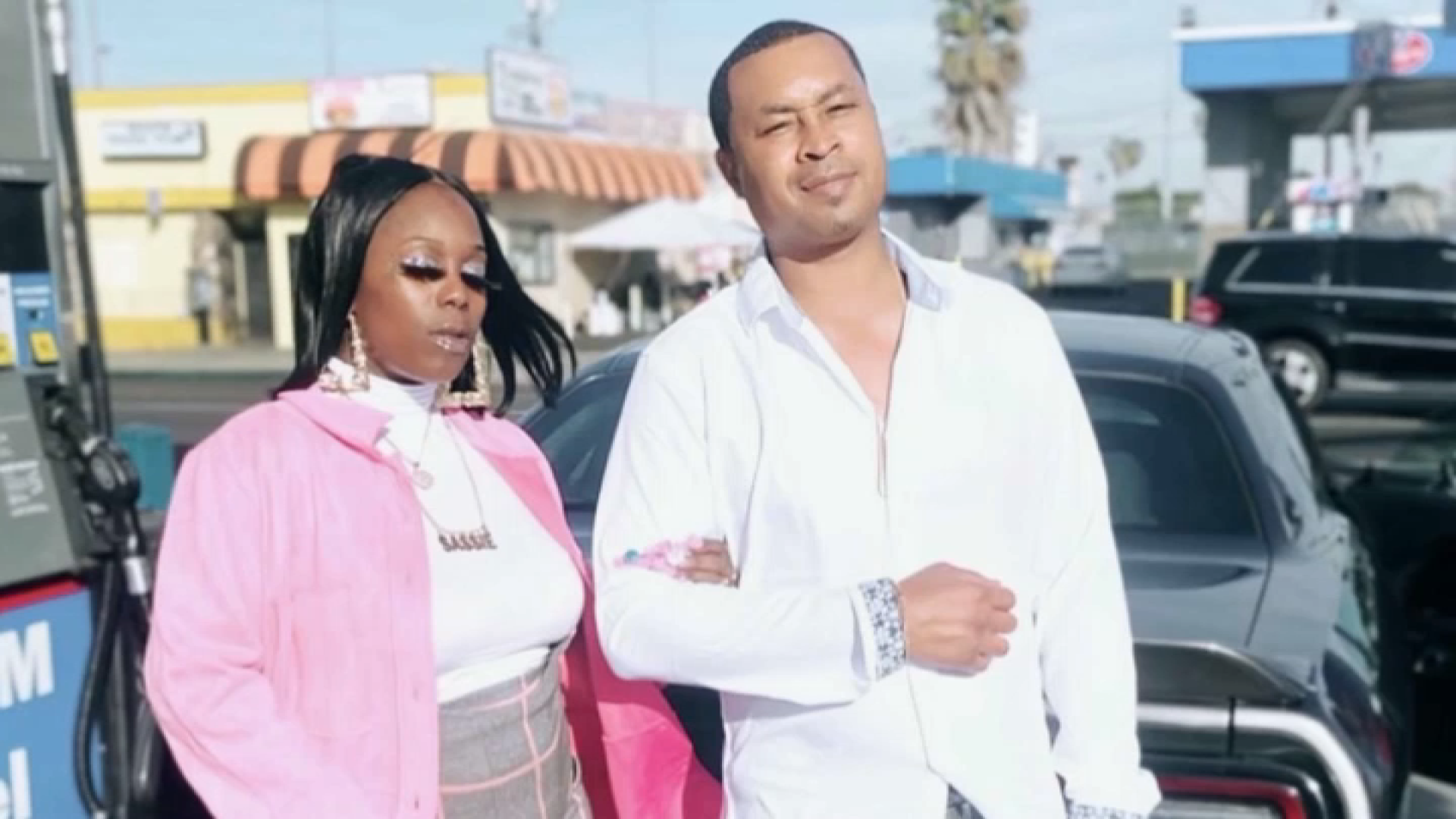 The family of a man shot and killed by Los Angeles police officers said Friday that they plan to file a lawsuit, contending his slaying was unjustified.
Takar Smith's family and their lawyer said the father of six was going through a mental health crisis and that the Los Angeles Police Department officers who responded should have contacted the department's mental health assessment team. The lawyer said also that a kneeling Smith did not pose an immediate threat of death or serious bodily injury when officers shot him dead.
"There's a lot of people out here with mental issues," said Raischard Smith, the man's brother. "That don't make you a bad person; that just makes you a person that's having problems mentally, emotionally, physically. It's a whole lot going on with a lot of people in this world and when people call for help, we're not calling for executions."
Police officers shot and killed Takar Smith on Jan. 3 inside an apartment on the 200 block of South Witmer Street. His wife said Friday that she had gone to the police station and subsequently called a number that officers gave her because she was seeking help for her husband. Police failed her, she said.
Eric Valenzuela, the family attorney, said that at the police station, Shameka Smith showed officers cellphone video of Takar Smith in her apartment with the aim of getting him mental health help. Instead, she said, she was given an "877" number to call.
Department Chief Michael Moore said he had "concerns" about the decision by people at the police station to refer her to a communications division number and wait for officers outside the apartment.
The department publicized portions of a call in which a woman reported that Takar Smith was violating a restraining order and in her home. Shameka Smith on Friday confirmed that she was the woman on the line.
On the call, she said her husband was "acting crazy" and that he was off his medication for schizophrenia. She told the dispatcher that Takar Smith had likely grabbed a knife and said he wasn't going back to jail.
She later told responding officers outside the residence that Takar Smith refused to leave and that she feared he would "put his hands" on her. The woman said there was a knife inside and that Takar Smith had already threatened to fight the police.
After a supervisor arrived, officers initiated contact with Takar Smith. The interaction with police lasted several minutes, with officers trying to calm Takar Smith down and he at times growing agitated. Moore criticized the decision to not call the LAPD's mental evaluation units or Systemwide Mental Assessment Team.
Officers killed Takar Smith after he grabbed a knife from the kitchen. Bodycam video showed Takar Smith quickly putting the knife back down, and an officer holding a Taser telling him that if he grabs it again, he will be stunned.
At that point, Takar Smith had placed two bicycles between himself and the police. He grabbed one bike and picked it up, prompting an officer to deploy the stun gun. The tactic did not appear to phase Smith much, prompting the officer to call for a "second Taser."
It's at that point that Smith again grabbed the knife. Officers stunned Smith again and deployed pepper spray as he fell to his knees. They continued shouting at him to drop the knife, and he said that he didn't have anything.
The officers briefly stopped shocking Smith, at which point he grabbed the knife again. Police continued telling him to drop it, but he briefly raised it above his head. At that point, two officers fired their guns for a total of seven shots, LAPD Chief Moore said.
Valenzuela, the family lawyer, said that Smith at that point did not pose an immediate threat of death or seriously bodily injury. He was on his knees, facing the cabinets and not advancing toward anyone, Valenzuela said. As such, he contended, officers should not have used lethal force.
"I submit to you, ladies and gentlemen, that if an individual is on his knees and not even facing towards the officers or advancing towards them with a knife – this is not a gun – that that individual does not pose an immediate threat of death or serious bodily injury, making this shooting unreasonable, which I think most of us can agree on when we see the video," Valenzuela said. He added that the family wants the officers to face criminal charges.
Family members remembered Takar Smith as someone who loved his children. Raischard Smith said his brother's children range in age from 6 to 21 years old.
"His kids love him so much and they miss him. I miss him," his mother said, breaking down in tears.
Takar Smith was just one of three men who died following encounters with Los Angeles police officers on Jan. 2 and 3. The other two were 35-year-old Oscar Sanchez and 31-year-old Keenan Anderson. Oscar Sanchez was also fatally shot, while Anderson died hours after a struggle with police officers in which he was repeatedly shocked with a stun gun.
All three appeared to be experiencing mental health crises during their encounters with officers. The LAPD on Wednesday released videos of those encounters, including the police killings of Takar Smith and Sanchez.
Alejandro Villalpando, of the Coalition for Community Control Over the Police, said Friday that like Takar Smith, Sanchez was gunned down by officers "while clearly under duress."
Anderson, meanwhile, was a father to a 6-year-old son and was in Los Angeles visiting family when he died. He was a 10th-grade English teacher at Digital Pioneers Academy in Washington, D.C. In a statement, the school said he was "beloved by all."
Los Angeles Mayor Karen Bass said in a press release that she had "grave concerns about the deeply disturbing tapes" released Wednesday. She added that no matter what the investigations into the three deaths determine, Los Angeles must work to reduce police use-of-force incidents.
"No matter what these investigations determine, however, the need for urgent change is clear. We must reduce the use of force overall, and I have absolutely no tolerance for excessive force. We must also lead our city forward – finally – on the mental health crisis that has been allowed to grow, fester and cause so much harm to individual Angelenos, their families and our communities," she said.