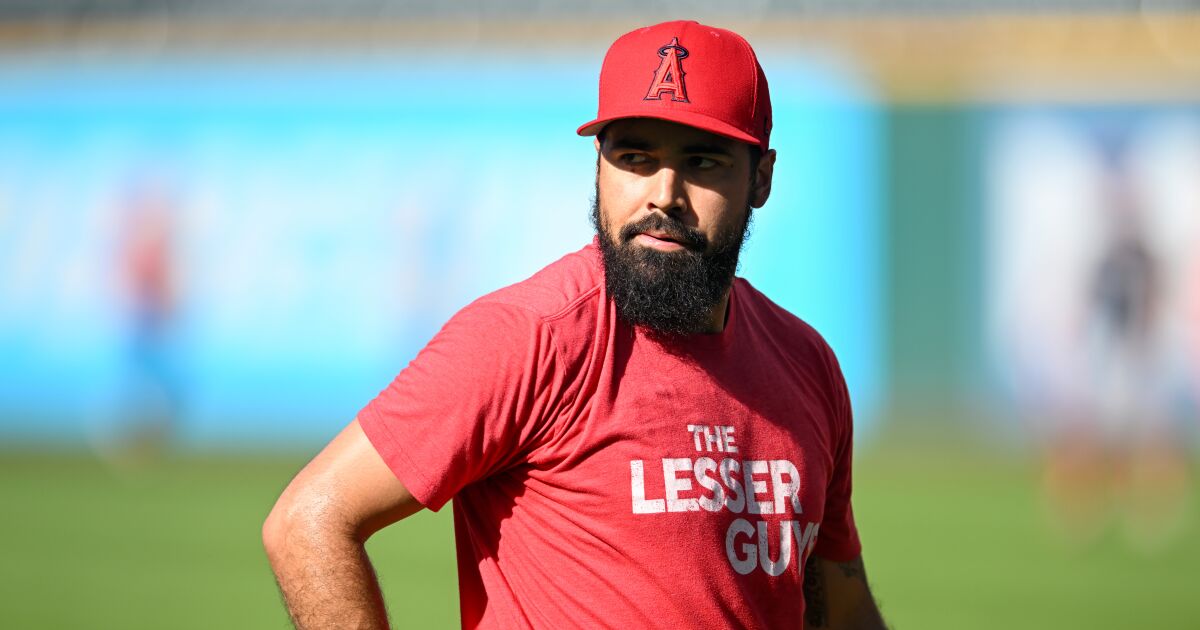 TEMPE, Ariz. — 
Anthony Rendon took ground balls at third base on Saturday, his first fielding work at Angels spring camp.
Getting reps alongside Gio Urshela, Rendon looked in his element, at least on the outside. To Rendon, it was a weird experience.
"I haven't really played a lot of baseball the last handful of years, so to be out there is awkward," the third baseman said Monday morning before the Angels' first full-squad workout of camp.
"But that's what spring training is for," he continued. "You get out there every day, continue to put the work in and try to get ready for the season."
Rendon's return this year has been hyped, and for good reason.
Manager Phil Nevin foresees a lineup topped by Taylor Ward, Mike Trout, Shohei Ohtani and Rendon.
What having a healthy Rendon next to Trout and Ohtani will look like remains to be seen, but Rendon is hopeful it will look better than the small sample size of the past.
That big trio of Trout, Ohtani and Rendon — a two-time Silver Slugger and 2019 All-Star who's been on a most valuable player ballot five of his 10 years in the big leagues — hasn't been seen in a full season's worth of games together.
Including the 60-game shortened 2020 season, Rendon has played 157 games since signing with the Angels.
Rendon has dealt with myriad injuries throughout his career.
In the last two seasons, he's needed surgery to repair a right hip impingement and then a partially dislocated tendon in his right wrist. One of the expectations he has for himself this season is not to need another surgery.
"It drains a lot out of you not just physically, but mentally," he said. "It's not fun at all. I don't know if any of y'all have had surgery, but I've had a lot. Every single time it gets worse."
It's been his faith in himself — that he's a person and not just a baseball player — that has allowed him to mentally recover from all his procedures. It's a tough mindset to balance, a roller-coaster ride of emotions, "but you gotta do it the best you can," Rendon said.
And it's not just for baseball.
"I'm planning for trying to take care of my kids as they get older," he said. "I mean, hip surgery, ankle surgeries, wrist surgeries, I want to play with them when they're 10, 12, 15 years old.
"I know right now, it looks like we're playing for these next four years of baseball," he continued. "I'm trying to hang out with my kids for the rest of their lives."
He knows how much time he's missed and he's very much aware of the skepticism about him. Still, he is confident he can recover enough to be the player he was before, as are others around him.
"I know where his mind's at and it's in a really good place," Nevin said of the 2016 comeback player of the year. "He doesn't have to prove anything. He wants to win.
"He's been in this position before," he continued, "and I know he's pumped to get this thing started. He looks great."
Rendon was able to forgo ending last season on the injured list. He returned the last few weeks of the season to serve a five-game suspension and end the season playing — something he said last year was to give him peace of mind going into the offseason.
Rendon's wrist didn't feel healed during the offseason, but he's continued to get stronger and rehabilitate it to get closer to feeling like his old self.
He knows load management will come into play this season, one of the reasons he liked that the Angels signed Urshela this winter.
"I love Gio, watching him when he was with the Yankees I mean, his barrel control is amazing," Rendon said of Urshela. "He's a big dude so he doesn't have to have that strong swing to put the ball into the seats, and he's very calm out there."
Rendon arrived at Angels camp this spring a little ahead of the scheduled report date for position players.
And since then, he's looked, as Nevin described, free.