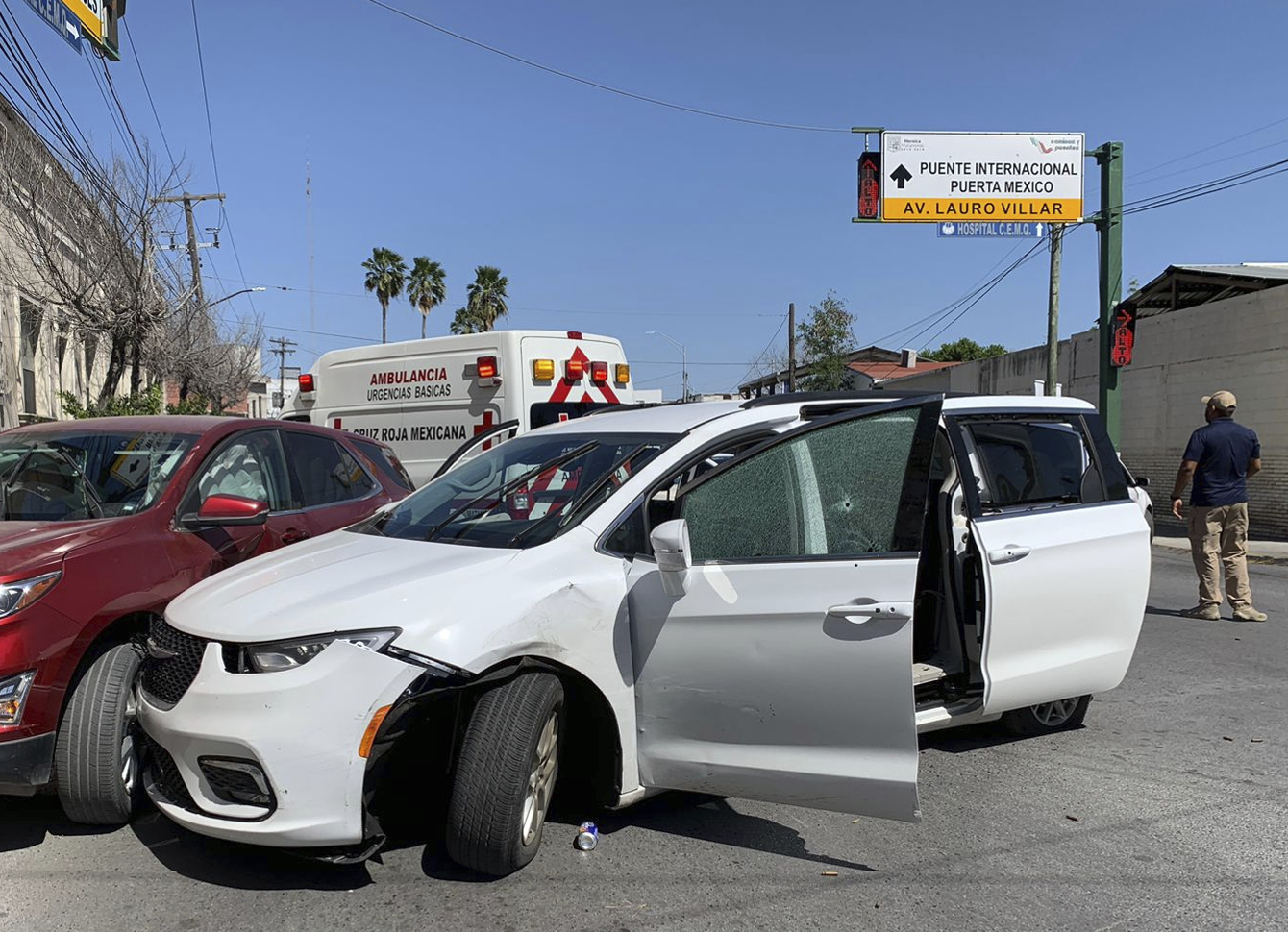 The frantic effort to rescue four Americans taken captive in Mexico in a kidnapping that left two of them dead came after a fifth person traveling with the group contacted police when they did not return to the U.S. side as expected.
Cheryl Orange, who did not cross into Mexico with the others, told The Associated Press in a text message that her three friends were supposed to return within 15 minutes after dropping off their companion, Latavia McGee, for cosmetic surgery in the Mexican border city of Matamoros on Friday.
Orange stayed behind at a motel in Brownsville, Texas, and said she grew concerned as the hours passed and she did not hear from the others.
The five friends had driven a rented minivan from South Carolina on Thursday to the southern tip of Texas, according to a police report based on Orange's account. Four of them left Friday morning around 8 a.m. to go to Mexico.
Orange's statements and the report offers the most detailed account so far of what led up to the kidnapping that saw McGee and another friend whisked back to a U.S. hospital Tuesday after Mexican authorities rescued them and found the bodies of their two friends at a wooden shack on the outskirts of Matamoros. The attack in Matamoros also left a Mexican woman dead.
Orange told police she didn't cross the border because she didn't have her identification. She said she could not talk when contacted by the AP because she was awaiting a call from McGee, who was to be released from a hospital in Brownsville. The other wounded American, Eric Williams, was also being treated at the hospital for a gunshot wound to the leg.
Americans Zindell Brown and Shaeed Woodard died in the attack.
The other two Americans kidnapped in Matamoros, Tamaulipas, were found dead, Mexican officials said.
Orange confirmed via text that the friends went on the trip to accompany McGee for cosmetic surgery.
"She simply went for a cosmetic surgery, and that's it. That's all, and this happened to them," Orange said.
Mexican authorities have said the group was fired on and crashed their van soon after they crossed into Matamoros Friday, as drug cartel factions tore through the streets.
The Americans were hauled off in a pickup truck, and Mexican authorities frantically searched as the cartel moved them around — even taking them to a medical clinic — "to create confusion and avoid efforts to rescue them," the region's governor, Américo Villarreal said Tuesday.
Orange told authorities in Brownsville that she had everyone's luggage but had been unable to reach them, according to the police report.
"She tried calling their cell phones but they sound turned off," the report states.
It said the officer gave Orange a phone number for the international bridge in the area and told her to follow-up with criminal investigators on Monday if she hadn't heard from her friends.
A Brownsville Police Department spokesperson did not immediately respond to a request for comment Wednesday. CNN was the first to report on the police report.
It's unclear how the FBI, which is leading the investigation on the U.S. side, was first informed of the kidnapping. A spokeswoman for the agency had no immediate comment Wednesday.
Mexican authorities found the group Tuesday in a wooden shack — guarded by a man who was arrested — in the rural Ejido Tecolote area east of Matamoros on the way to part of the Gulf area called "Bagdad Beach," according to the state's chief prosecutor, Irving Barrios.
A GoFundMe set up by Brown's family said his relatives hope the "loving son, brother, uncle and friend" gets the "goodbye that he deserves." Relatives of the group say they grew up as close friends in the South Carolina town of Lake City, a community of less than 6,000 residents in the state's Pee Dee region. Family members said they agonized for days while waiting to learn whether their loved ones had survived.
Lake City leaders called for the community to support the families of the victims, with Mayor Yamekia Robinson sending them her "deepest sympathy."
"We ask each of you, your friends, your family, your churches, and your communities across the nation to keep us all lifted in your thoughts & prayers as we the City of Lake City and the families grieve the loss and get through this tragic incident together," Robinson said in a statement Wednesday.
___
Bleiberg reported from Dallas. Watson reported from San Diego. Acacia Coronado contributed from Austin, Texas. James Pollard is a corps member for the Associated Press/Report for America Statehouse News Initiative. Report for America is a nonprofit national service program that places journalists in local newsrooms to report on undercovered issues.