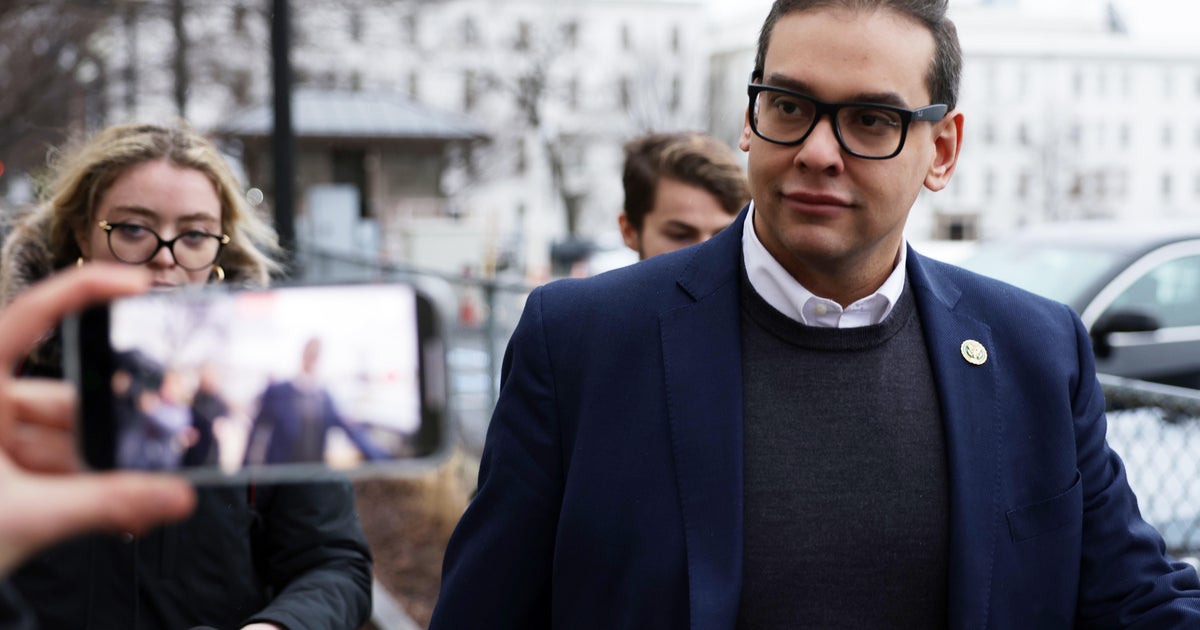 Rep. George Santos, the embattled Republican Congressman from Long Island, has now been accused of sexual misconduct and an ethics violation by a prospective staffer, who detailed the allegations on Twitter on Friday.
"This is not about attention; it's about holding the actions accountable," the accuser, 30-year-old Derek Myers, told CBS News.
Santos' Congressional office referred questions to his attorney, Joe Murray, who declined to comment.   
According to a letter Myers sent the House Ethics Committee, the 34-year-old Santos allegedly asked him on Jan. 25 if he had a profile on Grindr, a popular LGBTQ+ dating app. Santos then allegedly told Myers that he had a profile on Grindr, Myers said in the letter.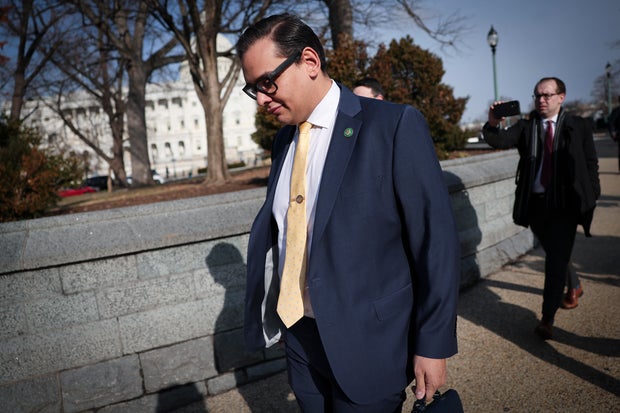 Later that day, Myers alleged that he was in Santos' office reviewing mail, and Santos invited him to sit next to him on a sofa.
"I proceeded to move forward with a discussion about the mail, but the Congressman stopped me by placing his hand on my left leg, near my knee and saying, "Hey buddy, we're going to karaoke tonight. Would you like to go?" Myers wrote in the letter. 
Myers said he declined the invitation, and that Santos then allegedly "proceeded to take his hand and move it down my leg into my inner-thigh and proceeded to touch my groin." Myers said Santos told him that his husband was out of town, and then invited him over. 
"I quickly pushed the Congressman's hand away and grabbed the mail from the table and proceeded to discuss the topic of constituent correspondence," Myers said in the letter. "Shortly thereafter, I left the personal office and returned to my desk." 
Myers wrote that days later, on Jan. 30, he was called into the Congressman's office, and asked about his "background as a journalist."
"I was questioned about matters that had already been disclosed in my conversations with hiring managers from the Congressman's office prior to my job offer. On Wednesday, Feb. 1, I was informed that my job offer was being rescinded."
When asked to describe Santos' office, Myers remembered the neatness of the papers, the plentiful green Post-It notes, and the CLIF bars on the coffee table — though, as he says, "I was never in there to admire the decor."
Last year, Myers, the Editor-in-Chief of local Ohio news website Scioto Valley Guardian, was charged with felony wiretapping by the Pike County Sheriff's office after his outlet published audio leaked from a murder trial. The Committee to Protect Journalists denounced the charges.
Myers says he pleaded not guilty, and after sixty days of no indictment being brought, the case was automatically dismissed under Ohio's criminal rules of procedure.
When asked why he would want to work with Santos, Myers told CBS News, "Congressman Santos doesn't have many people knocking down his door asking for a job. The people of the district still deserve quality representation and the staff is the one who does all the work."
Myers tweeted the letter requesting an investigation from the House Ethics committee, and also said he has filed a police report with the Capitol police.
"Sexual assault is not something anyone should be subjected; no matter the level," Myers told CBS News.
"There are victims of violent assaults who have to live with trauma everyday for the rest of their lives because they were taken advantage," Myers said. "My brush with assault was non-violent and my thoughts are with those who have to live with nightmares from their horrific experiences. No one, no matter the extent should be violated."
Myers wrote on Twitter he has chosen to be "public in light of transparency," but he told CBS News that ultimately, "the matter will hopefully be handled by the appropriate bodies and not litigated through the news media." 
Myers made a point of telling CBS News about the significance of his allegations, which could potentially be used to oust Santos from his Congressional position.
"All the previous allegations and ethical complaints filed against him by outside agencies and other members of Congress mostly pertain to his conduct prior to taking the oath and arguably can't be used to expel," Myers said. "The claims I have filed have occurred while he has held office." 
While Myers doesn't believe that much will be done to remove Santos from office this term under a Republican majority, he thinks Santos is unlikely to win reelection.
Myers alleged that after being offered a role in Santos' office in January, he was given the title of "volunteer" until his paperwork was processed "through the payroll" department. He said his responsibilities included escorting Santos, answering phones, writing to constituents and other duties.
"My complaint pertains to violations of House Ethics in which I was an unpaid volunteer performing staff duties with the promise of employment and compensation, only to be released after several days of work without compensation," wrote Myers.
"Since this, I have learned that such volunteer work within a Congressional office without the correct procedures being followed is a violation of House Ethics," wrote Myers in his letter to the House committee.
According to the House Ethics Committee website, a House office can accept temporary volunteer services — where a volunteer is defined as "an individual performing services in a House office without compensation from any source" — only if there is a program in place to assure that "(1) the voluntary service is of significant educational benefit to the participant; and (2) such voluntary assistance does not supplant the normal and regular duties of paid employees."
Myers provided emails dated Jan. 24 from Santos' Chief of Staff, Charley Lovett, which showed that Myers was offered the role of "staff assistant for the Office of George Santos," with an agreed-upon salary of $50,000 a year, plus benefits. The emails also show Myers agreeing to "volunteer" in Santos' office until his onboarding paperwork had been approved. 


"I simply want to be in the room and help," Myers told Lovett.
Myers said he has not received any response to the letter from the House Ethics Committee, and that the Capitol Police told him a report would be ready on Monday. Rep. Susan Wild, D-Pa., a ranking member of the House Ethics Committee, confirmed that the committee had received Myers' letter. 
"These matters will hopefully be appropriately addressed by the police and the Ethics Committee, respectively in due time," Myers said.
Santos has claimed that Myers' previous history of wiretapping was cause for the rescinding of his job offer. On Thursday, Santos told news outlet Semafor that he expected Myers to publish recorded conversations between the two online, saying that Myers "violated the trust that we had in him."
The next day, Talking Points Memo published audio recordings between the two, provided by Myers himself, in which Santos gave Myers an opportunity to explain his previous charges before ultimately firing him.
"We know that the hiring managers and senior staff were aware of my history as a journalist and the 2022 controversy, which is what the Congressman cited as the reason to let me go," Myers told CBS News. "He claims this fully-disclosed 2022 chapter in my previous job was the reason for my dismissal, despite it being disclosed before an offer was made in the interview phase." Myers reiterated the disclosure in his letter to the House as well.
When asked whether he believed that he was removed from Santos' office as a form of retaliation for the alleged sexual misconduct, Myers said, "Unfortunately, I have no evidence to support the true motive. The timing certainly raises the prospect of the answer being 'yes.'"
Santos, who was elected to Congress in November, has been mired in multiple controversies ignited by revelations that he fabricated parts of his biography.  
New York State and federal prosecutors have announced investigations related to Santos, and he is the target of complaints to the Federal Election Commission and the House Ethics Committee over alleged campaign spending.
The FBI is also investigating Santos' alleged role in purporting to raise funds for a veteran's dying dog, a representative for the veteran told CBS News on Wednesday.
Additionally, Santos recused himself from serving on House committees earlier this week. 
On where he goes from here, Myers  believes that these allegations will have a permanent impact on his future in politics.
"With this, my career on the Hill — thanks to Congressman Santos — is over," he told CBS News. "These are not light allegations; they are very serious. Filing a police report is serious; filing a false police report is a crime."
"This is why many people subjected to unwanted advances don't come forward; it's a career killer."
Thanks for reading CBS NEWS.
Create your free account or log in
for more features.