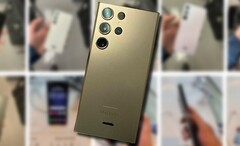 More live images of the Samsung Galaxy S23, Galaxy S23+, and Galaxy S23 Ultra have been leaked, with a single day left before the official launch of the 2023 flagships. There are plenty of hands-on S23 Ultra shots in particular, with what appears to be a retail test model confirming the 200 MP main camera and 6.8-inch QHD display.
Samsung is apparently losing the battle to stem the flow of Galaxy S23 leaks, as yet another leak has shown off the upcoming S23, S23+, and S23 Ultra in a series of hands-on live images. The Galaxy S23 Ultra has appeared in a hands-on video clip before, but this is one of the first times that there is a good look at the Samsung Galaxy S23 and Samsung Galaxy S23+ in the hand. An accompanying hands-on video had also been shared but was later taken down for copyright infringement.
As can be seen in the real-word S23 photos posted below, there are shots of both the front and rear of the Galaxy S23 and Galaxy S23+. The Samsung Galaxy S23 is shown off in Cotton Flower (cream), with the main design difference between it and the predecessor S22 being the removal of the clunky camera housing bump. Now the Galaxy S23 series' cameras are housed in aesthetically pleasing separate rings, allowing the Misty Lilac (pink) Samsung Galaxy S23+ to look sleeker on the rear than its S22+ relative.
The Galaxy S23 Ultra hands-on photos feature the upcoming device freely in the hand and also in a secured retail test model state. The real-life Samsung Galaxy S23 Ultra practically shimmers in Botanic Green and will likely win over many fans with that color, while the pick-up test model is shown in Phantom Black. The store marketing text (in Spanish) confirms the 6.8-in QHD panel, 200 MP/12 MP/10 MP/10 MP camera system, 256 GB/512 GB storage options, 5,000-mAh battery, and the presence of the S Pen for the S23 Ultra.
Daniel R Deakin – Managing Editor News & Magazine – 2935 articles published on Notebookcheck since 2012
My interest in technology began after I was presented with an Atari 800XL home computer in the mid-1980s. I especially enjoy writing about technological advances, compelling rumors, and intriguing tech-related leaks. I have a degree in International Relations and Strategic Studies and count my family, reading, writing, and travel as the main passions of my life. I have been with Notebookcheck since 2012.
Daniel R Deakin, 2023-01-31 (Update: 2023-01-31)