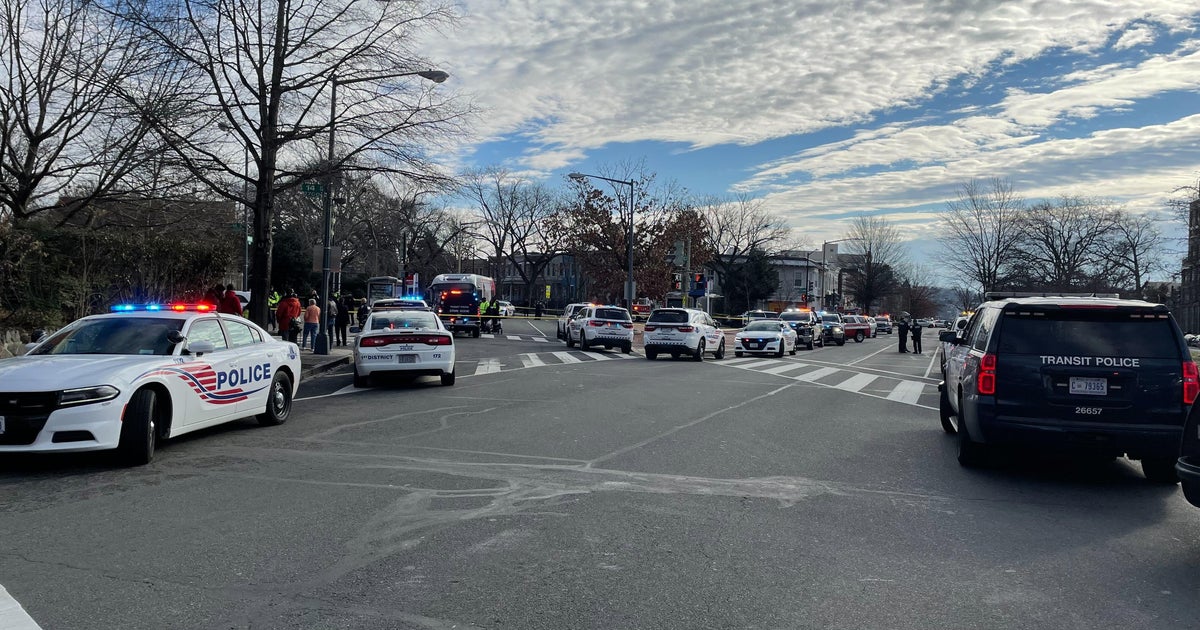 A man shot and killed a transit worker and hurt three other people in Washington, D.C., near a Metro station during Wednesday morning's commute, police said. A suspect was taken into custody.
According to officials, transit riders helped subdue the suspect.
The incident unfolded around 9 a.m., Metropolitan Police Department Executive Assistant Chief Ashan Benedict said in a news conference. The suspect, who has not been named, was riding a Metro bus and "engaging" other passengers while "brandishing" a weapon, Benedict said. He eventually followed a passenger off the bus and shot at him, striking him in the legs.
That passenger, Benedict said, has been transported to an area hospital and is being treated for non-life-threatening injuries. 
Next, the suspect went down into the Potomac Avenue Metro station, where he engaged someone who Benedict said was attempting to buy a Metro card. Another "altercation" occurred and that person was shot in the leg. The suspect brought that person over to a turnstile. Benedict noted that the "intent" of the suspect remains unclear, but at some point, the injured man freed himself. He was also transported to a hospital with non-life-threatening injuries.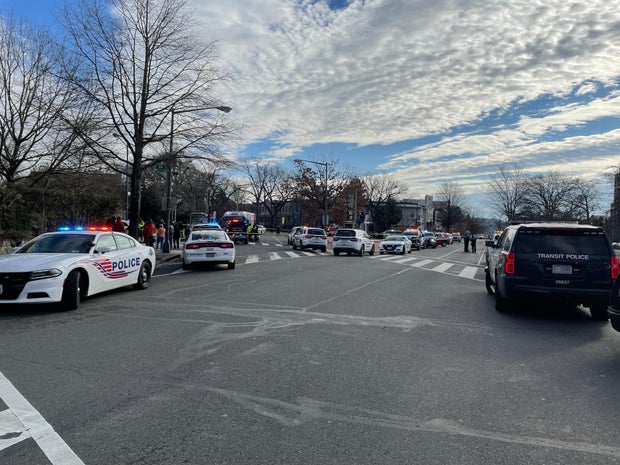 The suspect went down to the platform, where he engaged with a woman while brandishing his weapon still, Benedict said. It's not clear what happened next: He attempted to "rob, confront or otherwise have an altercation with her," Benedict said, drawing the attention of two transit employees.
One employee, identified by the Washington Metro Area Transit Authority on Wednesday afternoon as 64-year-old Robert Cunningham, attempted to "intervene to protect this young lady," Benedict said, but was immediately shot. Benedict said that Cunningham, a mechanic in the power department, was declared dead on the scene. 
"Our thoughts and prayers go out to him and his family and the heroic actions that took place here today," Benedict said. 
The second employee then engaged the shooter and attempted to de-escalate the situation. 
"I believe he successfully (did) so because no one is shot after this individual is shot," Benedict said. The second employee was injured on his hand and is also receiving treatment.
The suspect remained in the station. According to Benedict, he got on a train and was "walking around, brandishing a firearm and randomly engaging people in conversation." 
"He's clearly agitated about something, we're just not sure at this point (what)," Benedict said, adding that the investigation will aim to "get to the bottom of that." 
At some point, "other individuals" in the station tackled the suspect, Benedict said. 
"I wish we could have been there faster. Our officers were there within minutes of getting the call for service, but due to the heroic actions of our citizens, our community, to disarm this shooter, I can't put a price on that," Benedict said. "I think they saved lives and that's to be commended, but the fact that our citizens have to intervene with armed gunmen is disturbing to me. We do the best we can each and every day, our officers are there within minutes, we got the shooter into custody, and now we'll just let the investigation go forward." 
Benedict said the suspect was still armed when police arrived on the scene, but later said that his weapon was on the train tracks. Benedict also said that officers found the shooter "on the platform, standing alone" and that "victims and witnesses (had) since moved on."
The suspect was taken into custody on the platform, Benedict said.
Police got a call about the incident on the bus around 9: 20 a.m., but it's not clear when officers arrived at the Metro station, Benedict said.
Randy Clarke, the general manager and CEO of the Washington Metropolitan Area Transit Authority, told reporters it was a "brutal day" for the agency's employees and added that the employee who was killed would be "known as a hero." When asked what words of reassurance he had for riders who rely on the Metro system, Clarke emphasized the increased security the agency has added in recent months.
"We are working very hard. We've increased police patrols 25, 30% in the last six months," Clarke said. "We've hired mental health crisis intervention counselors. We're installing more video and upgrading our video systems … We have a gun violence problem in America, and sometimes unfortunately that comes into Metro, but this is not a Metro-specific safety issue, it's an American gun violence issue." 
The WMATA said in a statement that Metro flags would be lowered to half-staff "during this time of grief."
Mayor Muriel Bowser said that the shooting emphasizes the need to "get guns out of" Washington, D.C.
"Whether it's the Metro, it's the street, it's individual homes, we know that we have guns that are creating tragedies in our city and our nation and we all have to be very focused on that," Bowser said. "I know that we will work hand in hand with Metro to make sure that our officers are working this investigation and being just as supportive as possible."
Thanks for reading CBS NEWS.
Create your free account or log in
for more features.