Despite recently going on a five-game win streak the Los Angeles Lakers are far from playoff contention. The streak was brought to a stop by the Denver Nuggets as well.  However, there is still time left for the team to recover. Furthermore, a fresh report might make Lakers fans breathe a sigh of relief. Recently, there was much speculation about the future of some Lakers superstars. Including LeBron James and his future in Los Angeles. 
Many thought that James would force a trade due to the team's struggles this season. However, the latest report has put an end to the speculation about James' future for the time being. 
LeBron James wants to retire as a Laker
ADVERTISEMENT
Article continues below this ad
Given the current condition of the team, the Los Angeles Lakers are in no position to make the playoffs, let alone win a championship. Yet LeBron James still wants to stay with the team rather than play for a contender. Moreover, he reportedly wants to finish his career as a Laker.
According to Zach Lowe of ESPN, "He wants to finish his career with the Lakers. His comments though should be interpreted as his patience is not infinite and if this is just a continued morass of losing, maybe that changes."
However, it was not very well received by the fans. While some fans expressed James has lost his desire to win, some claimed he would move to a different team that drafts his son, Bronny James. On the other hand, some fans wanted him to retire as a Cavalier. Here are some reactions:
He doesn't wanna win another ring I see

— DumplingBoyJ 🥟 🦖 (18-23) #tankforwemby (@OguguaShoota) January 11, 2023
Lol I've been saying this for months. But delusional ass fans wanna believe otherwise. This man is chillin, enjoying life. Winning ain't his priority anymore 😂🤣 https://t.co/soKsEp2mfP

— Mayo (@YouDontKnowISH_) January 11, 2023
He already said he's going wherever Bronny goes. This is a lie😭😭😭

— 𝕋𝕙𝕖 𝕎𝕚𝕝𝕝 𝕠𝕗 𝔻. (@TheWlllofD) January 11, 2023
It doesn't kind of contradict it.. it 100% contradicts it.

— EB (@EB_Asbr) January 12, 2023
He needs to chase rings
That dusty Lakers team ain't winning shit

— Cama⚕️ (@wrathpxcked) January 11, 2023
Recently, the four-time champion was linked with a shocking move to the Golden State Warriors in the next season. However, it does not look likely at the moment.
DIVE DEEPER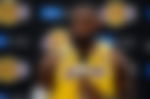 It will be interesting to see what the future holds for the future Hall of Famer.
ADVERTISEMENT
Article continues below this ad
Things falling out for the Lakers
The Los Angeles Lakers are not only struggling with the injury bug that has been keeping a lot of players out of rotation. Even though Anthony Davis is preparing to join the team's rotation, there are other key rotation players who have been sidelined.
Watch This Story – On the verge of missing the whole season, LeBron James' bold stance would've changed the Lakers' fate in the 2020 title run
ADVERTISEMENT
Article continues below this ad
Another factor that did not go in the way the Lakers had planned was potential trade targets this season. The Lakers were linked with the Indiana Pacers and the Chicago Bulls for a major trade but things did not materialize.
With a healthy squad will the Lakers be able to make the playoffs? Let us know what you think in the comments section down below.