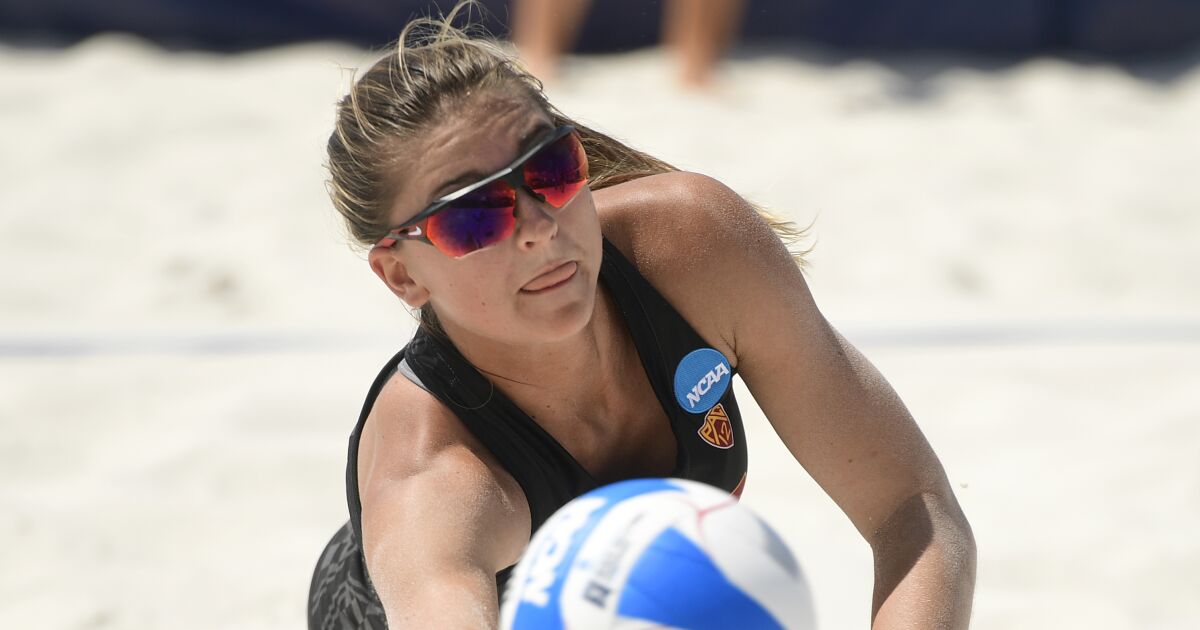 She didn't look quite like the player Stein Metzger remembered. The Haley Hallgren the UCLA beach volleyball coach thought he was getting out of the transfer portal was the one whose play on the No. 3 court helped USC win the 2021 national championship. The one who provided the first point in the championship dual that stopped UCLA from winning its third consecutive NCAA title. Metzger remembered the powerful top-spin serve, versatility and attacking power.
But on her first day at Mapes Beach, the former USC beach champion and Michigan indoor player could barely keep up during the team's post-practice conditioning. Behind raised eyebrows, Metzger hoped the transfer would quickly improve .
Hallgren thought about that old player too.
She was a two-time All-Pac-12 second-team honoree who could barely muster the strength to step on the court. She ranked 15th in USC history for dual-match victories but her coughing bouts were growing so severe that she strained her own muscles. She was a national champion who had all but given up her professional dreams because it just hurt too bad.
So no, Haley Hallgren isn't the player she used to be.
She might be better.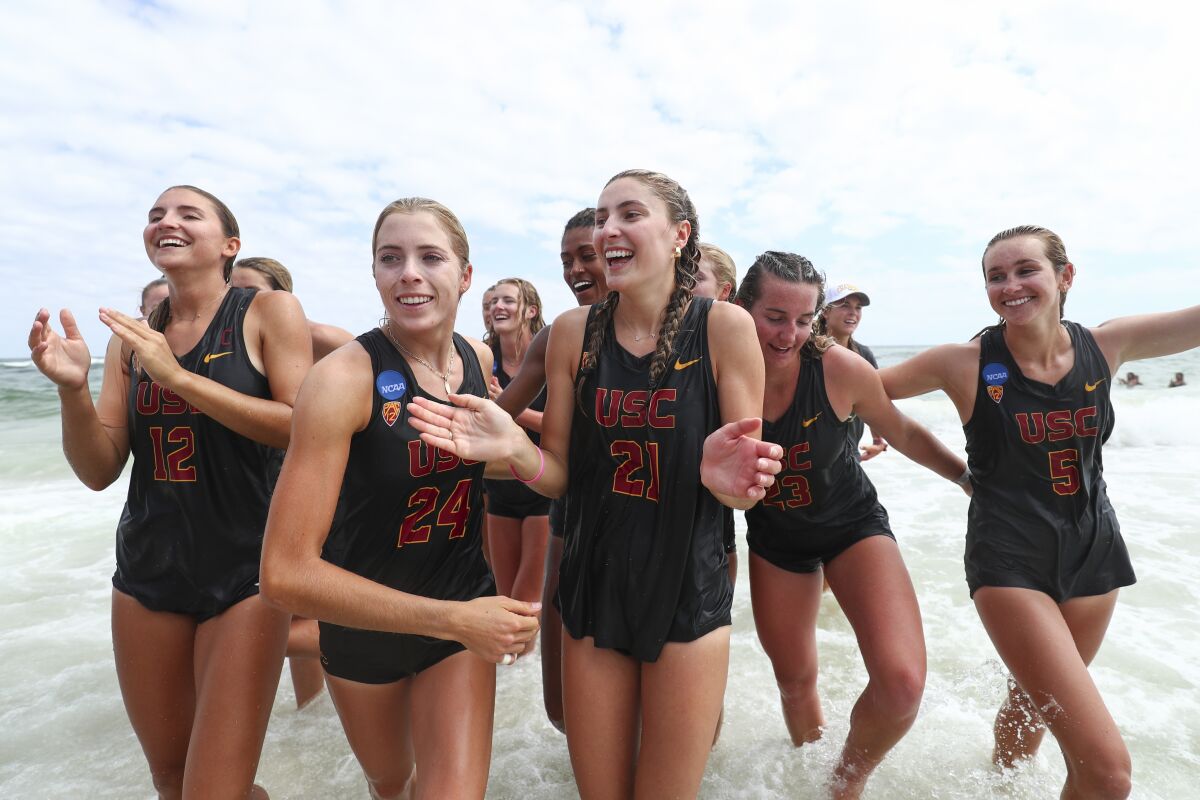 None of the scans could give Hallgren a reason why her team-leading conditioning was getting worse every time she took the beep test — a running test to assess aerobic fitness — at USC or why her coughing was growing more frequent. She started to accept that life as a college athlete was supposed to be this tiring, even if she once felt so weak that she had to crawl to the bathroom in her apartment.
"Am I just in my head?" Hallgren wondered every time a new test showed no reason for her increasing symptoms.
With no explanation for her health struggles, Hallgren kept playing, amassing an 84-34 record in dual matches for USC. Hallgren helped USC to the 2021 national championship, then transferred to Michigan to play indoor volleyball, but her health never got better.
After five years of steadily progressing symptoms, two sports at two schools and a national championship, Hallgren finally got an answer to her health questions. She wasn't being a baby. She wasn't being dramatic. She wasn't destined for a new, always tired normal.
She was playing with a cancerous tumor on her lung.
It felt like a deep exhale that she was holding for years.
"You don't think you're going to hear those words at 22, 23," Hallgren said recently sitting in UCLA's Acosta Center. "But honestly, I was really relieved. … Everyone else was kind of freaking out but I was like, 'Thank God, there's something you can do about this.' I don't have to feel this way anymore."
A year removed from her diagnosis and now onto her third college, Hallgren speaks of the ordeal with a blunt matter-of-factness. It was nonstop coughing and a collapsed lung that she had been playing with for three days that got doctors to notice a blockage in her lung. She still wonders if she could have been more aggressive with doctors about her symptoms to get an earlier diagnosis. She got the news that she had cancer while shopping in the grocery store for grilled cheese ingredients. It was raining.
Similar to how she feels in her sport, where she wants to be on the court for the final points to control her team's result, Hallgren was relieved that it was her in this situation instead of someone else. Told she wouldn't need chemotherapy, Hallgren underwent a surgery to remove the tumor, which likely started growing after her senior year of high school, then a lobectomy two months later.
The second procedure removed the upper half of her left lung. She was lucky, she emphasized.
Not only did her recent one-year scan return clear results, Hallgren was able to have the lobectomy performed laparoscopically, a less-invasive technique to the normal strategy that includes a 10-inch incision into a patient's back. The typical method would have cut through major muscles Hallgren needed to keep playing, eliminating her chance of a comeback. Before the surgery, Hallgren's doctor said that because the tumor had crept onto her airway, there was about a 5% chance they could pull off the less-invasive procedure. Even then, there would be no guarantee her lung capacity would return to playing level.
Facing the possible end of her athletic career, Hallgren didn't fret. There was so much else happening, she said.
"I definitely remember thinking, 'Oh, I'm glad I'm not playing beach right now,' " she said with a laugh.
Beach volleyball was Hallgren's love.
Although she was a four-year varsity indoor player for Southlake Carroll High in Texas where she played setter, libero and outside hitter, the highschool beach All-American and six-year member of the junior beach national team hoped to make a professional career on the sand. It's why she chose to play beach exclusively at USC, where she graduated with an undergraduate degree in three years and added a master's.
But she missed the energy of indoor volleyball and the team camaraderie of playing with five other players on the court.
Hallgren credited Michigan coaches and teammates for their support after she received her diagnosis and their perfectly lighthearted reception when she returned. When Hallgren was finally playing in Big Ten matches that she missed the previous season, her Michigan teammates would sometimes be struck by what she went through. Someone would cut through a silent moment to suddenly joke, "Hey, remember when you had cancer?"
A laugh was sometimes the only way to get through it, Hallgren recalled recently.
Hallgren returned to practice in a limited capacity four months after her lobectomy and played in 17 matches for the Wolverines last fall with seven starts. A 6-foot-1 utility player, Hallgren recorded 42 kills, 60 digs and 18 blocks.
The indoor season was a welcome steppingstone for Hallgren, who knew she had to step up her conditioning over winter break if she would be ready to compete for the Bruins on the beach this spring.
After he missed on recruiting her before, Metzger was determined to get Hallgren this time. He didn't mind that she hadn't played on the beach in two years and had less than two fully functional lungs.
"How can you say no to someone like Haley?" Metzger said.
Hallgren was direct during the transfer process and told Metzger she was not in beach shape. He signed her anyway, mainly because he didn't want to have to play against that player with the devastating serve he remembered from USC.
"In my mind, it was worth taking a chance just because of the caliber player she is," Metzger said. "Her mentality I figured would be a benefit to our team just to add to our culture with the fact that she was going to have a ton of gratitude just being able to play after going through something like that."
With a team that returned nine of 10 starters to earn the preseason No. 1 ranking, Metzger didn't know exactly how Hallgren would fit into the lineup. Her versatility is an invaluable puzzle piece at UCLA because she can be an attacker in one match and a defender in another.
Hallgren started five of UCLA's six matches last weekend as the Bruins went 6-0 in their season-opening tournament in Honolulu. Playing on court No. 5, Hallgren and senior Rileigh Powers won each of their matches in straight sets. Metzger doesn't notice Hallgren lagging behind the team during wind sprints anymore. Hallgren said she needed to relearn how to breathe with her limited lung capacity after the lobectomy.
Not only was she transitioning back to the beach from indoor, but Hallgren was figuring out a new style of beach volleyball at UCLA, where the Bruins rely on handsets out of the middle to run their offense through set plays. USC, the defending national champion and where Hallgren's younger sister still plays, relied on physical wide attacks. To make the transition, Hallgren has become one of the "most coachable" players UCLA has ever had, Metzger said.
"Some people really hang on to their errors and the negative self-talk can just wear on them. She doesn't seem to have any of that," Metzger said. "There seems to be this lightness and freedom that she can go out there and compete even when things aren't going their way and that's honestly refreshing."
Hallgren, who a year after her lobectomy was still experiencing some numbness in her back and random shooting pains through her sternum, was nervous to return to the beach. She used to catch herself comparing her current skill level to the player she was at USC, wondering why she wasn't playing like before.
But she learned to let that player go.
"I have two months left of playing this sport," Hallgren said. "Might as well enjoy it and go all out as hard as you can."
For so long, Hallgren felt like she was in an internal battle to just step on the court. Getting to play the final indoor season at Michigan made her feel like her fiery self again. An even better version will be on display in Westwood.
"I could feel my competitive spirit coming back, but I was still trying to figure things out," Hallgren said. "I'm excited to just be ready to go out and kill people again."