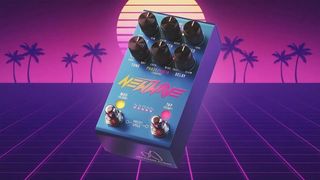 (Image credit: Jackson Audio/YouTube)

Jackson Audio has unveiled the New Wave – a 100% analog, stereo vibrato/chorus pedal designed in collaboration with Snarky Puppy guitarist and PRS signature artist Mark Lettieri.
Boldly dubbed "the ultimate chorus pedal", the New Wave was created with one specific endgame in mind: to create the best-sounding and most versatile chorus pedal on the market. It's a bold claim, but it looks as though Jackson Audio has made a solid effort at achieving it, not least by recruiting one of today's standout session six-stringers to help design it.
As for the pedal itself, on paper it looks to have passed the versatility test with flying colors. There are a total of seven presets, each of which are tailored to harness classic and modern chorus, vibrato and rotary tones.
Specifically, there are dedicated presets for '70s and '80s tones – tasked with emulating the classic Boss CE-1 and CE-300 units, respectively – as well as a RCK setting for achieving a pitch shifter-loaded, '80s-style classic rack tone.
The above are joined by the straightforward VIB and ROT, which, as the names subtly imply, are responsible for standard vibrato and Leslie rotary speaker sounds. Capping off the preset list is the HRM harmonic mode that "modulates each channel in a mathematical relationship for new chorus sounds", and the UC voice, which allows for total user control for concocting wild custom soundscapes.
A preset cycling function can be triggered by pressing the central Depth control, with Mix and Speed parameters completing the top row of controls. These knobs are in charge of controlling the intensity of the modulation effect, the blending of dry and wet signals, and ramping the speed from 0.1Hz to 10Hz.
The Depth control also doubles as a preset-saving function, which locks in specific settings when it's pressed and held.
Below these three knobs are parameters for Tone, Phase/Ratio and Delay. While the former is said to be similar to the tone control of a Big Muff, the latter sculpts the center frequency of the genuine MN3007 bucket-brigade chips.
That middle Phase/Ratio knob, meanwhile, is the de facto powerhouse of the pedal, changing its tone-tweaking function – identifiable via yellow and white LEDs – depending on what preset is selected.
It also doubles as a wave shape selector, and cycles through five different LFO wave shapes when pressed. These include standard Sine Wave, Triangle and Square, as well as Solina and Triplet Solina modes, which are inspired by a '70s Arp Solina keyboard.
Further notable features include Ramp and Bloom footswitches, a tap-tempo function, full MIDI control and expression pedal compatibility for controlling the Speed parameter.
As far as chorus/vibrato pedals go, the New Wave is a pretty well spec'd unit, one that certainly seems capable of achieving a huge array of diverse tones. To showcase just some of these sounds, Jackson Audio sat down with Lettieri himself for an in-depth 20 minute demo, which you can check out above.
Lettieri also took the New Wave for a spin during a full band demo video, which saw the funk aficionado cycle through each of the pedal's seven preset modes.
The New Wave is available now for $299.
Find out more over at Jackson Audio (opens in new tab).
It's not the first time Jackson Audio has tapped a funk virtuoso to help design a new pedal. Last year, the company teamed up with Cory Wong to create the Optimist dual overdrive pedal.
Thank you for reading 5 articles this month*
Join now for unlimited access
US pricing $3.99 per month or $39.00 per year
UK pricing £2.99 per month or £29.00 per year 
Europe pricing €3.49 per month or €34.00 per year
*Read 5 free articles per month without a subscription
Join now for unlimited access
Prices from £2.99/$3.99/€3.49