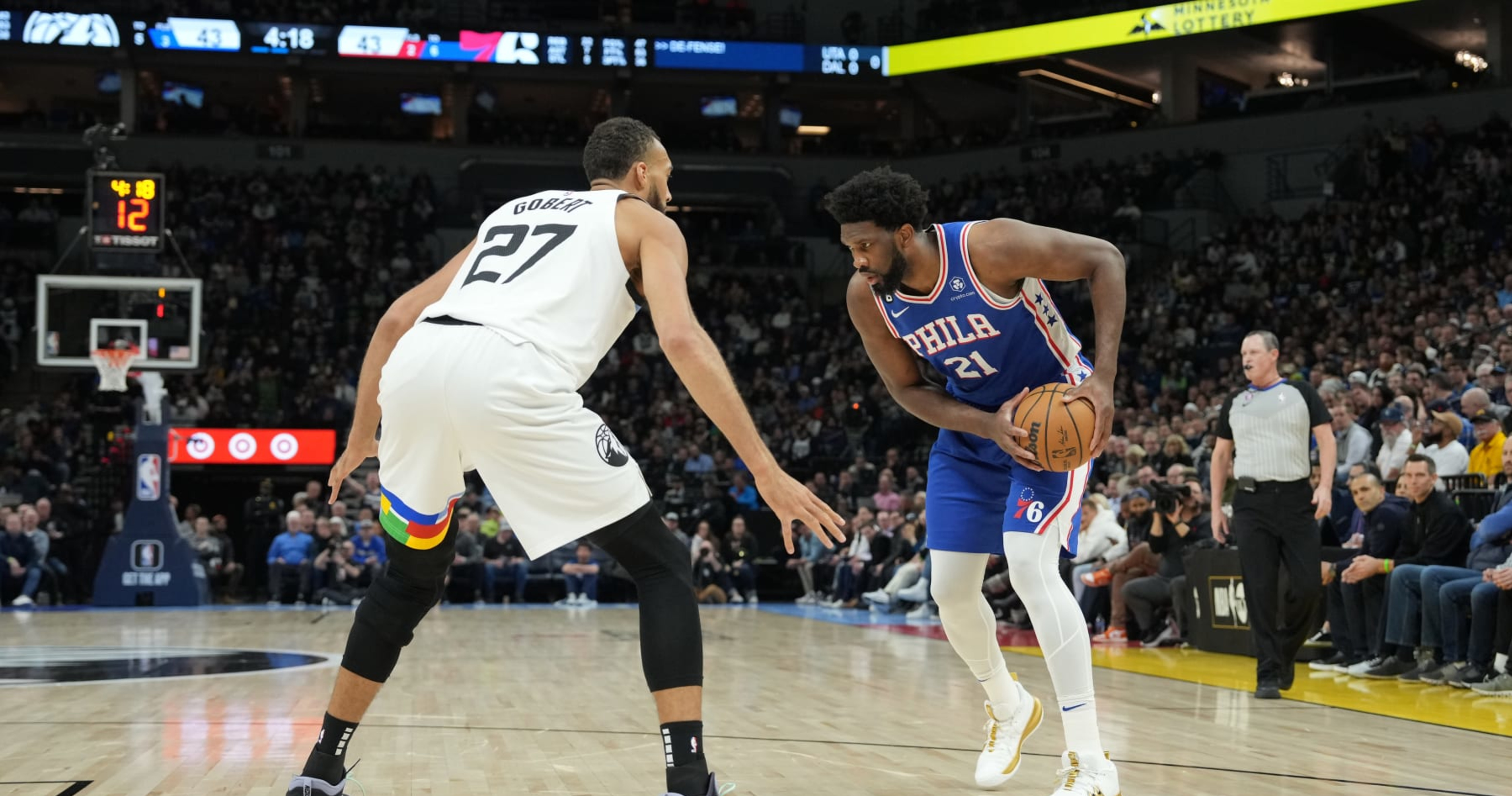 Jordan Johnson/NBAE via Getty Images
The Philadelphia 76ers were without James Harden on Tuesday night against the Minnesota Timberwolves, but that didn't matter as the team put together a dominant showing at Target Center.
The Sixers downed the T-Wolves 117-94 behind another MVP-caliber performance from superstar big man Joel Embiid, who finished with 39 points, seven rebounds, four assists, one steal and three blocks in 28 minutes. He did not play any of the fourth quarter as the Sixers had mounted a double-digit lead.
Embiid's performance was especially important, given the absence of Harden and the lackluster offensive performances of P.J. Tucker and Tobias Harris.
Tucker finished with just one rebound, and Harris finished with 10 points, 14 rebounds, four assists, four steals and one block. The pair combined to hit just 3-of-9 shots from the floor.
Embiid was unstoppable against Minnesota and proved why there's such a big gap between bigs like himself and Nikola Jokić and those such as Timberwolves veteran Rudy Gobert, who finished with just six points, nine rebounds, two assists, two steals and one block.
Following the win, NBA Twitter praised Embiid for the dominant outing without his co-star:
975TheFanatic @975TheFanatic

Embiid can't be stopped!!! At the end of 3 quarters, the Sixers lead 87-68. #BrotherlyLove

Embiid the last 7 quarters
Pts- 81
FG- 24-38
3PT- 5-6
FT – 28-28
Kyle Neubeck @KyleNeubeck

Embiid is beating up Gobert so bad that they put Gobert on PJ Tucker! https://t.co/a8zbmQlRg5
Ky Carlin @Ky_Carlin

Joel Embiid really is just absurd. A 7-footer shouldn't be hitting step-back 3s like that. Philly leads 58-45 at the half with Embiid scoring 17 points. #Sixers
Embiid is expected to be a top-three MVP candidate this season alongside Jokić and Giannis Antetokounmpo.
The 28-year-old entered Tuesday's game averaging 33.2 points, 10.2 rebounds and 4.1 assists in 51 games this season while shooting 53.5 percent from the floor and 34.6 percent from beyond the arc.
After a difficult start to the 2022-23 season, Embiid has been a big reason why the Sixers have climbed to third in the Eastern Conference with a 43-22 record, and he'll certainly be a reason why the team makes a run at the top spot in the East.