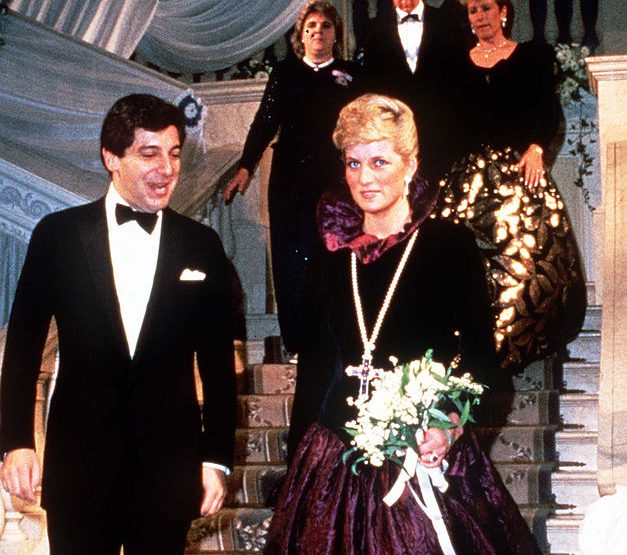 Kim Kardashian is once again making another icon's fashion statements her own. This time, Kardashian has bought a diamond cross necklace worn by Princess Diana.
The American reality TV star purchased the necklace at auction for $197,453, Sotheby's London confirmed in a statement.
The jaw-dropping necklace was first worn by Diana at a charity event in 1987 with a matching purple and black velvet dress. The necklace was considered a bold departure from her usual fashion choices at the time, and would go on to become one of her favorites to wear in public.
The necklace dates back to the 1920s, and was owned by the jeweler Garrard until shortly after Diana's death, when the managing director of Garrard Naim Ibrahim Attallah bought it. Attallah's family has kept the necklace and left it unworn since then, at least until it was put up for auction.
Garrard, formerly known as Asprey & Garrard, lent Diana the necklace as part of their long-standing relationship. It was Garrard who selected Diana's engagement ring from the Royal Jeweler in 1981, for instance.
As for Kardashian, she will now have a piece of royal history. It is unclear if she will wear the necklace in public, but wearing jewelry once owned by Princess Diana has certainly been done in the recent past. Most notably, by both Meghan Markle and Catherine, Princess of Wales.
"The Kardashians" star made headlines last year when she wore a dress worn by American icon Marilyn Monroe when she famously sand "Happy Birthday" to President John F. Kennedy. But unlike the Monroe dress, which Kardashian borrowed it from Ripley's Believe It or Not!, the piece of British Royalty will be hers to keep.