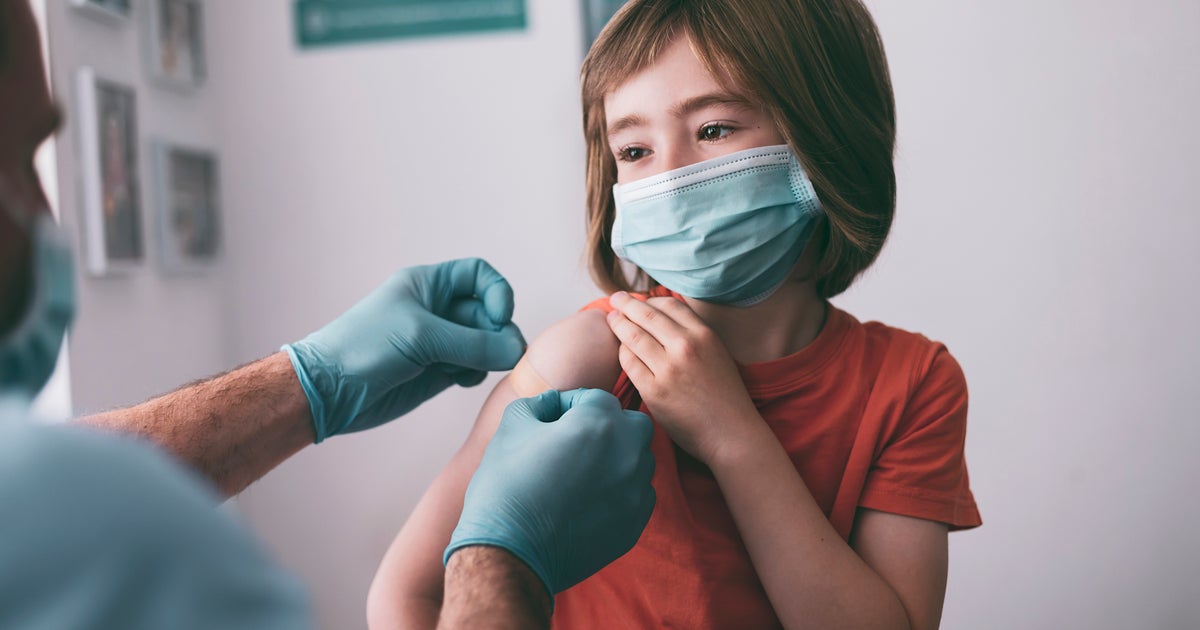 The share of American students who started kindergarten this past school year with proof they were vaccinated against diseases like measles and polio has fallen for a second consecutive year, the Centers for Disease Control and Prevention reported Thursday.
For the 2021 to 2022 school year, an estimated 93% of the country's nearly 4 million kindergarten children had recorded getting their recommended vaccines for guarding against measles, tetanus, polio and varicella. 
That is down from 94% during the 2020 to 2021 school year and 95% during the 2019 to 2020 school year, before the pandemic, according to the figures published Thursday by the CDC based on data collected from state and local immunization programs. 
"It means nearly 250,000 kindergartens are potentially not protected against measles alone. And we know that measles, mumps and rubella vaccination coverage for kindergarteners is the lowest it has been in over a decade," Dr. Georgina Peacock, director of the CDC's immunization services division, told reporters Thursday.
The decline has not come with a corresponding rise in parents getting nonmedical exemptions from vaccination requirements, CDC officials said, suggesting some kids may still be able to get caught up on their shots. 
"Many of these children are attending school under a policy that's considered a grace period, or also called provisional enrollment, and this is allowing the family time to either get paperwork submitted to the school or, if the child is in the process of getting their vaccines, giving them enough time to complete all the vaccination series," the CDC's Shannon Stokley said.
Some of the decline could also be the direct result of changes in schools themselves during the COVID-19 pandemic. Twenty-three states told the CDC that they had incomplete data from schools, with some facing delays in reporting their figures. 
All but four states could reach 95% MMR coverage, the agency estimates, if these kindergarteners with no documented vaccines ended up vaccinated instead of receiving an exemption.
The drop in vaccination coverage poses the latest setback for health officials who had worked to boost coverage among young children against several vaccine-preventable diseases before entering school.
For example, the U.S. had recorded vaccination levels from the measles, mumps and rubella, or MMR, vaccine close to or above 95% for several years leading up to the pandemic — a share that has slipped to 93.5% nationwide.
"The reason that it's important for children entering kindergarten to have the MMR is because we know that, particularly, measles spreads very quickly, as seen by two outbreaks that we had last year," Peacock said.
The CDC tallied 118 measles cases last year nationwide, the most since the record multi-state outbreak in 2019.
While the nationwide MMR vaccination rate has fallen among kindergarteners, trends vary widely by state. Some saw drops by more than 5 percentage points, officials said, while others climbed by over 6 percentage points. Nine states are currently below 90%:
Alaska = 78.0%

Wisconsin = 82.6%

Georgia = 83.2%

Idaho = 83.9%

Kentucky = 86.5%

Ohio = 88.3%

Colorado = 88.4%

New Hampshire = 88.7%

Minnesota = 89.0%
Health authorities had previously warned of a slowdown of vaccine orders, suggesting missed check-ups during the pandemic may have led to a drop in vaccinations for younger children.
However, separate results from the CDC's National Immunization Survey published Thursday looking at children during the first two years of life suggest many of those young kids are still up to date on their shots compared with previous years.
Around 70% of kids born during 2018 through 2019 are up to date on the "combined" series of seven vaccines recommended for these youngest children, which span shots ranging from diphtheria to pneumococcal infections. 
"This report did not identify any overall decline in vaccination coverage associated with the COVID-19 pandemic among all children. The youngest children were born in 2019. These children reached age 12 months in 2020 and 24 months in 2021," the authors wrote.
Some disparities worsened during the pandemic. Vaccination fell among poor children as well as those living in rural areas. Coverage remains lowest among Black children, compared with other races.
A separate report published in November by the agency had also warned of the possibility COVID-19 could lead to long-term declines in routine vaccinations. 
That report warned of the risk that a myriad of factors, ranging from eroding trust in institutions to state legislative efforts to weaken vaccination requirements, could upend years of progress on boosting routine vaccinations.
Peacock said the CDC is launching a new initiative to catch up routine immunization levels across all ages, in light of both recent measles outbreaks and last year's discovery of polio spreading in New York.
"These outbreaks were preventable. The best way to prevent these diseases and their devastating impact on children is through vaccination," Peacock said.
CBS News reporter covering public health and the pandemic.
Thanks for reading CBS NEWS.
Create your free account or log in
for more features.