Moving the Clash – which had been held at Daytona International Speedway as part of Speedweeks since its 1981 inception – was a bold step in itself.
Taking it to a football stadium and running on a made-from-scratch ¼-mile track was unprecedented – but there is good reason to believe it has forever altered NASCAR's scheduling landscape when it comes to when and where it hosts races.
As the longtime general manager of the Coliseum, Joe Furin has overseen the staging of numerous events, from athletic contests to concerts. But he had never seen anything like the Clash.
Chris Buescher, RFK Racing, Ford Mustang Fastenal and Cody Ware, Rick Ware Racing, Ford Mustang Nurtec ODT
Photo by: Nigel Kinrade / NKP / Motorsport Images
"I can't describe it other than to say that I kept expecting the excitement to level off and it never did. On Sunday morning (of the race) there was an anticipation for the event unlike any other we have ever done," said Furin, whose responsibilities include directing the day-to-day administrative, financial and operational functions and developing new programs and processes to increase revenue.
"Ultimately, from a personal perspective, this was a career highlight. This was by far one of the most outside-of-the-box things this stadium has ever done. I had nothing to compare it to. It was hard to wrap your head around it until you actually saw it live."
And by all available metrics, the event was a smashing success.
The inaugural event
A capacity crowd witnessed Joey Logano hold off Kyle Busch to claim the Clash win, which was the first race utilizing NASCAR's Next Gen car in the Cup Series.
More than 70 percent of ticket buyers from 2022 event were first-time ticket buyers to a NASCAR-owned event.
The race received a 2.32 TV rating with more than 4.3 million viewers. It was the most-viewed Clash since 2016 with viewership numbers up 168 percent over 2021.
And NASCAR was the No. 1 trending topic in the United States on Twitter during the race, higher than the NFL's Pro Bowl held that same day.
The success of the event combined the ability NASCAR showed in even orchestrating such an event immediately opened a pandora's box of ideas of where might NASCAR take its show on the road in the future.
But for NASCAR and Coliseum organizers, returning for a second go-round seemed the most logical idea.
"When you think about last year and the completion of that event, in talking when Ben Kennedy (NASCAR's senior vice president of strategy and innovation) and Steve O'Donnell (NASCAR's chief operating officer), we kind of instantly all looked at each other and said, 'We'll be back,'" said Patrick Rogers, NASCAR's vice president of marketing services, who has been working on the Clash project in L.A. since its inception.
"It was a huge success. There were those who were fence-sitters. When you think about the amount of hype we got leading into it, during the event and afterwards, there were a lot of people with a little bit of FOMO (fear of missing out).
"We feel we can capitalize on that this year."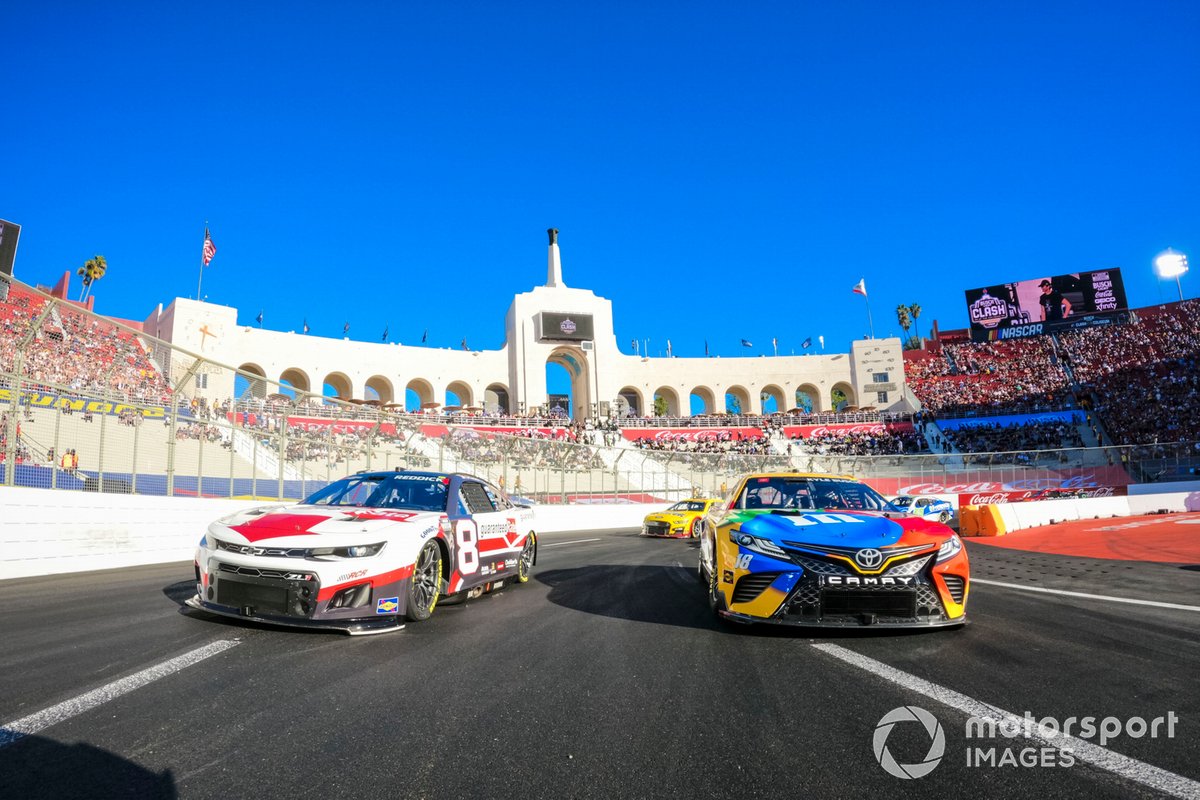 Kyle Busch, Joe Gibbs Racing, Toyota Camry M&M's, Tyler Reddick, Richard Childress Racing, Chevrolet Camaro Guaranteed Rate
Photo by: Lesley Ann Miller / Motorsport Images
For the Coliseum's perspective, NASCAR's decision for a return trip was welcome news.
"There was really no hesitation, no reason for us not to welcome NASCAR back," Furin said. "From Day 1 of our initial conversations over whether this could happen, we always talked about it not necessarily being a 'one-and-done' or a novelty. If this could happen every year, we're all in.
"From our perspective, annual programming and something special like this that is 'outside the norm,' we would love to be a home to NASCAR for many, many years."
With the newfound ability to host events in coliseums or stadiums and the advent this year of the Cup Series' first street course event, Rogers was asked if such venues could one day become a more viable option in schedule decisions and replace some current permanent facilities.
"What were able to prove last year with the Clash is it can be done," he said. "There are only so many venues that can you put a 1/4-mile track in. It does open the door at looking at things.
"Is there a world where we get into a mix of traditional facilities and newer venues? Sure. You've seen us shake things up quite a bit over the last few years and we'll continue to do that. The opportunities are limitless."
Will previous success carry over into 2023 race?
As far as this year's event, despite not getting quite the bump in initial ticket sales as last year when the Clash's return to the Coliseum was announced last June, the event is trending on a similar course toward success.
So far, 50 percent of the tickets purchased are by buyers who did not attend the event last year. Overall, ticket sales are trending up year-over-year.
Last year, the majority of ticket sales came in the three to four weeks leading up to the event and the same appears to be the case for year No. 2.
"I know some people reference 'sophomore slump' or things of that nature. Not feeling it," Rogers said. "Things are going well and these last few weeks is when we're really going to see a lot of activity and we're looking to have a pretty full house when we show up there on Feb. 5."