Known for his innovative videos and engaging content, Jimmy Donaldson aka MrBeast is currently the world's biggest YouTuber with 129 million subscribers. His videos often show unique challenges creatively designed for someone, in exchange for a big reward. One such challenge played right into the forte of  4X World's Strongest Man champion, Brian Shaw who made it look like child's play.
In 2021, MrBeast offered the challenge to deadlift a Chevrolet Camaro to Shaw. In return, he would get to keep the car, if successful.
Brian Shaw made a cool statement and proved it by succeeding in the challenge
ADVERTISEMENT
Article continues below this ad
The Facebook video starts with MrBeast and two of his friends trying to deadlift the car with all their might. It was an impressive introduction depicting how heavy the car must've been and how difficult the task really was. In walked Brian Shaw, the American Strongman who is widely regarded as one of the greatest athletes of all time. His introductory line, even before he got to perform the act, spoke about his swagger and panache.
Shaw said, "Give me a little bit of a challenge", in reply to MrBeast openly questioning (albeit in a light-hearted manner) anyone's capability of deadlifting a Camaro. The strongman continued, "I am going into this confidently. I mean I have lifted a good number of cars in my life". Strongmen around the world often do lift heavy weights including cars, to build their core strength and push their limits beyond their capabilities.
DIVE DEEPER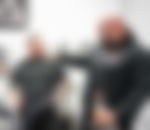 Shaw proceeded to deadlift the car by strapping his wrists into the metal rod, so as to avoid any slipping.
Shaw succeeded at making the challenge tougher for himself
ADVERTISEMENT
Article continues below this ad
Not only did Shaw pick the Camaro, he then followed it with another suave quote before attempting again. He said, "We do need to get some training in. So why don't both of you get in the front seats", asking two out of three of them (including MrBeast) to enter the car, essentially increasing its weight. Shaw succeeded even after making it a tougher challenge for himself. MrBeast was in disbelief and his response was pure gold. He said, "Apparently it was so easy he wants us to get in the car".
ADVERTISEMENT
Article continues below this ad
However, with all three of them inside the car, Shaw continued to deadlift the car a whopping 10 times at a stretch. Shaw, who makes other big athletes look like children in front of him, completed his challenge in style and won a stunning yellow Chevrolet Camaro. He parted with praising the YouTube team of MrBeast and with the ever-so-bright words, "Hey! Not a bad day at the office".
WATCH THIS STORY – Bodybuilding Beast Agrees To Eat Like Strongman For 50K: "Enough To Make It Worth My While"