BOSTON — At 5 years old, Bronson Arroyo was already a regular in the gym. By the age of 8, he was 55 pounds and squatting six times his weight. The 16-year Major Leaguer traces much of his success back to his father, who started him in the weight room and instilled discipline and positivity into Arroyo at a young age.
It's what helped him reach the Majors. And it's what helped him build the confidence to go from singing in the shower to demoing his new album in front of Pearl Jam's Eddie Vedder.
That 10-track album titled "Some Might Say" comes out Feb. 17 and draws inspiration from a number of Arroyo's favorites, including Pearl Jam, Oasis and The Lumineers. The production comes 18 years after Arroyo released "Covering the Bases," his debut album of 12 cover songs.
"You'll hear a lot of lyrics about being in the present tense," Arroyo said. "About, 'Hey you're going to die and you better enjoy some moments before you go.' That is really the theme that is kind of like me, woven through all these songs. And you'll find bits and pieces of it kind of everywhere."
Speaking from the Paradise Rock Club in Boston, Arroyo wound through the halls to find a good spot to talk. He passed the stage where his band was already rehearsing, walked up a flight of stairs and turned left at the sound board before he settled on a yellow couch in the green room.
Arroyo, a former All-Star who won 148 games and was recently elected to the Reds Hall of Fame, described his early musical experience as being limited to a karaoke appearance "once in a blue moon." For most of his childhood, Arroyo was surrounded by music: Everybody in his family played. His weight room sessions were soundtracked by The Mamas & the Papas, the Beatles, Elton John and Billy Joel. All artists he credited as being talented, but, he said, "I didn't get goosebumps from the music."
By 15 or 16, Arroyo found that sensation in artists like Pearl Jam, Stone Temple Pilots and Soundgarden. But his focus remained on baseball.
In 1999, those two interests met. While with the Pirates' Double-A affiliate Altoona Curve in their inaugural season, Arroyo was given an acoustic Yamaha by his manager. His first guitar, combined with his recent musical reinvigoration, opened a whole new world for him.
By the time Arroyo came to the Red Sox in 2003, the clubhouse had been too full for the right-hander to have his own locker. So they gave him a choice in Spring Training: Double up, or take a locker in the trainer's room. Arroyo opted for the latter, figuring it was a perfect spot to avoid the media — and to practice guitar.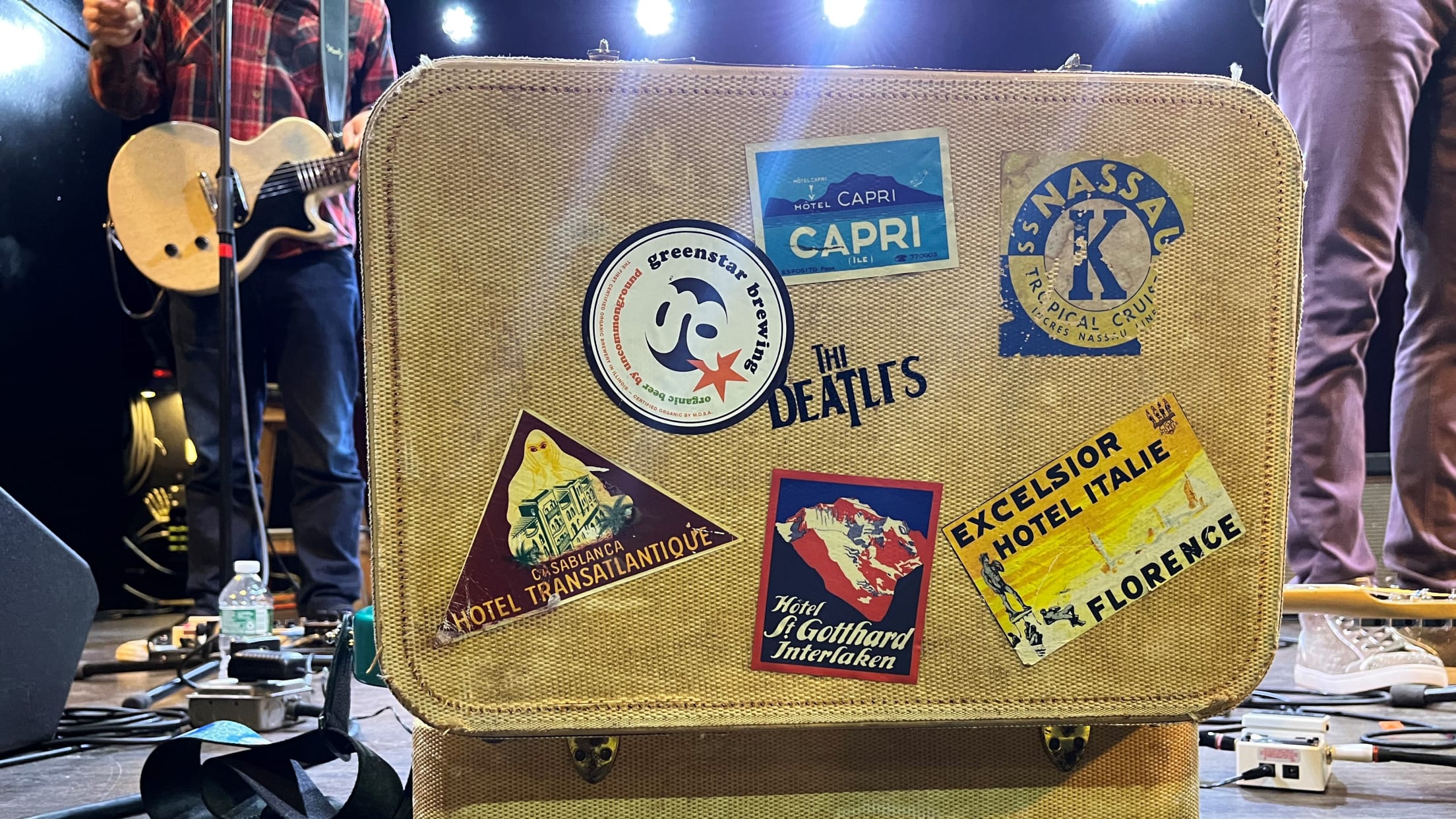 Tim Wakefield discovered Arroyo's hobby, and the rest of his teammates were quickly made aware. Soon after, Arroyo was giving pregame tours to bands who were playing shows at Fenway Park. It's how he met Jamie Arentzen, a member of American Hi-Fi, lead guitarist for Miley Cyrus and one of the guitarists on Arroyo's album.
In addition to well-known artists, Arroyo has played alongside other baseball player-musicians, and found himself a mentor to some teammates, whether that be a jam session with Barry Zito, assembling an "All-Star band" with Bernie Williams and Jake Peavy for a charity concert or eating white powdered donuts as he attempted to teach David Wells guitar in the clubhouse.
"There's always a handful of guys in the game that you felt a kinship to because they loved the music as much as you did," Arroyo said. "And it's not like we're always on the same page, because Bernie's playing jazz music, but it doesn't change the fact that when you get on the stage together and you want to play a Tom Petty song that everybody's in for it."
***
While in Boston recently to rehearse and promote his upcoming album, Arroyo said he flipped his hotel's TV to a rerun of Game 6 of the 1995 World Series between Atlanta and Cleveland. He watched alongside Don — his go-to driver in Boston dating back to 2004, the year the Red Sox broke their 86-year championship drought. As they watched the Braves celebrate on TV, Don asked, "Bronson, what [was] it like the night you won the World Series?"
"It was a letdown," Arroyo said.
Arroyo went on to explain that while rewarding, reaching the pinnacle isn't always the best part.
"What you don't realize is the most beautiful part about playing music or playing anything that's hard is the grind," Arroyo said. "And when you get near the finish line and you know you're going to complete it but you're still doing the work … and as soon as you get to the top of Mount Everest and there's no more work to be done, it's like, if you really love it, the buzz is gone.
"It's like, 'I accomplished it, what's next?' So when we won the World Series, I just wanted to play two more games."
Music poses a similar challenge for Arroyo. He doesn't necessarily measure his success in landing a tour or selling a ton of records. It's about the buzz that comes from hearing a song on TV and sitting in his basement trying to find the right key that works for his voice to recreate it.
Though Arroyo was adamant that music remains a hobby and not a second career, it has helped him fill a void that baseball left after retirement. And despite being out of the game since 2017, Arroyo draws comparisons between his approach in music and his distinctive straight-legged pitching motion — which the 45-year-old proudly said he could still do.
"I pitched so out of the box, so backwards in such an unorthodox style that is kind of representative as [to] what you get to do as a vocalist," Arroyo said. "Finding other ways to sing songs and make them sound good."
***
Two days before his live show at The Burren in Somerville, Arroyo had a "full-circle moment" at the Paradise Rock Club. Ten years ago, he made his public music performance debut at the venue, singing at the "Hot Stove Cool Music" fundraising event, a Boston staple for more than 20 years. Arroyo described that night as moving incredibly fast, comparing the experience to his early days navigating the halls and tunnels of Fenway Park.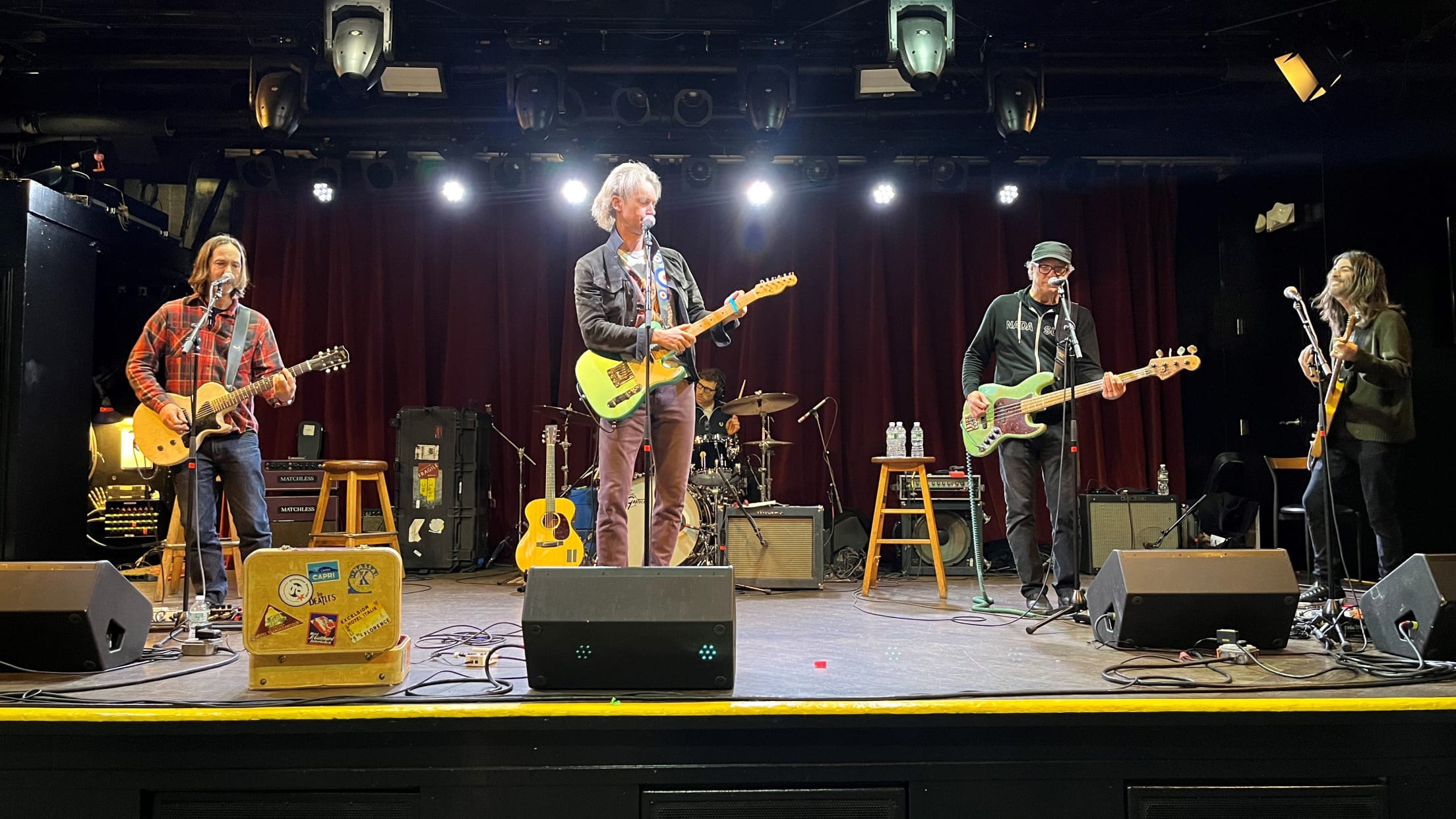 Today, Arroyo knows the club like the back of his hand — a testament to the growth he's made as a musician since his first public performance in 2003.
"On a baseball field I could slow down 40,000 [fans while] getting my butt kicked," Arroyo said. "Rub the ball up and look at a blade of grass and be like, 'Oh there's an ant.' And those types of things I could not do as a rookie even in baseball. And it's really nice now just to be inside this place and know that we can command it a little bit better than before. And I'm getting more comfortable with it."
But don't confuse comfort with complacency. During rehearsal, Arroyo occasionally stopped his bandmates to ask about harmonization. At the suggestion of running a song back, Arroyo emphatically said, "I could sing all day." He learned the next day that might not be the best idea, with his voice needing to withstand two more rehearsals before his nearly sold-out live show.
"[My bandmates are] talking in a language sometimes about notes rubbing on the recordings or just strange things that I don't even know what they're talking about," Arroyo said. "And they explain it so nice and easily, but they've lived in that world their whole lives and I haven't.
"So I'm just like picking up pieces and it's really beautiful to be around those types of guys because it makes it where I just feel like a kid again and I'm learning all the way."