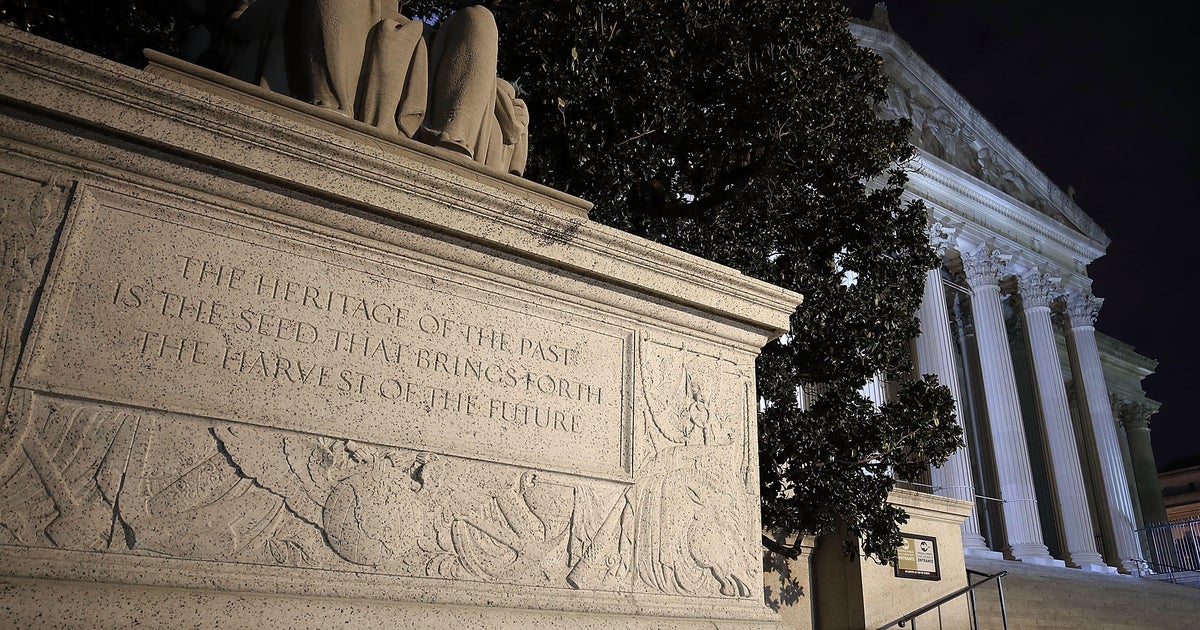 The National Archives and Records Administration is asking representatives of the six most recent past presidential administrations to comb through their personal records again to check for any classified or other presidential records, according to the text of a letter obtained by CBS News. 
The request comes after documents with classification markings were found at the private residences of former Vice President Mike Pence, former President Donald Trump and President Joe Biden. CNN was first to report the requests from NARA to past presidents and vice presidents. 
The Presidential Records Act, passed during former President Jimmy Carter's administration but not effective until the Reagan administration, outlines requirements for the preservation and turning over of all presidential records upon leaving office. The National Archives is responsible for the storage and safekeeping of those records. Letters were sent to representatives of the Trump, Obama, W. Bush, Clinton, H.W. Bush and Reagan administrations. 
"Over the last year there have been several instances reported in the media where records containing classified information and subject to the Presidential Records Act (PRA) have been identified outside of the physical custody of the National Archives and Records Administration," the letters say. "… The responsibility to comply with the PRA does not diminish after the end of an administration. Therefore, we request that you conduct an assessment of any materials held outside of NARA that relate to the Administration for which you serve as a designated representative under the PRA, to determine whether bodies of materials previously assumed to be personal in nature might inadvertently contain Presidential or Vice Presidential records subject to the PRA, whether classified or unclassified."
The most recent revelations of records marked as classified came from Pence, whose team disclosed earlier this week that documents marked classified were found at his Indiana home and turned over to authorities. The documents were among boxes of briefing books and papers dealing with foreign trips, according to two people familiar with the discovery of them. Part of the explanation from one source is that Trump discouraged aides from preparing to move out, so "Pence's aides didn't begin packing until after the Capitol attack." 
This summer, the FBI executed a search warrant at Trump's primary residence at Mar-a-Lago that yielded hundreds of documents marked classified. The National Archives had asked the Justice Department to intervene after multiple requests to turn over documents. 
Attorney General Merrick Garland has appointed a special counsel to investigate. 
The Biden White House has been tight-lipped when asked repeatedly by reporters whether the administration should reform its procedures for classified records, or whether all past former presidents should check their records for any classified documents. 
"I would refer you to the White House Counsel office. I'm just not going to comment on any change of procedure — procedure, how things should move forward," White House press secretary Karine Jean-Pierre said in the unhelpful phrase that has become all-too familiar to White House journalists. "I would refer you to the White House Counsel's office." 
According to a source familiar with the matter, on Nov. 10, a senior official in the Justice Department National Security Division wrote a letter to Mr. Biden's legal team asking for their cooperation with the department's inquiry into the documents.
The Justice Department official asked specifically that Mr. Biden's legal team secure the materials from the Penn Biden Center and refrain from further reviewing them or moving them, the source said. The official also requested that the Biden team provide the Justice Department formal consent to review the Penn Biden materials and provide a list of other known locations where relevant materials might be stored, per the source.
The source said that the Biden team agreed that they would inform the Justice Department if they learned, or had reason to believe, such records might be in any other location.
The Democratic and Republican leaders of the Senate intelligence committee told "Face the Nation" that they needed to access to the documents found in Trump and Mr. Biden's possession. 
"Our job is not to figure out if somebody mishandled those. Our job is to make sure there's not an intelligence compromise," Democratic Senate intelligence committee chair Mark Warner said. "And while the director of national intelligence had been willing to brief us earlier, now that you've got the special counsel, the notion that we're going to be left in limbo and we can't do our job — that just cannot stand."
CBS News has reached out to representatives of former officeholders. 
A source close to former President Obama said they turned over everything to NARA upon Mr. Obama's departure from office. 
Freddy Ford, former President George W. Bush's aide said, "All of our presidential records — classified and unclassified — were turned over to NARA upon leaving the White House." 
Former President Bill Clinton's office said, "All of President Clinton's classified materials were properly turned over to NARA in accordance with the Presidential Records Act." 
A spokesperson for Carter told CBS News they "looked into this" and "no one at The Carter Center, in President Carter's personal office, or the current director of the Jimmy Carter Library and Museum recalls any instance of classified documents being found at his home or office."
FBI Director Christopher Wray, at an unrelated press conference on Thursday, said, "We have had for quite a number of years any number of mishandling investigations. That is unfortunately a regular part of our counterintelligence division's and counterintelligence program's work."
— Robert Costa, Arden Farhi and Nancy Cordes contributed to this report. 
Thanks for reading CBS NEWS.
Create your free account or log in
for more features.