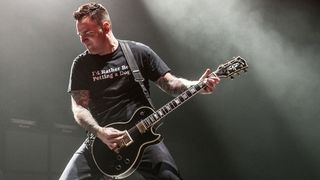 (Image credit: Mike Lewis Photography/Redferns)

Guitar heroics aren't oft associated with pop-punk music, with big hooks and soaring choruses soaking up the lion's share of the attention. But New Found Glory's Chad Gilbert hasn't paid much attention to that. With a Les Paul in hand, Gilbert has remained a constant reminder that it doesn't take hot-rodded heroics to keep guitar-driven music at the forefront of rock 'n' roll.
"I've said this before, but I think most guys are better at guitar than me, so that's no secret," Gilbert admits. "But I love Gibson guitars because of their attitude. There's something about strapping a Les Paul on that makes you feel cool. It doesn't matter if you can play at 100mph or just average; those guitars make you feel like you can do anything. That's what I love most about my '89 Gibson, and even my Custom; they personify the attitude of rock 'n' roll."
25 years into their journey to the peak of the pop-punk summit, New Found Glory were hit by Gilbert's recent cancer diagnosis. To be sure, the status of its longtime guitarist's health shook the veteran band to its core, but that hasn't stopped Gilbert and his cohorts from remaining as creative as ever.
"You might think being diagnosed with cancer would stop us in our tracks," quips Gilbert. "And yeah, in many ways, it changed things. But when I woke up from my surgery, I had ideas in my head. I spent weeks in the hospital writing this new album, Make the Most of It, because I suddenly had so much to say. When the life is nearly sucked out of you, and then you come out the other side alive, you can't help by having your perception altered."
To Gilbert, it's readily apparent that life is precious, and to that end, the 41-year-old rocker isn't taking any chances. With a renewed mindset that appears as permanent as the still-vibrant tattoos that line his forearms, Gilbert is primed to craft some of the most poignant music of his career.
"The biggest change for me now is that I take absolutely nothing for granted," Gilbert insists. "I never did before, but now I truly understand the value of life and that it can all be taken away in an instant. I feel invigorated as a writer and almost like I'm creating music as if my life depended on it.
"I guess, in some ways, it does because, without music, none of this would be possible. I'm just so thankful to be alive and to have the opportunity to continue with New Found Glory. No matter what happens, I am focused on the now and soaking all of it in."
With 25 years' strong experience coupled with renewed focus in hand, New Found Glory's Chad Gilbert dialed in with Guitar World to recount his cancer diagnosis, the creation of Make the Most of It, his love for his stickered-up '89 Les Paul Standard, as well as his outlook as he moves ahead.
What were the origins of Make the Most of It?
"During the pandemic, we did some impromptu acoustic streams online. We saw it as an homage to the days of MTV Unplugged, like KISS, Nirvana, and all of that, you know? And that went super-well, so we thought, 'Hey, maybe we should do an acoustic release to piggyback onto this.'
"Then the wheels came off because I was diagnosed with a rare form of cancer, and I was told to get to the hospital immediately and have surgery. To say that was jarring would be an understatement, but I came out the other side. After that, I was laid up for weeks; that's when I started working on what would become Make the Most of It."
Does the meaning of the album's title signify a renewed outlook on life for you?
"Yeah, it does. As people, I think we tend to look at our future outcomes and careers based on how much we put into them. But the issue is that we look too far ahead sometimes because we're constantly being fed garbage from our phones, TV, our peers, and all of that. And what happens is that we end up feeling too much pressure, and through that whole process, we miss out on a lot of time that we should be savoring.
"I feel like we spend a lot of valuable time where we could enjoy ourselves, but we can't because we're so focused on what next week might be like. So, if we just focused on the day we were living, no matter the situation, we'd be much better off."
Would you say that this album has helped you heal?
"I think so. Because this whole album is about handling the situation that you're dealt. There are a lot of shitty things that happen, and I feel the best thing to do is to try and make the best of it. I mean, I was suddenly told I have a rare form of cancer, and I could have laid down and waited to die. I had to sit myself down and say, 'What do I do? Do I sit inside and go, 'Life sucks?'
"But I knew I couldn't do that, so I said, 'Okay, how do work through this? How do I take the time each day to live to the fullest?' I had to think that way because I almost didn't have another day. So, this album and my mindset are fully geared toward finding the positives, no matter what's happening."
How did your cancer diagnosis alter your approach to songwriting?
"It left me in a space where I had nothing left to do but write about the situation. You've got tracks on there that are literally about waking up each day and thinking, 'Hell, yeah! I'm still alive!' It sounds kind of dumb because you hear all these songs talking about YOLO, but in my case, it's fitting. I was literally to the point of saying, 'I'm alive today, but I almost wasn't. I need to write about this.' It's what I was living day to day, and it was so stark. I was in a headspace where I was having the life torn from my body.
"Here I was with a beautiful wife and a family that I love, and I was to the point of being told I might lose all of it. So, I went into this record with a totally different outlook.
"When you come that close to losing your life, there's no way that that won't alter your songwriting. I remember lying in the hospital and being told that I might not make it, and all I could think of doing was pleading with the surgeons, 'Please do your best. I've got so much that I want to do still. Please get me home.' That changed me and the way I write music forever. I'll never be able to go back, and I wouldn't want to. I'm just thankful to be here, which is ingrained into this record."
Are you more comfortable with an acoustic or electric guitar in your hands?
"That's a good question. I think the two are different and allow me to do other things, but still, I feel comfortable because it's still a guitar, you know? I will say that when I'm writing with an acoustic guitar, I play with my fingers differently than when I'm using an electric one. When I write with the acoustic, I go with more like fingerpicking, and I tend to use different techniques that I wouldn't deploy when writing faster punk-rock songs."
Which guitar of yours means the most to you, and why?
"Oh, that's easy. For a long time, my go-to guitar has been my black, stickered-up 1989 Gibson Les Paul Standard. You've probably seen it on my Instagram, but yeah, that's the one. It's been with me forever, and I've traveled worldwide with it. I have a ton of other guitars, but there's something about that one that I haven't been able to shake.
"There's something about making history with an instrument that ties you to it, especially with the guitar. It's got the original stickers I put all over it still, and I've used it on a bunch of our records. I have a new Les Paul Custom that's fitted with Evertune and don't get me wrong, I love that guitar too, but there's something about the '89 that I just love."
New Found Glory celebrated their 25th anniversary in 2022. To what does the band owe their longevity?
"Man, that's tough because I don't think we could have imagined we'd last this long. No young kid ever thinks that he's gonna be around forever in music, let alone 25 years. So, with that in mind, I think it comes down to a few things. The first is that we love what we do.
"I mean, look, obviously, this all comes down to business. We make records and tours to make money and support ourselves and our families through the band. It's a business, but we don't just treat it like a business; the creative side is critical.
"We still feel that making new records is essential; we don't just rely on our old catalog. Now, we love our old catalog, respect it, and are not afraid to play it. We will play any song our fans want to hear because we know that's why we can still tour. But we're still inspired by new music, and when we go in and make a new album, we don't go, 'All right, how do we make this sound like the old stuff? How do we make music that sounds like it's the '90s and early 2000s so that fans will still like us?' We don't do that at all; we go, 'All right, what are we inspired by? What can we do now?'"
Still, the risk of becoming a legacy act looms large. How do you stave off those sorts of labels?
"That's true, too. We aren't afraid of that because we still believe in ourselves. We feel like we still have a lot to say and that the best could be yet to come. But we also know that the best might not come and that maybe our best is in the rearview mirror, and we're okay with that. But even if it's not, we still believe that in our heads. So, everything we do is done with 100 percent effort, which is a massive part of staying creative.
"We aren't afraid of being creative, growing, and changing, making us very real to our fans. We're not just these guys up on stage separated from the fans; we work hard to relate to our fans way more than most bands do. We've been a part of our fans' lives for 25 years, and as their families have grown, we've grown with them. So, we aren't afraid of our past – we celebrate it – but we aren't going to be defined by it."
How has your new lease on life altered your mindset as you move forward?
"The truth is that I still have tumors in my lungs that I'm fighting. I still have treatments and stuff, and while my outlook is good, there's still a very real element of the unknown that I am living with. The doctors say that I can beat this thing, but you can't know for sure. But I don't want to focus on that; I want to focus on the day at hand and let the rest happen as it's meant to. 
"Nothing is promised, and I refuse to make myself sick with any stress over what I can't control. I could spend all day making up extreme scenarios in my head, but until those things happen, I am instead focusing on today. I am lucky to be alive. I have a gorgeous wife, a child I love, and a life I am committed to making unforgettable. That's what I want to focus on. 
"As for my career, I know how lucky I am to have that. I've got a new album to promote and a tour to do, so that's where my head is at with music. I'll focus on promoting New Found Glory – as I always have – writing more music and giving all I have to these fans. Life is about what you put into it. If you put positive energy into it, that's what you'll hopefully get out of it. So, that's what I'm doing. I can't worry about any other outcomes."
Thank you for reading 5 articles this month*
Join now for unlimited access
US pricing $3.99 per month or $39.00 per year
UK pricing £2.99 per month or £29.00 per year 
Europe pricing €3.49 per month or €34.00 per year
*Read 5 free articles per month without a subscription
Join now for unlimited access
Prices from £2.99/$3.99/€3.49