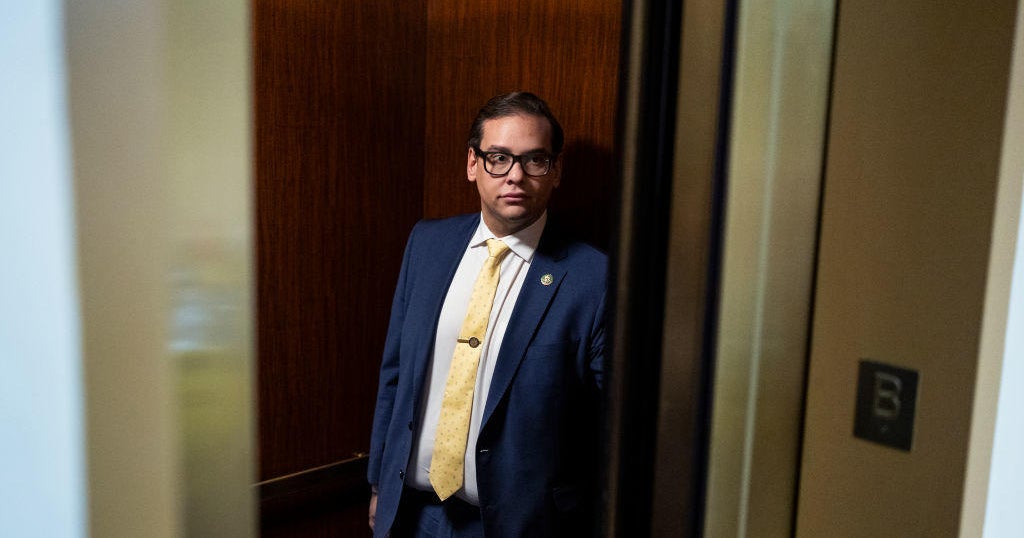 Washington — New York Democratic Reps. Daniel Goldman and Ritchie Torres on Sunday called on House Speaker Kevin McCarthy and GOP Conference Chair Rep. Elise Stefanik to "proactively and forthrightly" cooperate with investigations into embattled Republican Rep. George Santos.
Goldman and Torres, who filed a House Ethics Committee complaint against Santos last week, sent a letter to McCarthy, Stefanik and Dan Conston, head of the Congressional Leadership Fund, asking them to disclose their "knowledge of Mr. Santos's web of deceit prior to the election so that the public understands whether and to what extent you were complicit in Mr. Santos's fraud on his voters."
"It is one thing for a candidate such as Mr. Santos to induce voters to support him based on a web of lies. But it is altogether something else if the top levels of Republican leadership knew about Mr. Santos's lies during the campaign and chose to be complicit," they wrote. "Investigators examining Mr. Santos's conduct must understand the entire web of deceit, and it is therefore essential that you cooperate fully and forthrightly with those investigations."
The demand from Goldman and Torres comes in response to a New York Times article published Friday, which found a "routine background study" commissioned by Santos's campaign revealed a "pattern of deception," including fraudulent academic degrees, involvement with a firm accused of a Ponzi scheme, multiple evictions and a suspended driver's license.
According to the Times, Conston, a close ally of McCarthy who heads the super PAC focused on electing Republicans to the House, told lawmakers, donors and others he was concerned damaging information would come out exposing Santos as a fraud. The Congressional Leadership Fund did not put money behind Santos's congressional bid in the midterm elections.
Indeed, Santos has been embroiled in controversy following his election in November to represent New York's 3rd Congressional District, prompting calls for his resignation from some of his Republican colleagues in Congress.
In the wake of public reporting casting doubt on his resume and finances, Santos admitted to "embellishing" major portions of his background during his successful 2022 bid for Congress, including his education and professional experience. Federal and local prosecutors are now examining the New York Republican's finances and financial disclosures, as well as the falsehoods he peddled on the campaign trail and whether he complied with the law.
In addition to the House Ethics Committee complaint from Goldman and Torres, Santos is the target of a complaint filed with the Federal Election Commission accusing him of illegally using campaign funds for personal expenses and providing false information about the source of his campaign donations and expenses. The complaint was filed by the Campaign Legal Center and questions whether $705,000 in contributions to his campaign improperly came from a corporation or foreign national.
A growing number of Republicans, including in the New York congressional delegation and the head of the Nassau County Republican Committee, have called on Santos to step down, though the congressman has rebuffed those calls.
McCarthy, meanwhile, has said the voters will decide Santos' future in Congress and told reporters Wednesday that many members of the House and Senate have fabricated parts of their resume.
"He has to answer to the voters and the voters can make another decision in two years," McCarthy said.
But Goldman and Torres said in their letter to McCarthy, Stefanik and Conston that the American people "have a right to know whether Republican leadership, including each of you, was complicit in perpetrating this fraud on the voters."
In an interview with "Face the Nation" on Sunday, Goldman called Santos a "complete and total fraud," and said his financial disclosures include inaccurate statements and omissions.
"This is a scheme to defraud the voters of the 3rd District in New York, and this needs to be investigated intensively," he said. "And Mr. Santos needs to think twice about whether he belongs in Congress. And more importantly, the speaker needs to think twice about whether Mr. Santos is fit to serve in Congress."
Jake Rosen contributed to this report.
Thanks for reading CBS NEWS.
Create your free account or log in
for more features.