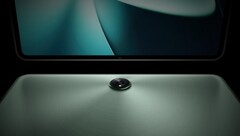 The Pad 2 – widely suspected to be OPPO's version of the OnePlus Pad – has been all but proven to exist through its appearance by name in a new leak. This database listing might confirm that the Pad 2 will connect to Bluetooth using MediaTek silicon – however, the exact identity of its Dimensity-series SoC still remains somewhat of a mystery.
OPPO has been linked to a second-gen Android tablet for some time – now, the alleged slate has experienced its most convincing leak to date. The Bluetooth Special Interest Group (SIG) has now certified the OEM's Pad 2 (or OPD2201) by name.
Not only has the SIG established that the device exists, it has also homed in on further important specs for the tablet – sort of. A "Component (Tested)" link leading off the Pad 2's main page on this database provides a list of the MediaTek chipsets associated with the slate's Bluetooth 5.3 connectivity.
They include all of the mid- to top-tier processors that support this standard: the Dimensity 8000; 8100; 8200; 9000; 9000+ and even 9200. Therefore, the upcoming tablet may be, as its leaks have suggested, be powered by one of these SoCs.
All signs point to the higher-end 9000 thus far, which may (hopefully) also prove good news for the upcoming OnePlus Pad.
Buy a Lenovo Tab P11 Plus on Amazon
Deirdre O'Donnell – Senior Tech Writer – 5985 articles published on Notebookcheck since 2018
I became a professional writer and editor shortly after graduation. My degrees are in biomedical sciences; however, they led to some experience in the biotech area, which convinced me of its potential to revolutionize our health, environment and lives in general. This developed into an all-consuming interest in more aspects of tech over time: I can never write enough on the latest electronics, gadgets and innovations. My other interests include imaging, astronomy, and streaming all the things. Oh, and coffee.
Deirdre O'Donnell, 2023-02- 4 (Update: 2023-02- 5)