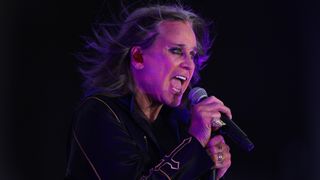 (Image credit: Harry How/Getty Images)

Ozzy Osbourne has announced his retirement from touring and canceled all upcoming shows, saying he's not "physically capable" of life on the road anymore.
In a new statement from Osbourne himself, he cites an accident four years ago, and subsequent failed treatments aimed at getting him back into peak shape, as the central reason behind his decision.
"This is probably one of the hardest things I've ever had to share with my loyal fans," he says. "As you may all know, four years ago, this month, I had a major accident, where I damaged my spine.
"My one and only purpose during this time has been to get back on stage. My singing voice is fine. However, after three operations, stem cell treatments, endless physical therapy sessions, and most recently groundbreaking Cybernics (HAL) Treatment, my body is still physically weak."
He continues: "I am honestly humbled by the way you've all patiently held onto your tickets for all this time, but in all good conscience, I have now come to the realization that I'm not physically capable of doing my upcoming European/UK tour dates, as I know I couldn't deal with the travel required. Believe me when I say that the thought of disappointing my fans really fucks me up, more than you will ever know.
"Never would I have imagined that my touring days would have ended this way. My team is currently coming up with ideas for where I will be able to perform without having to travel from city to city and country to country.
"I want to thank my family, my band, my crew, my longtime friends, Judas Priest, and of course, my fans for their endless dedication, loyalty, and support, and for giving me the life that I never ever dreamed I would have. I love you all."
Ozzy adds that tickets for his now-canceled May/June shows in Europe and the UK can be refunded at the point of purchase.
The metal world has remained hopeful of Ozzy's continued ability to perform, even though the singer is now in his mid-70s, and has battled various health conditions in recent years, including Parkinson's disease and Covid.
Back in August, Ozzy reunited with his old Black Sabbath bandmate Tony Iommi to perform Paranoid in its entirety and a shortened version of Iron Man at the closing ceremony of last year's Commonwealth Games in their hometown of Birmingham, England.
Keen-eyed viewers noticed, however, that Ozzy was supported during the performance by a back support bracket, which was requested by his wife, Sharon.
There was a sense of optimism after the show, too, after Sharon revealed Ozzy – who usually walks with a cane – walked to their car entirely unaided. "He just walked normally," she said. "Kelly [Osbourne, their daughter] and I were behind him and we're going, Jesus Christ…"
And upon the release of his latest solo album, Patient Number 9, back in September 2022, Ozzy told The Guardian (opens in new tab) of his plans to continue performing live.
"That's me in a nutshell," he said, referencing a lyric from the album's penultimate song, God Only Knows, in which he sings that it's "better to burn in hell than fade away".
"I'm saying to you I'll give it the best shot I can for another tour. You have not seen the end of Ozzy Osbourne, I promise you. If I have to go up there and die on the first song, I'll still be back the next day."
But unfortunately it was not to be. We'd implore Ozzy not to be too hard on himself, though; after decades of thrilling metal fans the world over with his stage antics both with Black Sabbath and as a solo artist, he's had a hell of a good run.
Thank you for reading 5 articles this month*
Join now for unlimited access
US pricing $3.99 per month or $39.00 per year
UK pricing £2.99 per month or £29.00 per year 
Europe pricing €3.49 per month or €34.00 per year
*Read 5 free articles per month without a subscription
Join now for unlimited access
Prices from £2.99/$3.99/€3.49